Middle Keys – Fewer Buildings, More Pelicans: January 11 2016
We are definitely feeling a bit jumbled. The boat was tucked into her spot at Royale Palm Marina; Jana, Josh and Garrett returned to Kansas City; and we were back in Boston. The brain is definitely having trouble keeping up. However, we have a single goal which keeps things in focus. We are back in Boston to celebrate the life of Chris' grandmother, Winston. She was one heck of a wonderful lady and her influence will live on with all who knew her. Her life of 102 years has seen more changes than we can imagine…and she was always ahead of her time…and always with a twinkle in her eye. It was wonderful to reminisce about Winston with many friends and family.
After a blur of Boston activities we were quickly back in Florida. Barefeet was much better sorted out than when we arrived last time but we could still make good use of a couple days at the dock. Plus, since we were still in the neighborhood where we had the recent work done – we had a couple of crews come back for a second look…stabilizers and window shades. Check and check. All set and we were cruising south. We tossed the lines and returned to the familiar Sunset Lake anchorage to settle back into life afloat (Jan 7).
Today, we re-traced steps taken with Jana, Josh and Garrett as we passed Stiltsville in the early morning with a breakfast of homemade ham and cheese croissants and a cup of coffee. Pillsbury crescent rolls are quick and easy…and delicious…especially when filled with a bit of sliced ham and cheddar cheese.
Conditions were calm so we pushed on into new territory for us. It was a beautiful 5 hour run. We passed Pumpkin Key anchorage and anchored in Little Card Sound. Little Card Sound was chosen because it got us just a bit closer to Alabama Jack's with the big boat. We have visited Alabama Jack's by land a couple of times and we really hoped the weather gods would allow us to visit by water (http://www.yelp.com/biz/alabama-jacks-key-largo). We were lucky and off we went into the mangroves. Did we mention how easy and simple it is to use the new hydraulic crane to get the dinghy into the water?! Holy cow – it is simplicity itself. Thanks CSS Systems.
We had a fun time at Alabama Jack's nibbling on chili cheese fries, nestled in the mangroves, meeting new people and chatting with a friendly bar tender. That said we would have liked to return again but we needed to keep moving in order to find a protected spot from northerlies as a cold front was forecast to pass through in a few days. Conditions were calm as we pulled up the anchor and waters were mirror smooth. We felt like the Berenstain Bears, "Hooray, hooray! We're on our way! Our summer vacation starts today." Key West or bust.
Continuing south from here on the ICW is not recommended for boats with a draft of more than 4.5 feet. Since we are 5.5 feet we decided to stick with the advice. We exited the ICW at Angelfish Creek into Hawk Channel. Angelfish Creek is a narrow passage but it is well marked and full of wildlife. The shallowest water is seen at either end and can be as low as 6 feet. We never saw less than 7 feet…nice. We continued south via the deeper Hawk Channel…considered an "outside" route; however, it has an outer reef which provides more protection than simply the Atlantic Ocean (and great snorkeling and fishing on days of settled weather). On we go to points south and it is clear that we are making miles because the periodic Coast Guard VHF announcement is now made from the Key West Station…rather than the Miami station.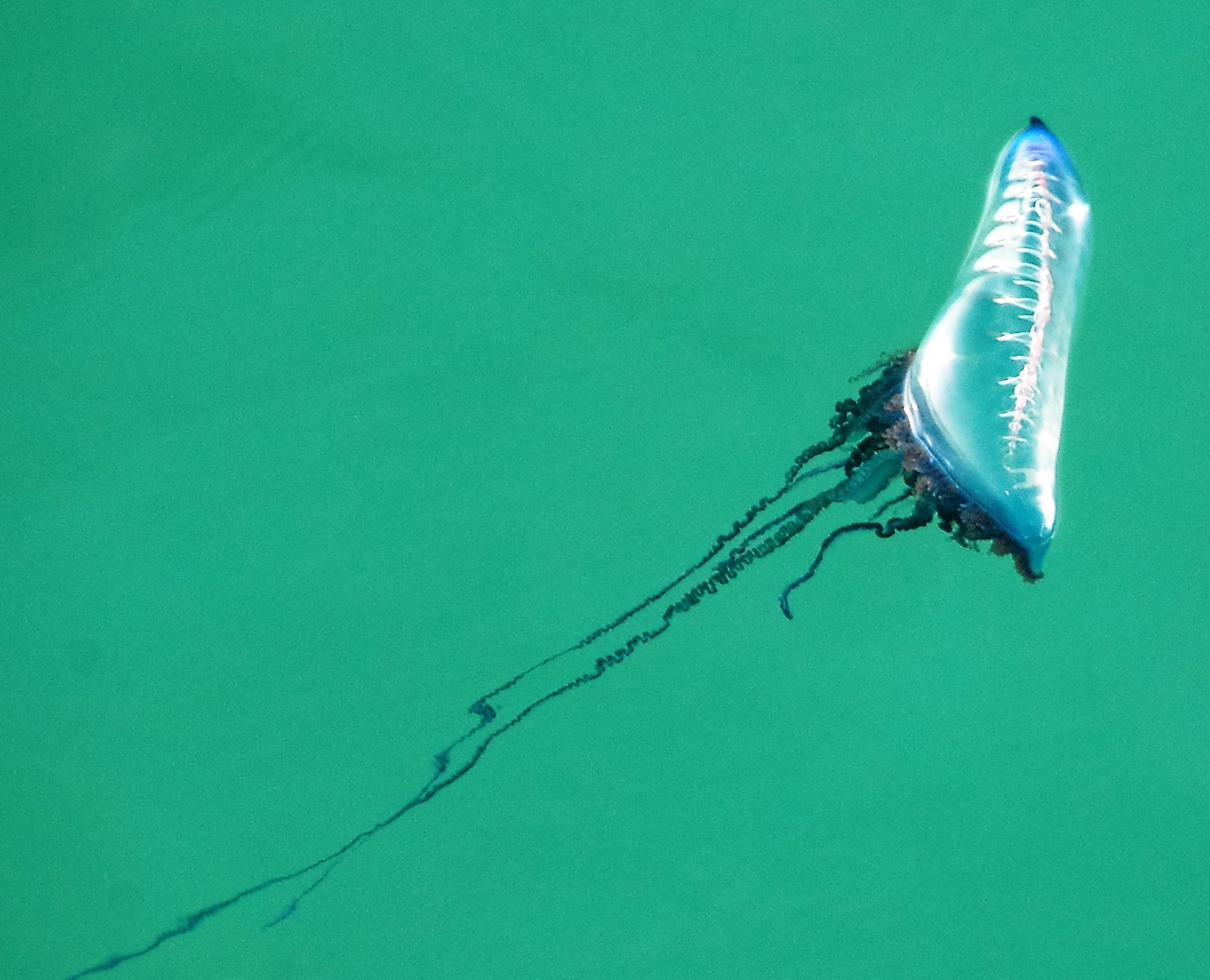 Rodriguez Key off Key Largo was our next stop (Jan 9). It is a nice anchorage with lots of swing room (like Little Card Sound); however, it has no protection from northerlies (also like Little Card Sound). Drat! We were in clear water with a grassy bottom and could see our anchor resting on the floor – this was a first since the Bahamas last year. No worries – we'll enjoy the night and move on for better protection tomorrow. Chris jumped into the water for a swim while I stayed aboard on man-o-war lookout patrol. Yikes – these specimens are huge. The one we spotted near the boat was the size of a small banana with tentacles even longer. Sorry – no hand or foot included in the photo for perspective. And this fella seemed to be using his body as a sail and flopped himself right and left to move forward…self-propelled forward movement - incredible.
It is said that sunset is a spectator sport in the Keys and we can see why. Tonight was a stunner…including the frolicking dolphins beside the boat. From our top deck perch we watched the sun slide away into the night with sundowners in hand. Next up – a Duke basketball game and chicken nachos (we taped the game from earlier in the day via our home cable service then streamed it over the laptop) (recipe below). Not sure what was better…the flavorful nachos or the comfortable Duke win over Virginia Tech (58 – 82).
We made an early start in the morning at 7.30am because the winds had already started to change (Jan 10). We are pouring over the charts and scratching our heads for ideas. The cold front will bring 15 – 25 knot north winds and rain for four days and we are just not identifying any well protected spots in the area of Marathon Key. Plus, all marinas and mooring ball locations are full…with a waiting list of 36 boats. Hhhmmm. We again review notes from other cruisers as well as input from ActiveCaptain.com and finally came up with an idea. It is another couple hours of motoring but it looks like we've found a protected spot…and nicely isolated for a bit of nature.
The ride was as bumpy as expected. Nothing scary but we have been lulled into some pretty calm conditions over previous days. We had arrived to the Middle Keys and were rounding the final corner in order to pass under the Seven Mile Bridge and back inside when we noticed Barefeet had a massive list to one side. Chris scampered below and noticed a problem with the diesel tank lines as they tried to equalize the tankage. Gulp. We hold 950 gallons of diesel which makes for a big problem if things become unbalanced. There are countless sea cocks and we are still sorting out the organizational map of what goes where. Luckily, Chris got things corrected as we swayed like a metronome in the windy conditions. Anchor down and it was the end of a long day and we were pooped. The engine room mess was cleaned from floors and decks…and us. Each time we think we can exhale...something springs up to surprise us that needs immediate action. The sun had set and we settled into the night with a dinner of hot artichoke cheese dip…this is a true comfort food for us (recipe below).
We are anchored at Johnson Key at the eastern edge of Bahia Honda. This is our spot for the next few days as a cold front moves through. Small, mangrove topped islands dot our landscape without a building in sight. The only other boat in the anchorage departed the first morning which leaves us on our own in the Florida Keys. It is magically quiet and calm as pelican glide along the surface of the water. We will rest here a few days licking our wounds and doing a few small projects while the winds pass. It is nice to have a slow pace.
Chicken Nachos
This is more of a guideline recipe than a specific recipe which provides loads of flexibility.
Brown ½ lb ground chicken with one chopped white onion. While cooking season with cumin and powdered coriander (approx. ½ teaspoon each) as well as some salt and pepper. When chicken is cooked completely, set aside.
Line a baking pan with aluminum foil and spray surface with cooking spray. Generously cover baking pan evenly with a layer of tortilla chips; followed by an even layer of the chicken mixture; followed by evenly spread jarred salsa; followed by ½ or so can of refried beans (drop it by breaking it up with your fingers). Top everything evenly with grated cheddar and monterey jack cheese. Place it in a preheated oven at 400 degrees F and bake until the cheese melts (approximately 20 minutes). Garnish as desired with more salsa, sour cream and even freshly chopped cilantro if you've got it.
Artichoke Cheese Dip
9oz can artichokes (in water), drained and chopped
1 cup Parmesan cheese, shredded
¾ cup mayonnaise (Hellman's is my favorite)
8oz cream cheese, softened
Mix all ingredients together and scrape into a 9" pie pan. Bake at 350 degrees F for 30 minutes (or until browned on top).