Mad Dash to Georgia: October 28 2016
Snug in our slip at Capital Yacht Club in Washington DC gave us a good spot to watch Hurricane Matthew unfold…at a distance (we hope). Conditions might change as he gets closer but we are not taking any chances.
DC is loaded with diversions and sights to see…and many of them are free. How will we narrow down our sightseeing with so many choices? One step in front of the other - off we went to get started. We passed the US Botanic Garden on our way to the Library of Congress and decided to pop in (Oct 5). Wow – this place is beautiful! Everything is labeled by climate, geographic location and specific name. The fancy Latin names seem pretty exotic but the layman's names are rather straight forward; pumpkins on a stick, yellow shrimp flower, etc.
The Library of Congress was a first time visit for both of us. The front steps provide a money-shot view of the Capital Building and this was just the teaser to what was contained inside. We were slack-jawed by the beauty of the interior architecture as we stepped into the building. The current Library of Congress was opened in November 1897 after a devastating fire by invading British troops destroyed the original library in 1814. The Great Hall is just that – a magnificent grand entrance to the library of the nation. Wow! It is a jewelry box overflowing with sparkling treasures. There are stained glass skylights, marble grand staircases, colorful mosaics and intricately carved details in every nook and cranny. We literally sat down and simply stared at the beauty. Homage is paid to luminaries of science, art, history, philosophy…and on and on. Additionally, symbols overlay the names and faces. For example, the archway into the main reading room is flanked by a sculpture of a young man seeking knowledge on the left side of the arch and an older man absorbed in meditation/reflection on the right side of the arch; youth and wisdom. What's next? We took our time and marveled at the architecture and artistry from all sides and angles. This was clearly a young country looking to impress EVERYONE…mission accomplished.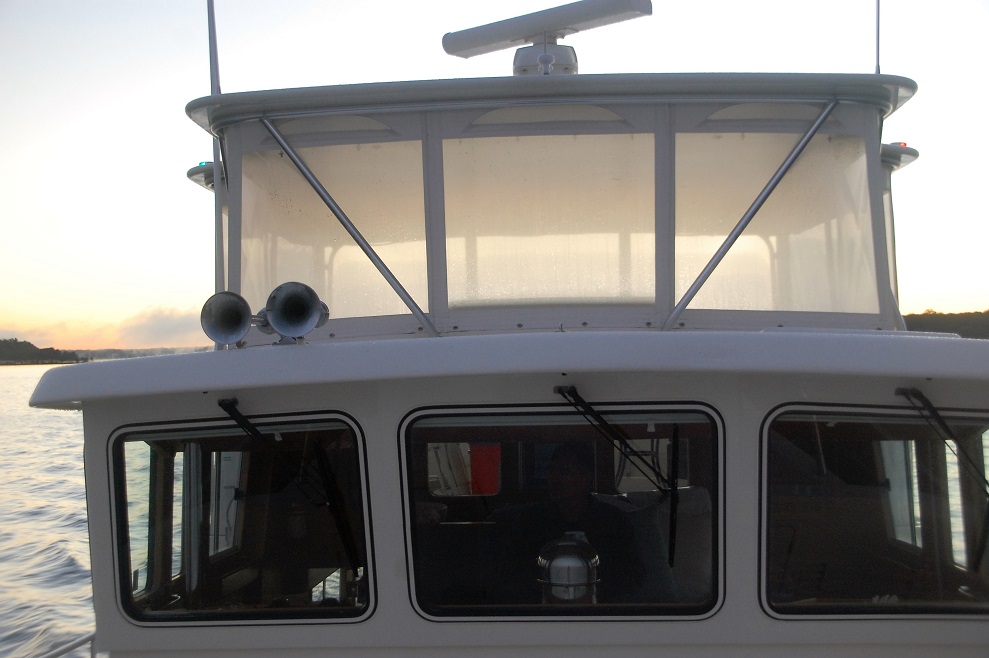 Boat projects have also been on the itinerary. We have had parts re-directed to DC that were originally sent to our North Carolina destinations; 1) stabilizers - the hydraulic oil filter was changed and the hydraulic oil topped up 2) running light replacements. The stabilizer projects successfully curtailed the warning alarm we had been seeing…increasing our comfort level while underway. The running lights were changed because the original lights were interfering with the electronic systems (our hunch). Our AIS display of vessels transiting nearby was not showing all boats in the area…this was a trial and error process to narrow down the "noisy" interference culprit. The replacement lights were high speed but worth it when we saw full vessel display in the area on the AIS. LOPO lights are our new favorite navigational lights (http://www.lopolight.com/). The lights are tough to see in the above photo but they are the teeney, tiny green and red lights on the "ears" below the radar arm.
Other than our 100 mile detour – thankfully, we have not been impacted by Hurricane Matthew. We are happy about that but we are worried about friends closer to the storm. We have friends with a boat in Charleston, several friends with homes in Florida and friends with a boat in Georgia. Our guilt has us a bit mixed up at the moment but we can only do what we can do. It is nice to have email in order to keep in contact. Fingers crossed that all will fare well.
The Capital Yacht Club neighborhood is going through a building boom - surrounded by gobs of under construction high rise buildings and the teams of construction workers that make it all happen. And where there are construction workers – there is street food. King Rib is our favorite (https://www.yelp.com/biz/king-ribs-washington-2). Bufus is the Pit Master who starts early in the morning slow cooking various meats in his giant smokers. There is no dining room – just a snack shack window from which to order BBQ. We wave to Bufus every time we come and go from the marina – and chit chat if he is not too busy. BBQ meat makes for many great meals and we made two aboard after scouting the best time to ensure an order. We arrived before the construction crews at lunchtime in order to get some juicy pulled pork. Yum – we had pulled pork nachos and pulled pork enchiladas. The meals are more of an assembly than a strict recipe; however, the enchiladas were so delicious that I had to write it down in case the memory gets fuzzy (recipe below).
There are not only museums but theaters and stages all over DC. We attended the Velocity Dance Festival that had us out past cruiser midnight (9pm). One of our favorite numbers was hand dancing. It was new to us but hand dancing is the official dance of DC – a version of swing that evolved from the Lindy Hop and the Jitterbug. Being out "so late" meant that we felt like hip kids when we arrived late night at Oyamel for margaritas…accompanied by chips and salsa – ole. Our walk home was beautiful as the monuments sparkled in the moonlight. We continued explorations to the National Gallery of Art with stunning art around every corner – duh. We know what to expect but it still impresses…even the small bits that seem like afterthoughts in the corners of statues.
Our previous boat moving days were started with breakfast underway like cereal, Pillsbury crescent rolls baked with ham and cheese or dropped eggs on toast…and coffee, always coffee. However, now that we are "on land" Chris has scouted out a great breakfast diner – Jimmy T's Place at 501 E Capitol Street SW. We get there early and enjoy starting the day slowly. It is a tiny place located on a corner in what looks like an old house. The staff is as friendly to each other as they are to us, the food is good and the prices don't break the bank. Gosh, it is a small world! The mix-and-match coffee mugs are from different places and organizations…and we recognized the one Chris got – Project Linus (https://projectlinus.org/). Louise, fellow cruiser and quilter of my Great Grandmother's quilt squares, introduced us to this organization. They provide security, warmth and comfort in the form of handmade blankets and afghans created by volunteer blanketeers to children who are ill, traumatized or otherwise in need. Of course we snapped a photo with Chris and "his" mug and texted it to Louise.
The hurricane seems to be winding down which means we need to start moving again. But first we will let the gale force winds and seven foot waves at the mouth of the Potomac…pass. That's okay because it gives us a chance to see a New England Patriots game in a bar with fellow fans. Kelly's Irish Times was packed to the rafters and standing room only with folks wearing jerseys, hats – you name it – all Pats (http://www.kellysirishtimesdc.com/). It was raucous and fun to have everyone rooting for Brady in his first game back at Cleveland. The band was back together and no one was disappointed with the show (except maybe Roger #$@*& Goodell).
The Patriots game was completed and the weather forecast was confirmed. We were on the move again after a supermarket run in the morning (Oct 10). We departed the Capital Yacht Club about 11.30am and motored about four hours to anchor in Mattawoman Creek off of the Potomac (at about Quantico). We will take it day-by-day from here based on ICW debris status and bridge/lock closures due to high/low water levels (some due to flooding, some due to high winds) and loss of electricity. Our Creek anchorage is calm and protected and serene as we look for swooping eagles. Dinner was sunset pizza a la Chris. It feels good to be on the hook again and quiet as the sole boat in the anchorage.
Rise and shine – we were up anchor just before sunrise in our beautiful smoke-on-the-water landscape (10/11). The air was chilly but the water from the anchor washdown hose was warm on my toes – encouraging me to be thorough when pulling/cleaning the anchor chain, anchor and fore deck. Mill pond calm conditions allowed for great mileage but it was a wrench to keep going past Courtney's in Jutland Creek. However, three more hours of daylight meant that we could get all the way to Reedville, VA. We anchored off Sandy Point in the Great Wicomico River and were joined by half a dozen boats in the anchorage. It looks like the seasonal migration of cruisers is back on track. Hummus, cheese and crackers with sundowners was a simple way to end the day…and celebrate our furthest point south! Hopefully, there will be no more backtracking.
Continued calm conditions had us pointed south for as many miles as we could squish into daylight. Progress was steady until we departed Norfolk, VA, due to fog so thick we could barely make out the bow of the boat – OUR boat. Eeek! We crept along slowly at 6.30am through channels lined with commercial and military docks (10/13). Usually, this area can be transited by line of sight because it is a single waterway – much like a road through a pasture. However, this time was different. All of our instruments (radar, AIS, chart plotter) were on including the pressurized air horn. Plus, I was on the bow straining to see something – anything. As it turned out my ears and nose provided the most input…I definitely smell bacon and eggs…but I do not see a dock?! No joke – we could not even discern whether a railroad bridge was up or down until literally beneath it. This is spooky and not fun. At 9.30am we arrived at the Great Lock. Visibility was only about 50% better than we had seen for the previous three hours but it seemed amazingly clear.
Phew – the fog was lifting and we were through the lock. Onto Coinjock Marina. Coinjock is a milestone for us and a veritable rite of passage for delivery captains up and down the eastern seaboard. Our arrival at 2.45pm showed lots of empty face dock; however, boats were already being turned away due to reservations and a growing waiting list for dock space. By tonight anchors will overhang into aft decks along the seemingly endless face dock. All tied up and fenders deployed we hosed the boat down and got sorted out to head to dinner. The ubiquitous stroll to dinner had us passing 70' even 110' mega yachts…a couple even rafted two deep. In addition to the mega yachts there is the odd trawler like us as well as the occasional sailboat. Dinner is always a treat because the restaurant is known for their steaks and prime rib – juicy and delicious! Bar chit chat is all about where you are going (and how fast), how many times you have been here and where did you hide from Matthew. We were part of the early crowd and left as things were getting louder and cocktails were flowing more quickly. But most of these folks are pros delivering boats to Florida which means the docks will be empty again no later than 7am.
Our lines were tossed by 7.15am in order to have more parallel parking maneuvering room off the dock and thus avoid denting the equivalent of a Rolls Royce in front and behind us (10/14). However, the crowd was still in sight as we started the day. How many miles can we do today?! If we could make it to Belhaven we will have gained one day in travel. Let's go! Plus, we had an added incentive to meet for dinner with good friend Graham. He is headed north with a new boat and will be in Belhaven tonight. It is great how crazy boat schedules work out. The miles slid by gently and periodically we spotted a mile marker along the ICW which reminded us of our progress. Anchoring and dinghy-ing ashore in Belhaven was straight forward and easy with a wide anchorage and floating dinghy docks. Cheers Graham!
Mornings are always tranquil and a favorite time of day for us. Today we were gently rocked awake by fisherman heading out for Saturday fishing quietly zipping along the water's surface like dragon flies (10/15). The sky changed from black to vibrant pink and orange and purple as the sun slowly began the day. As we move along the inland waterway we have asked about hurricane experiences. It seems that the coast fared better than expected but inland they were not as lucky due to days of heavy rain followed by hurricane storm surge. Nearly six days after the hurricane passed – the rivers of inland North Carolina are just now cresting. It is hard to fathom. We have avoided dead-heads and been warned to watch for moved navigational markers.
The destination for today was Morehead City and the Morehead City Yacht Basin. We tied up, showered ourselves and headed to the Ruddy Duck Tavern. You must remember the banana cream pie from last time?! While at the bar we struck up a conversation with Seasonal Bill. Bill grew up in Morehead City but fell in love with a woman out west in Washington state. That was it for him and he moved to Washington, became a lumberjack and has raised a family of lumberjacks…including a lanky, bearded grandson who is a topper (the most spectacular job in the backwoods; high climbing from a single looped rope to the top of a tree trimming branches and the top). Bill kept us laughing and wide-eyed with stories of whaling and fishing in the outerbanks as well as logging in the west. Bill loves the west but returns to Morehead City for three weeks every year…hence, the nickname Seasonal Bill. He even gave a painting to the Ruddy Duck of Uncle John's Dock with Eric Lewis on the bench. The dock is long gone from storms and Eric Lewis is lost to the winds but Bill keeps the history alive. And who is Bill's friend? Why a tugboat Captain and his wife, of course. Tug boat stories flowed from there and we loved every minute. It was a great night and we found it tough to toss the lines in the morning.
The day was again sunny, clear and great for traveling (10/16). The weather forecast just does not disappoint…and it even has an offshore possibility for us in a couple of days. Dare we hope for it?! We moved from Morehead City, NC, to Mile Hammock Bay, NC. This Bay is on the Camp Le Jeune Marine base. It is a place with a bit of ying and yang...nature and machine-made...as dolphin played at the bow…and burned out military hardware lies ashore from previous drills. A bit of mixed up charm with great holding for a protected night's sleep. It is not allowed to go ashore but that's not a big deal. We had other things on our mind – the Patriots game! We had taped the game via our cable company at home and watched it on the laptop. Yippee! Another win. Go Pats.
Pulling up the anchor at Mile Hammock Bay was a bit of a timing thing because we had three bridges ahead that needed to open for us but they only open on a schedule…once every 30 minutes, once every 60 minutes and once every 30 minutes, respectively (10/17). Distance and speed calculations make the process easier so that we do not have to hover for too long before an opening. Oops – that was not expected. Bump, bump, bump as we went between the Figure Eight Bridge and the Wrightsville Beach Bridge. Darn it! We took it slow, touched bottom but kept moving…what do they say…if you haven't gone aground, then you haven't been around?! Shifting sandbars at ocean inlets are tricky. The Coast Guard has been working around the clock to get markers back in place but stuff happens.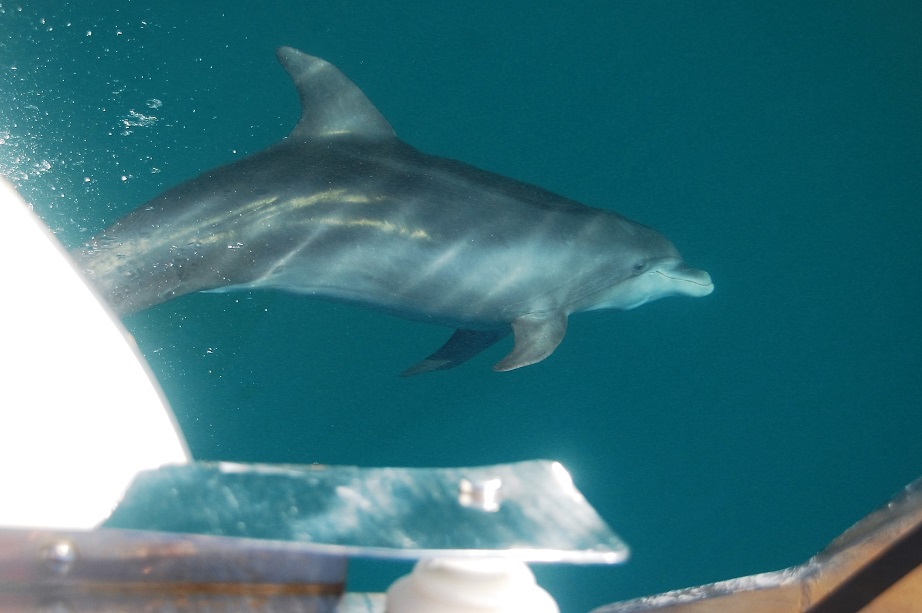 This was a day of bridges, tricky inlet navigation, currents and dolphins (10/17). The final stretch had us smokin' at 11 knots with a favorable current (our usual speed is 7 knots). Arrival at Southport Marina was again a tight squeeze into the slip but Chris used the joy sticks and gently eased into the spot without issue. That said, we had no desire to be in the wider, outer portion of the marina because active water traffic makes for a bouncy stay. Southport is a charming town and a favorite of ours – too bad it's such a short visit this time. We settled for an afternoon walk into town down the main drag before returning to the boat for dinner aboard. After dinner we struck up a conversation off the back deck with Ian and Chris. Chris and Ian are long-time friends. Chris is a retired owner of a construction company, now gentleman farmer who annually takes his 28' sailboat from Virginia to La Belle, FL. His wife meets him once he is settled. Ian is a Brit and a retired nuclear physicist who has had one too many heart issues and said, "Screw it – I want an adventure." So here he is accompanying Chris to Florida. We chatted and chatted and refilled wine glasses and chatted some more well into the wee hours. Ian's children called one by one throughout the evening because it seems they are not totally onboard with his adventure idea. Jolly well done, Ian, carry on.
Weather continues to look good which means we can make up a bit more time with an offshore hop to Brunswick, GA. It will be one overnight and we will be at our final destination. Fantastic! We tossed the lines from Southport Marina at 7am…Brunswick here we come (10/18). Taking the offshore hop was serendipitous because the Socastee Swing Bridge with vertical clearance of a mere 11 feet was out due to lack of electricity - that would have stranded us for 10-15 days waiting for repairs to be accomplished (repairs were accomplished quicker than expected and the bridge was operational five days later, October 23rd).
It was a calm and mellow passage. There were more stars than boats for this overnight leap which is just fine with us. We saw the approach to Brunswick and we thought we were there. Nope – it's a deceivingly long entrance. We entered Saint Simons Sound after a lengthy run down the channel with quite a bit of wind against tide that made things look pretty dramatic. Once into the sound we had current slowing us to 4 knots. C'mon, c'mon let's tie up by sunset. Phew – just barely. At 6.15pm we were tied up and ready to unwind. Luckily, the three times per week happy hour was in full swing…complete with open beer tap and free wine provided by the marina and nibbles provided by the cruisers. It was quite a spread and well attended. We think we are going to like it here. The wrap-up stats are as follows: we made the journey from Boston to Brunswick in 27 days and roughly 1200 miles (including the jaunt up and back on the Potomac). The craziest detail in our minds was that it was approx. 550 miles west and 700 miles south. Any map makes this clear but it feels strange in practice.
Brunswick, Georgia, was established in 1771 as a strategic location for commerce and military defense. Wars came and went which kept the population small until the onset of WWII when it quadrupled in population size as a military shipyard. Today, the town population is again small and it is again quaint and loaded with grassy, tree-filled squares. The air is perfumed by the giant Georgia Pacific Paper Mill located down the river whenever the wind blows from the north (make no mistake – it is not subtle). The temperatures are warm but buggy. Lately, there has been a lot of rain which has the mosquitoes ravenous and in full force...literally able to carry us away or bite unceasingly in massive swarms. Hence, the marina check-in gift of a back scratcher...sadly, a must have. We will spend a few days buttoning up Barefeet; including oil changes and random boat projects...then we will fly home to Boston. We will spend the Holidays in Boston and return to Barefeet in January for our winter cruising. Fingers crossed for the Bahamas! See ya then.
Pulled Pork Enchiladas (makes 4 enchiladas)
4 flour tortillas
1 avocado, chopped
1 tomato, chopped
¾ red onion, chopped
¾ green bell pepper, chopped
Bunch cilantro, chopped
Salsa
8 oz cheddar cheese, grated
2 cups pulled pork
Garnish – sour cream
1) Fill tortillas one at a time with small spoonful of salsa, cheese, avocado, pulled pork, onion, bell pepper and cilantro.
2) Roll and close tortilla. Heat 2 Tablespoons of vegetable oil in a skillet. Fry enchilada in skillet seam side down until golden, flip and fry until golden.
3) Repeat with following three tortillas. Lay fried enchiladas side-by-side in an oven-proof dish.
4) Place remaining onion, bell pepper and tomato in skillet and saute until softened. Remove from heat. Add salsa and mix thoroughly. Spoon mixture across centerline of enchiladas. Sprinkle with cheese. Bake at 350 degrees F for approx. 30 minutes (until heated through and bubbly).
5) Sprinkle with cilantro. Serve and garnish with sour cream as desired.