The Gulf to the Atlantic: March 23 2016
Off we went after dropping the mooring ball at Matanzas mooring field in Fort Myers Beach (3/14). We were glad we listened to advice from Bill and Louise to pick up a ball because, otherwise, you can get growth like crazy on your anchor chain. Gosh – they were not kidding…we even got barnacles on the bottom of the dinghy?! And, at $90/week – the mooring ball is a no brainer. Fort Myers Beach is a sun-worshipers vacation paradise full of tiki bars and beach umbrellas. But it also has peaceful rhythms that mellowed our spirits such as gliding pelican inches off the water, osprey acting as sentries on bridges or nests, elegant grey herons overseeing the bridge fishermen…and even dolphin swimming outside the boat windows at shower time.
We are heading north to Boston; however, for the next few hundred miles we will be traveling east…along the Okeechobee Waterway (OWW). The Okeechobee Waterway is a 1937 man-made waterway connecting the Gulf coast of Fort Myers' Caloosahatchee River… with Lake Okeechobee…and the Atlantic coast of Stuart's St Lucie Canal. The region is largely agrarian and likely very different from the Florida we have seen up to this point. We are excited to see the interior of Florida!
It was a short first hop and just three hours later we arrived at our staging point for the Okeechobee Waterway anchored between the bridges at Fort Myers. We want a quick start to the Okeechobee Waterway and to confirm weather one last time. Hey, and it's my birthday and I have found a sloppy Mexican joint in town for dinner…every California girl's comfort food. We dropped the dinghy and headed ashore. The folks at the City of Fort Myers Yacht Basin were super friendly and had no problem with us tying up the dinghy at their dinghy dock…and even provided a city map and tram schedule.
In order to kill some time before dinner we checked out the Edison & Ford Winter Estate. We thought it sounded kinda hokey…and they were pretty proud of the place at $20 per person admission…needless to say, our expectations were low. That said – we were happily surprised. The graceful homes and extensive gardens are a shady oasis of tranquility along the river…complete with a full laboratory. Seminole Lodge certainly would have been a lovely retreat from northern winters and the Edison family spent leisurely stays here from 1886 – 1947. The Edisons also enjoyed hosting guests and their eldest (and wry humored) daughter, Madeleine, penned a few amusing rules for guests including: don't fail to retire to your room for a portion of each day – so that the family may squabble without embarrassment. Finishing our day with sloppy Mexican food was perfect…and as Chris says, "It wouldn't be a place Erin found if it wasn't on the bleeding edge." Okay, Chris was right...superficial views of the dinner spot were less than welcoming. It was a cinder block building on a busy 6-lane Florida road with linoleum tables, order at the counter, return food to your table on red plastic trays and no bar. Taqueria Jalapenos on Cleveland Ave was a dive but the food was divine! (http://www.yelp.com/biz/taqueria-jalapenos-fort-myers)
Tuesday dawned with heavy, thick fog (3/15). We waited until it lifted then headed east along the Caloosahatchee River. It was a leisurely day with equally lazy scenery ashore; cows grazed under palm trees, lingering citrus blossoms perfumed the air and lovely homes with large grass lawns and expansive porches dotted the shoreline. Air plants dot the vegetation and Spanish moss drips from trees. The bucolic day was broken up with a bridge or two and one lock.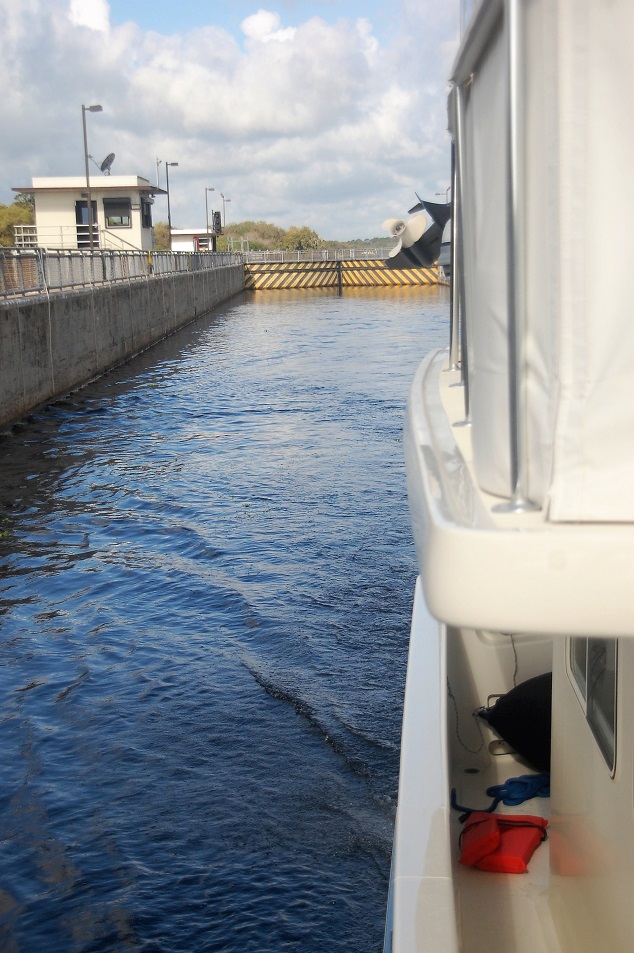 The Franklin lock was our first of five on the Okeechobee Waterway with a height change of two feet. The locks are large enough for two boats abreast and probably three deep (based on relative boat size, of course). Ropes are provided but we used our own fenders to cushion Barefeet's girth along the flat, cement walls. The water level is adjusted by the slow opening and closing of the lock doors. This is how the process happened…1) enter the lock once the back doors were completely open and the front doors were completely closed; 2) attach ropes – Erin in the stern and Chris in the bow; 3) back doors are completely closed; 4) front doors were slowly opened until the water level fills/empties completely (there is a bit of swirling but nothing too dramatic); 5) toss the lines and we were on our way. The first time doing anything has a bit of uncertainty wrapped around it but once experienced – there is not much to fret about. The Okeechobee Waterway locks are similar.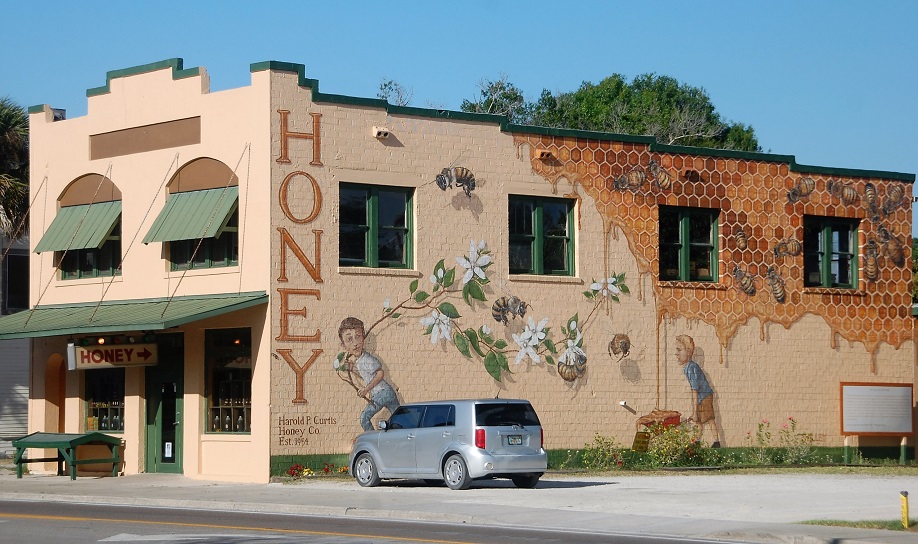 We ended our day at the sleepy town of Labelle tied to a dock with a "No Overnight Docking" sign. This is not our usual pattern but after talking with other cruisers tied up at the free docks across the water we feel okay about it for one night. Our recent rationing of fresh water has meant zero boat washing and Barefeet is looking pretty dirty. Tied up at the dock was good but there was no water or power…no problem. The water in the Okeechobee Waterway is clear and (mostly) fresh...so we can use our anchor washdown pump to wash the boat. We did a top to bottom exterior cleaning – boy does she look great! There is a bit of tea color to the water but we will get that the next time. Now it's time to wash ourselves and head into town. We hear there is a great coffee shop – Charlie's Bridge Street Coffee & Tea. Drat! The coffee shop was closed for maintenance which had us move next door to Forrey Grill for an afternoon coffee and reading followed by dinner (http://www.forreygrill.com/). We will catch Charlie in the morning. The photo of Labelle is the Harpld P. Curtis Honey Company store with a magnifiscent mural on one entire side of the building...the most photo worthy thing in Labelle (http://curtishoney.hypermart.net/).
Our day began again with heavy fog as we walked to Charlie's for a second try (http://www.yelp.com/biz/bridge-street-coffee-and-tea-company-labelle). We eased into the day in comfy chairs catching up on news and emails with coffee and breakfast sandwiches (3/16). Thanks Charlie! We passed through two locks – one every two hours or so. They were the Ortuna Lock (8 foot level change) and the Moore Haven Lock (3 foot level change). Both went off without a hitch. The scenery continues to be beautiful; however, it has transitioned to a sea of grass and sugar cane…including floating ash from what we imagine is crop burning. The vistas are amazingly expansive since the vegetation is at low level. Oh, we spotted gators swimming near the boat! Wow – these are bold fellas who simply meander slowly past rather than quickly duck below the surface. Will they be at the docks, too?! Our stop for the next two nights was the Roland Martin Marina in Clewiston (http://www.rolandmartinmarina.com/). It is a spot reminiscent of Coinjock with one long face dock, one restaurant and a well stocked store of clothes for guys and gals. Captain Sam had us expertly tied up and we were off to confirm the real reason we stopped here – a need for a TV to watch the Duke basketball game at noon the next day. Bingo! We are all set. I washed some bedding and Chris rinsed the boat then it was into the Tiki Bar for dinner.
The town of Clewiston is only about one mile from the marina so I walked in to do a few errands and check out the Town Museum before the game (3/17). The museum was a tip from the bartendress who has lived in the area for about 30 years. As I walked into town the fog was again thick which added a bit of spookiness to the unknown place. Clewiston has a population of roughly 6500 people and sugar is their game - known as "The Sweetest Town in America" due to the sugar plantations and home to US Sugar Corporation. We will miss the Sugar Festival by just two days which is about the biggest party of the year. The museum was small and brief; however, the nugget of the visit was the purchase of the book "Memoirs of an Everglades Pioneer" by Gertrude Petersen Winne (also a tip from the bartendress). As described, "It is the story of southern Florida as it once was and never will be again. It is the story of great love, daily accomplishments and a life self-made." Right up my alley – and fun to learn about the area as we visit for the first time. I also picked up some groceries at La Frontera Supermarket on the way back…and the added bonus of homemade tamales. They will make a great breakfast treat with eggs. Maybe next time we'll try Dixie Fried Chicken...but what will we choose: frogs legs, shrimps, pork, chicken, gator or catfish?! Bedecked in shiny St Patrick's Day beads we are ready for the Duke game! Wahoo – it's a win - onto the next round of the NCAA tournament!
Today will be a long day and we hoped to get an early start; however, the last several days of thick fog at sunrise had us unsure (3/18). Amazingly, the day dawned clear as a bell so off we went at 8.30am after a breakfast of turkey/cheese/tomato/cucumber sandwiches. At this point we have to make a route decision…continue along the rim route of Lake Okeechobee (more scenic but 10 miles longer) or cut straight across the lake (even small winds can make it an unpleasant ride). Weather was forecast for calm conditions all day so we took the route across the lake. The 1.5 hours of lake crossing was practically hypnotic and completely mellow with slender threads of smoke dotting the horizon (we imagine from sugar cane fields) and white pelicans gliding past from time to time. Our final destination is Pendarvis Cove in Stuart on the Atlantic coast so it is nice to reduce the miles a bit.
The remaining two locks were as uneventful as the previous three. The Port Mayaca lock had a two foot level change but was memorable because of the many flies and biting bugs…likely a result of the huge amounts of cattle (detected from their, uugghh, aroma). Yikes – it has become a riot of nature! We have exited the low lying scant vegetation of the lake and entered a world of thick vegetation, bold gators, countless birds (including bald eagles) and even more human touches like trucks barreling along land roads parallel to our watery highway. It is definitely a sensory change and puts us in a bit of overload. The final lock was the St Lucie lock. At a 14 foot level change we anticipated a bit more excitement but not so – just as smooth as the previous four. Just an hour to go and suddenly bump, bump, bump…silting in the St Lucie inlet area has the bottom shifting from what the charts indicate. Chris reacted quickly and reversed out of the sticky mud but where was the deep part of the channel?! VHF contact with a shallow draft catamaran led us through the area as they gave us constant depth readings – thanks s/v Plan Sea! Through the locks, across the Lake, past the shoaling and we dropped the hook - we were pooped…dinner and bed, here we come.
Duke basketball is again driving our agenda (3/19). We can make a short hop to Faber Cove in Fort Pierce in time to set the hook and stream the game on the boat…from an anchorage totally protected from all wind directions. Let's go. Everyday our comfort level with the boat continues to expand...including making a concerted effort to mix up the jobs on the boat which had me driving into/out of the Pendarvis anchorage and had Chris on the anchor. Boy, those joy sticks Chris installed for the bow and stern thrusters REALLY make a difference. Phew, we settled into the game and got another win…less a few fingernails since it was a nail biter ending against Yale.
We are moving north and finally see some water color changes that lighten and darken along with the depth. This is usually seen when moving south but this year is different and seen moving north due to all the sediment from Lake Okeechobee releases causing nothing but brown, brown, brown. The novelty of blues and green in the water along with dolphin galore and sandy shores has us feeling beachy and full of summer. But we cannot dawdle at the moment because we need to find a hidey hole for protection from strong northwest winds…as well as cover well trodden Florida ICW footsteps in order to find new experiences on the coast of Georgia. Miles, miles, miles so we moved along until Melbourne where we stayed for two nights ducking strong winds…and arrive they did in the black, middle of the night (of course). We rocked and rolled and the anchor bridle strained but the anchor held firm. We had hoped for a breakfast ashore to revisit this cute town. Sadly, Mother Nature had other ideas and it was coffee and bacon/cheese/cucumber sandwiches on the boat (3/21). There were four boats in the anchorage overnight with more arriving as the sun came up. No need to bash north today. The winds will change soon enough.
And the winds did (finally) lay down as forecast; however, the resulting cold temperature (62 degrees) and remaining water chop could not entice us ashore. We stayed on the boat and made a gooey pork and cheese and chile dip with tortilla chips for dinner (recipe below). Our next hop was a mere four hours along the ICW/Indian River which has the waters again a thick brown (3/22). We were anchor down at Addison Point off of Cape Canaveral by 2pm. Our short day was decided because there will be a rocket launch at 11pm. We had a straight shot view of the launch pad approximately six miles away. My night photography skills need a lot of work but the light from the full moon helped. Wow – it was pretty cool! The boat trembled a few minutes after take-off when the sound made its way to us…really rumbled for a minute or two (and made me think of earthquakes).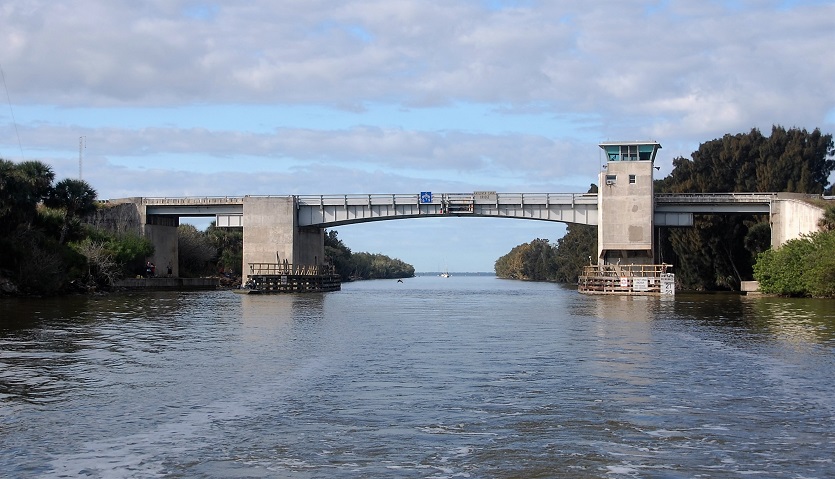 Picture perfect calm is how the day started as we departed Cape Canaveral (3/23). There were loads of manatees lazily breaking the surface of the water and countless dolphin frolicking in our bow. What a morning! We passed through and under bridges, passed sandbar beach parties and arrived at our final destination of Daytona Beach. It has been six days without getting off the boat and we will be ready for land at our next stop of St Augustine. Chug, chug, chug we go.
Sausage, Cheese and Chile Casserole Dip (James Villas, Crazy for Casseroles Cookbook)
¾ lb bulk pork sausage (or small cubed steak or pork)
8oz cream cheese, room temp
7oz can Rotel tomatoes and chiles
¼ lb extra sharp cheddar cheese, shredded
Cilantro, chopped, for garnish
Corn chips for dipping
1) Fry the sausage over medium heat, breaking up with fork until well cooked. Drain on paper towels.
2) Preheat oven to 350 degrees F. Grease 1.5 qt casserole dish.
3) Combine sausage, cream cheese, and tomatoes/chiles. Mix until well blended.
4) Scrape into casserole. Sprinkle cheese evenly over the top. Bake until bubbly (approx. 15 minutes). Serve hot and sprinkle chopped cilantro, if desired.