Georgia Adventures and Discoveries: April 7 2016
Our anchorage after Cape Canaveral was Daytona Beach (3/23). It was quite a different anchoring scenario than the previous night. Cape Canaveral was wide open with very little ambient light and only a small handful of boats scattered widely apart…Daytona was a dozen boats crammed into a small wide-spot-in-the-road between a bridge overhead and a cable run below. Oh, some generalities remain the same – the French are not good at anchoring. As the sun was going down a French Canadian boat anchored in such a way that soon we could have passed the Grey Poupon Mustard between us…gggrrrhhh. I smiled and waved and said, "No worries," (and hoped for the best). The night passed uneventfully and we hauled the anchor for our seventh straight day of moving.
Today we returned to St Augustine – land ho and we are getting ashore (3/24). However, this time it was not for boat work…we were tourists! We tied to a mooring ball in strong current and provided a bit of a floor show for our neighbors because it took a couple of tries to wrangle the mooring ball pennant aboard. Phew – tied up on ball #27 in the northern mooring field…closest to the bridge and the shore at St Augustine Municipal Marina (http://www.staugustinegovernment.com/visitors/municipal-marina.cfm). It was a good thing we had made a reservation because they were turning folks away.
We started with a walk to old haunts; a stroll down stunning Magnolia Street with her tunnel of live oaks, dinner at Kingfish Grill of familiar sushi, burger and fish tacos and the Duke game at Mardi Gras Sports Bar. The only problem was that we were early for the game and needed to kill two hours. The bar sorted that out in a most unexpected way…Naughty Bingo…hosted by a drag queen in a hot pink mini-dress and a perky bob to match. The whole thing was pretty hilarious and a fantastic way to "wait" for the game to start. Too bad the game did not go as well. And to add insult to injury a drenching rainstorm accompanied us on our walk back to the boat. Oh well, we strung up wet clothes to dry once back aboard and collapsed into bed after midnight.
Our day started with a few boat jobs like a provisioning run via the Port of Call Cruiser Shuttle ($5 rt) and a new anchor bridle arrangement was spliced by our old friends at Marine Supply and Oil (3/25). Then it was social time and we were lucky enough to get together with former cruising pals Jimmy and Caroline from s/v Blue Moon. They were part of our globe girdling pack and a welcome sight for sore eyes…all the way from Gainesville, FL; however, it was clear that some time had passed since we last saw each other because they now have a third member of their family - beautiful, 16 month old son named James. Wow – guys! Congrats! We happily whiled away the afternoon and evening catching up on the past and learning about future plans. But all too quickly the night marched on and we needed to separate until next time. Thanks for the visit – see you down the road.
St Augustine oozes with colonial history. Unfortunately, we did not get to investigate much of it during our previous time in the city because we had our heads down buried in boat work. This time we dove in head first and kicked off our education with a train tour…after fueling up with coffee and fried chicken and cheese biscuits at the Maple Street Biscuit Company (3/26). St Augustine is America's First City, settled in 1565 (42 years before Jamestown and 55 years before the pilgrims landed at Plymouth rock). The late 16th century was a tumultuous time of global colonization primarily accomplished by Spain and Portugal (post-Vikings and pre-Dutch/British/French). Juan Ponce de Leon was the exploring conquistador who arrived at St Augustine and founded Florida. He is also responsible for naming her; Florida means flowery. There were forts and canons; massacres and religious tensions; Indians and missionaries; lacey wrought iron balconies and cobblestone streets…all thanks to Ponce and every inch of his less than imposing stature at 4'11". But he clearly made a mark on history and a life-sized statue of him now stands atop a very tall pedestal (much like an eternal set of shoe lifts) in the Plaza de la Constitucion just beyond the Bridge of Lions. St Augustine would eventually become a less blood thirsty locale better known as a popular escape from northern winters by northern industrialists who built mansions and churches and gardens…and provided decidedly civilized touches to the naturally swampy ecosystem.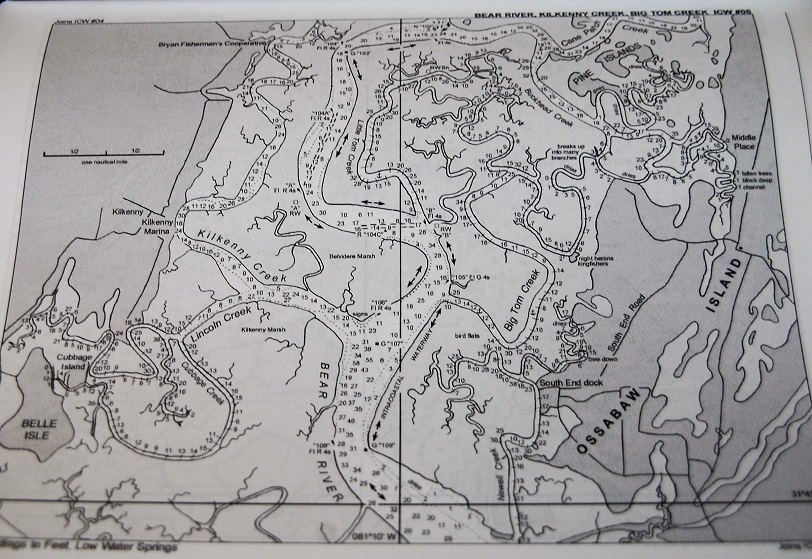 The next stop for us as we moved north along the Atlantic coast were the Barrier islands of Georgia. This is new cruising grounds for us and we are a bit nervous about its reputation for skinny water, massive and fast running tides, shifting silt bottoms and winding waterways. There are a total of 17 Barrier islands and only 4 have small populations. This could take some time?! We started to break-down the area with "A Cruising Guide to the Georgia Coast" by Nancy and Tom Zydler (incidentally, the only other cruising guide these guys have written was for the San Blas in Panama – we used that one in 2007 and liked it so we stuck with them again). Digging into the guide reinforced our initial anxieties with names like Devil's Elbow, Crooked Creek, Wally's Leg and Great Buzzard Island. Then there were the hand drawn maps…eegads…is that really a map?! Or drawings from Dr Seuss of Gertrude McFuzz and her voluminous feathers?! We'll start scratching the surface with one eye on the tide tables and one eye on the depth meter and see how we go. One of the hints in the guide states, "…on most rivers which continue far inland, the surface current usually keeps running out while the actual water level is rising. The opposite is also true…" Really?! How far is "far inland?" The same water travels in two directions?! Okay, relax and take it one port at a time.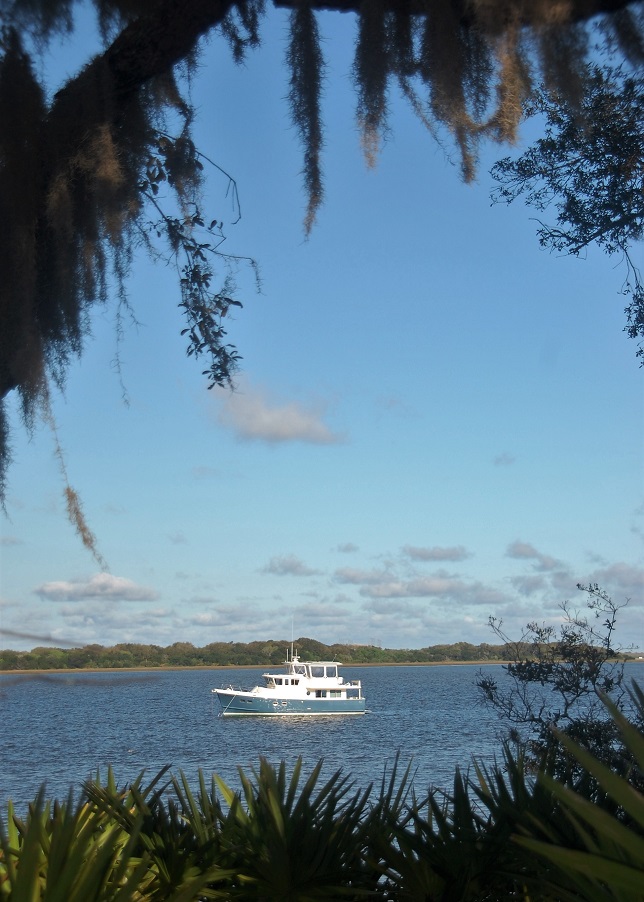 A forecasted calm day cinched the deal for our first steps into Georgia…out the St Augustine inlet and in the St Mary's inlet (3/27). This had us going outside into the Atlantic but conditions were expected to be mellow. The forecast was mostly true but a bit bumpier than hoped for. It was a 9.5hr run that ended with us anchored between Sea Camp Ranger Station and Kings Bay Submarine Base at the southern end of Cumberland Island. Our first land views after the fog lifted were as beautiful as we had been told; wild horses grazing along the shoreline, dolphin leaping in the bow, live oaks stretching up and out dripping with Spanish moss between salt water marshes…wow! The flora and fauna has taken a stark (and stunning) change from Florida.
We planned an entire day to walk the trails of Cumberland Island (3/28). There are 17 miles of uninterrupted beach not to mention miles of inland trails shaded below a canopy of palms, pines and live oaks…all draped in Spanish moss and ferns. We will not cover it all but we will enjoy stretching our legs…but first…long sleeves, long pants and bug spray from head to toe. After tying our dinghy to the Sea Camp dock we got a ticket from our fee box payment and we were off. It has been awhile since we have been in such a wooded environment and it is awesome. We climbed up sand dunes, squished through muddy marshes and even checked out the mansion ruins of Dungeness. It seems humans have enjoyed this bit of tranquility off-and-on for centuries. Plus, it is not hard to imagine that 20 species of song birds come and go to the island because the songs are LOUD…honest, really loud. And then there are the horses. Who doesn't want a pony?! They add a bit of action to break up the sedate flora and fauna. The myth is that the horses are descendants of horses brought by the Spanish in the 16th century; however, the more likely history is that they are descendants of horses brought by the English in the 18th century. The beach horses we saw seemed to be engaged in a bit of dominance display...the bigger horse won, just sayin'. Once we got walking we couldn't stop and bit off a bit more than we could chew once we finally decided to head back. Although the island is mostly preserved wilderness there is a single inn – "the grand and graceful Geyfield Inn," (http://www.greyfieldinn.com/). It is not hard to imagine the mansion's origination as the 19th century retreat of Thomas and Lucy Carnegie but we will stick with our accommodations on Barefeet.
Back aboard Barefeet we rested our sore muscles and settled into sundowners. We didn't tour the intact Plum Orchard mansion or see the church where JFK, Jr and Carolyn Bessett got married but we'll do that on a return visit because we'll be back to this beautiful place again. Hey, we had a floor show to go with our sundowners…a submarine exiting Cumberland Sound. There was a hint about what was going on when the Coast Guard hailed private boats on VHF 16 demanding more space for a "deep draft escort." Submarine?! Yep, just as the sun set we viewed two large tugs escorting a submarine out to sea. Very cool!
The Barrier islands of Georgia are organized into eight island groups. We departed the Cumberland island group and arrived at the Jekyll island group after a short four-hour hop (3/29). The Jekyll island group is one of the three groups connected to the mainland by bridges (St. Simons and Tybee are the other two). However, the bridge was not constructed until 1954 – well after the island was purchased by a group of northerners who wanted a private, members only club where they could relax out of sight from journalists and the general public. From 1886 until 1947 the island served as an exclusive winter retreat and hunting preserve for millionaires with names such as Morgan, Astor, Vanderbilt, Rockefeller, Pulitzer…you get the picture.
Our time at Jekyll was squeezed into a single afternoon so we tied up at the Jekyll Harbor Marina's face dock and headed into the Historic District (http://www.jekyllharbor.com/). Biking is a great option on the flat island but we wanted to get a bit of background and history so we joined a 90-minute tram tour. We were whisked back to the Gilded Age when the only island inhabitants came for short periods of time to their "cottages." These club members dined nightly at the Jekyll Island Club where dinners took several hours and all attendees were dressed in elegant, formal attire. The concentration of business leaders resulted in some historic and infamous moments on the island including the first transcontinental telephone call in 1915 and the landing of the sailing ship the Wanderer in 1858. The Wanderer was created as a luxury racing yacht in 1856; however, after twists and turns she landed at Jekyll with nearly 400 slaves enroute from Africa…38 years after the slave trade was declared illegal and punishable by hanging. Author Erik Calonius describes a little known conspiracy that jumps from New York City to Savannah to the Congo and back in his novel, The Wanderer, which provides a fascinating insight into the area and its slice of time.
Today, in 2016, time spent on Jekyll is a bit less dramatic and more simply focused on vacation, relaxation…and maybe a game of croquet dressed in your all whites on the lawn of the still operating Jekyll Island Club. There is a Westin Hotel, a realty office, frozen yogurt, a golf course and plenty of other marks of the 21st century. However, the natural beauty of the island remains evident in every view…including the nearly 400 year old oak tree named Plantation Oak which measures 128 feet limb to limb and is a veritable tent under which countless weddings are performed each year. Nature also slips nearby at our dock space where a complicated two step fastening latch is used on all trash cans in order to keep raccoons out of the bins…crafty bandits.
Continuing north we leap-frogged through the St. Simons island group and the Sapelo island group…finally coming to a stop at anchor in the St. Catherines island group in the North Newport River (3/30). It was a full day winding through rivers and creeks and crossing sounds. The ICW has green and red channel markers but constant attention is needed when driving…unlike the wide open ocean when we set the auto pilot and simply let the boat drive herself. In order to keep sharp and alert we have devised a driving strategy of 1.5hrs on…then we switch. It works well and keeps each of us from being too worn out at the end of the day. Dinner under a blanket of stars with Chris' hamburger and jalapeno pizza…fantastic.
Our final stop in the Barrier islands was in the Wassaw island group at the Isle of Hope Marina located just ten miles from downtown Savannah (3/31). We planned a four-night stay in order to explore the area and visit with friends. Shifting schedules kept our plans touch-and-go with Sue and Doug but the stars were aligned and they greeted us at the dock soon after we arrived. Sue is a childhood friend of Chris' Mom from Massachusetts but she and her husband have called Skidaway their home for 20-years. Sue has been filling us with information and history as we meander along the Georgia coast with book titles (Wanderer, Our Man in Charleston), landmarks and fun tid bits. Before having dinner together Sue and Doug drove us around the area and pointed out highlights such as the stunning row of antebellum homes along waterfront Bluff Drive, the community of Pinpoint (birthplace of Supreme Court Justice Clarence Thomas) and an often frequented neighborhood Mexican restaurant, Jalapenos. We talked for hours about travels past and present as well as fine tuning our local touring…including an Estate Sale tomorrow just a short distance from the marina. Thanks for the warm welcome and solid introduction to the area.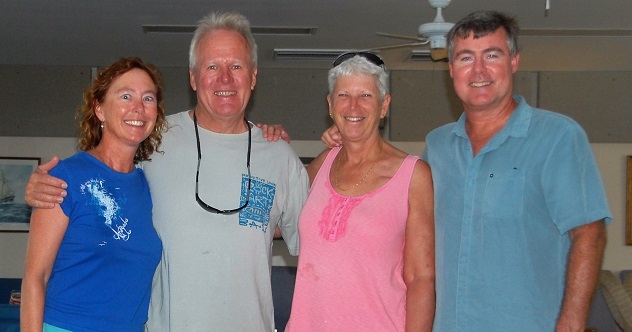 The stars really are aligned because we were able to connect with globe girdling Aussie cruisers Liam and Annie (s/v Gone With The Wind) and Chris' grad school classmates Brad and Nancy (4/1). Liam and Annie are at Brunswick Landing Marina – a spot where we might like to leave Barefeet as we make trips up and down the coast (http://brunswicklandingmarina.com/). And what better way to learn about the place than from our (temporary) resident friends?! It was great to see these guys and they look healthy and strong and ready for another cruising season after a couple of health scares (one a piece). Take care guys – hope to see ya here later in the year.
Grad school in North Carolina for Chris was…gulp…twenty-five years ago?! Sadly, it has taken that long for us to get to Savannah to visit Brad and Nancy. We met for drinks at their lovely home and continued chatting and catching up right through dinner at delicious Lili's Restaurant and Bar (http://www.lilisrestaurantandbar.com/). Little did we know that the internationally inspired dishes implied a vibrant ethnic food scene bursting in Savannah. Who knew?!
Thanks to knowledgeable friends we have created long lists of eateries and shops and parks and plantations to visit and it was time that we got started (4/2). Historic Savannah is a city on a river laid out in an easily navigated grid pattern with more than twenty squares scattered around the city. The squares better resemble gleaming jewelry box sized gardens perfect for a bit of sitting in the shade between shopping forays or landmark spotting. Former cotton warehouses along the riverfront are now galleries, restaurants and bars. Savannah is both old and new. She was established in 1733, was a strategic port during the Revolutionary and Civil Wars and today is an industrial port only surpassed in terminal volumes on the east coast by the combined volumes of New York and New Jersey. Savannah is lively and vibrant at her core wrapped in a charming historical embrace. We are smitten.
Now for a bit more about the practical side of Savannah. She is not just a tourist town with t-shirt shops and photo ops. We found ourselves checking things off of our To Do lists right and left; haircut for Chris, Home Depot run, Supermarket stop, comforter for the bed (our bed has looked like a pile of laundry as we stack as many blankets as we have aboard...time to admit it is cold at night), ethnic ingredients like panang curry…even a humble cocktail on the river without 200 of our closest, bus touring friends. We like it here.
Okay, the clock is ticking down for our time left in Savannah but we can squeeze in a couple more sites; Bonaventure Cemetery and Wormsloe Plantation (4/3). The Bonaventure Cemetery is on a bluff overlooking the Wilmington River. Although beautiful and once described by John Muir as, "…the most impressive assemblages of animal and plant creatures I have ever met," the cemetery was largely unknown until John Berendt's novel "Midnight in the Garden of Good and Evil" catapulted it into the world's eye. We strolled beneath the live oaks draped in Spanish moss (yes, we still love them). Splashes of color explode randomly from bright blooming camellias and azaleas and wisteria. We found beloved young Gracie's burial surrounded by toys and stuffed animals but we could not find songwriter Johnny Mercer's grave (Moon River among others) – the biting bugs were simply too ferocious so close to the river.
It was coming up on 5pm and we needed to get to Wormsloe Plantation before it closed. This was our last visit in Savannah and located nearby the marina on Isle of Hope. The Plantation covers 822 acres including a magnificent 1.5-mile oak avenue entrance. Noble Jones built the original buildings in 1736 and his descendants still live at Wormsloe House and its immediate surrounding area. We simply do not get tired of the stately live oaks draped with Spanish moss. Beyond the dense oak-pine forest lay rambling creeks through grassy marshes. It is stunning and tranquil. The oak avenue is an especially popular spot for photos and we counted no less than three wedding parties during our short visit on Sunday afternoon. Everyone exhibited immense discipline and composure in their wedding finery striving for lovely photos until...shutters clicked…then all crumbles and everyone immediately begins scratching and squirming from biting bugs.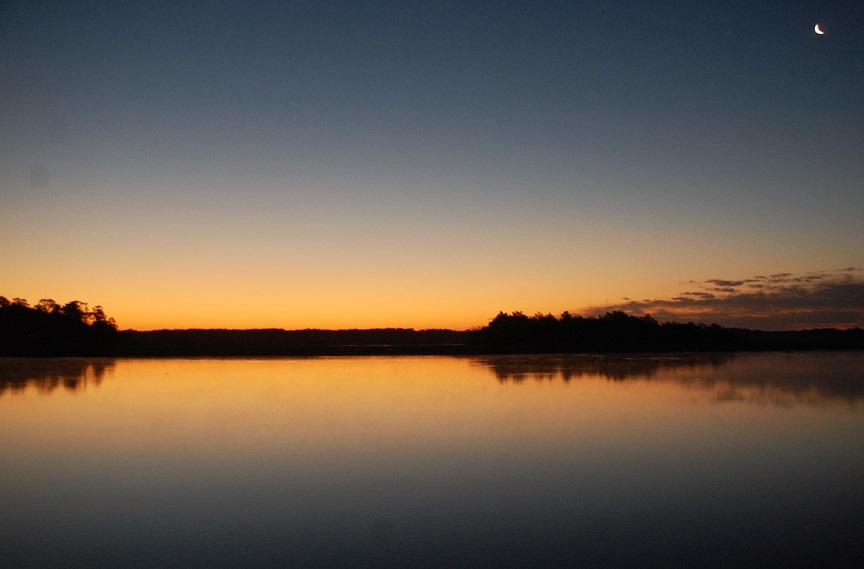 That is it for Georgia. We thoroughly enjoyed exploring these new cruising grounds (to us) for the first time. It was a real struggle not to carry the camera every second…something hard to imagine from all the plethora of photos in this log?! The stunning beauty of the Barrier islands is wonderfully unique and did not quit…not even at sunrise on the day of our early departure. Now it is onward to South Carolina.
We took another hop outside since the weather was calm and quiet (4/4). We had many miles to make and were lucky to have current pushing us along…we were going as much as 9.5 knots while exiting the Savannah River. Speed demons! We exited the Savannah River into the Atlantic Ocean, passed by Hilton Head, came back inside the ICW at Port Royal Sound, passed Parris Island and anchored off Beaufort, SC. Back in familiar waters we celebrated completing our Georgia adventures with grilled steaks, baked potatoes and steamed artichokes with butter and lemon. A bit too much wind against tide made for a noisy night with earplugs a requiremnt in order to sleep more soundly. Wind against tide is a constant anchoring dilemma in this corner of the world.
Beaufort holds fond memories for us and it was nice to return after...ten years. Where does the time go?! Tops on our list of must-eat was lunch at Sgt White's BBQ on Boundary Street. The place is only open 11am – 3pm so we made sure not to miss the window (4/5). Holy cow! It is as delicious as ever even if ownership has possibly changed. So much remains the same - icluding the emphasis on the Marines and it is definitely the décor of choice. Veteran Sgt White showcases both sides of war; the honor and the horror including great support for the Disabled American Veterans. It is a real ying and yang…one photo showing a squadron of smokers proudly improvised in a battlefield kitchen thanks to dozens of metal trash cans and stove pipes…beside…the inquiry - would you have made a different choice if you had known it all. It is a lot to think about as you wait your turn to order at the counter, trying to keep taste buds in check. I had BBQ ribs with mac and cheese, fried okra and corn bread, Chris had a pulled pork sandwich with mac and cheese and candied sweet potatoes…and lemonade all around. This meal will have us settled for dinner, too.
Cooler temperatures had us bundled up a bit more than usual including socks and shoes. The town of Beaufort has lovely neighborhoods that Hollywood has often used in movies (e.g. The Big Chill, Forest Gump, and others). We walked off a bit of lunch roaming the tree lined streets before I dropped Chris at a coffee shop on Bay Street and I did a bit of retail therapy. Winds had died down by the time we returned to Barefeet which resulted in a calm feel to the boat sitting at anchor. We settled into the top deck for sundowners gently swaying with the shifting current. Darkness slowly descended as lights ashore illuminated and we can imagine the twinkling flames glowing from gas lamps. Beaufort conjures romantic notions and simple times.
Our next few days will be slow steps north anchoring in creeks beside marshes on our way to Charleston where we will gather friends Lino and Phyllis for time aboard.