Expectations and Cruising: October 4 2016
Expectations are a good way to set goals and strive for new things. However, cruising tends to take your expectations and toss them out the window…then…replace them with something-that-was-almost-but-not-completely-unlike-your-expectations (Hitchhiker's Guide to the Galaxy). But I am getting ahead of myself – let me back up a bit.
We had a great summer with Barefeet in Boston. The time was full of boat projects and harbor cruises with friends. Chris did many boat projects with a mailing address and an uncluttered home to return to every night. The replacement of all fuel lines was the primary project but there were additional projects, too, along with unexpected things that snuck in around the edges like replacing the fridge and hot water tank. Time flew by and soon it was time to head south for our Holiday storage in Brunswick, Georgia…where we will return in January for the winter cruising season. This should be a quick "delivery" style trip without much time for smelling the roses.
Ahoy! We tossed the lines Wednesday morning from Charlestown Marina in Boston (Sept 21). It was a calm overnight run from Boston through Buzzard's Bay to Port Washington in the Long Island Sound (just before Manhattan). We waited in Port Washington for a couple of days to let the waves from storm Karl mellow...and...we did some boat projects; installed the panels to the fridge, changed a main engine fuel filter and changed the lower unit oil in the dinghy engine (please be aware I am not thrilled to have all these minute details at the tip of my tongue - oh well).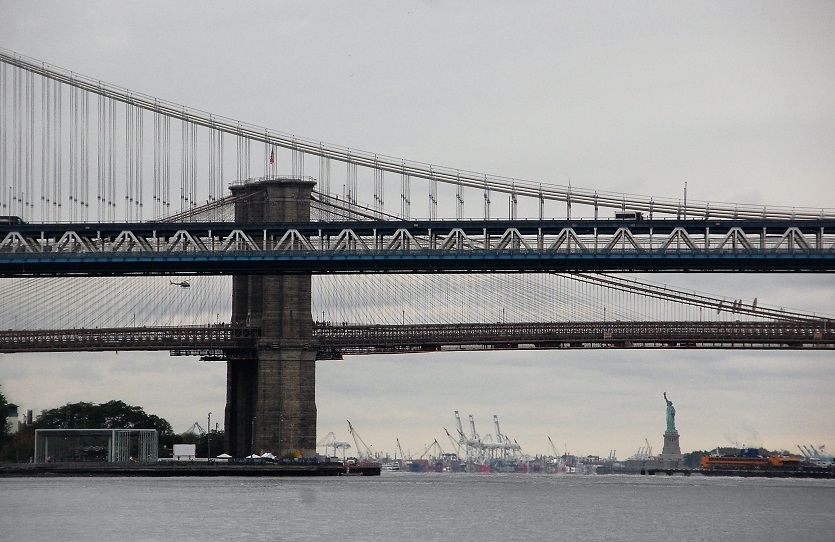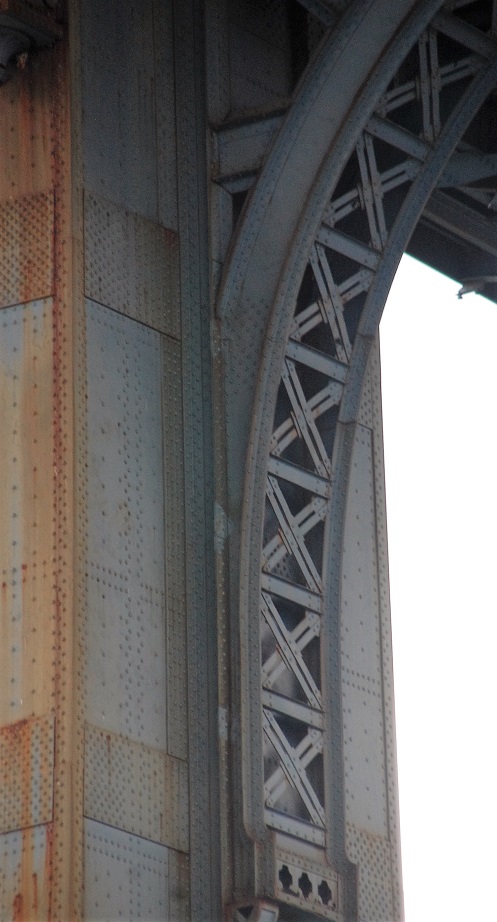 Then off we went through Manhattan (Sept 24). Incidentally, NYC was a hubub because the UN was in session. We motored right past the UN on Saturday...gobs of helicopters...even by NYC standards. There was literally a helicopter parking lot with painted spaces and copters evenly spaced one after another after another…just like any strip mall parking lot full of mini-vans. But the bridges of New York City - wow. They are a wonderful combination of art and industrial heft...stunning every time we see them.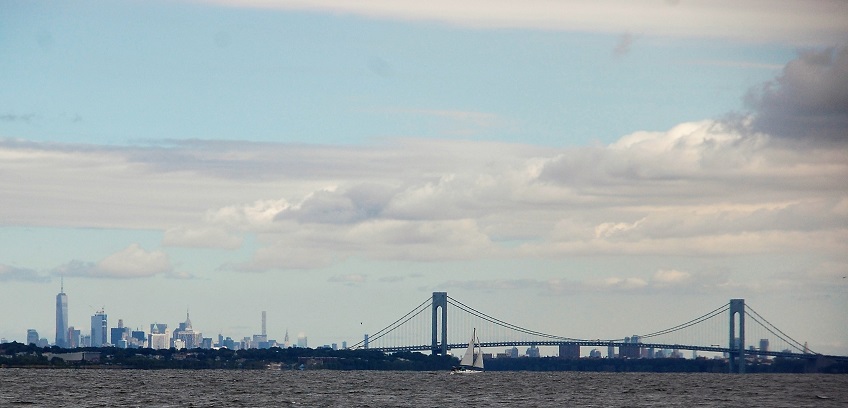 Out the other side of Manhattan and we stayed a night in Staten Island then made an overnight hop down the Jersey shore. It always feels good to have the wide open ocean off the Jersey Shore in the rear-view mirror. Dinner was simple (but hot) cream cheese and chili dip with corn chips…mixed and "cooked" in the microwave using only one bowl. Offshore travel dictates efficiency.
Weather conditions outside on the ocean deteriorated by the time we got to Cape May the next morning so we headed up the Delaware River for a night in Chesapeake City tied up at Shafer's Marina (Sept 26). The food was good and the people were over the top friendly…it took us nearly 30 minutes to sit down because everyone wanted to chat about where we traveled from and where we were going to.
Our next stop was Annapolis in the Chesapeake Bay (Sept 27). We anchored off of the Naval Academy with our new anchor set-up…new chain, new bow roller and beefed up roller pin (another summer project). Everything worked like a dream! With only one night in town we buzzed over to the neighborhood Davis' Pub (http://davispub.com/). It was a clear, warm night and we felt good arriving in our seventh of eleven states: MA, RI, NY, CT, NJ, DE and MD. We were making good time and clicking off the miles.
We pulled up the anchor in Annapolis in the dark hoping to make a full day run all the way to the mouth of the Potomac in order to get ahead of bad weather that was heading for Annapolis in the upper Chesapeake…but leaving the lower Chesapeake sunny and clear (Sept 28). Drat! We hate going backwards but we had no choice as a road block in the form of a massive thunderstorm blocked the Bay with 35+ knots of wind, hail, lightening and thunder. Reluctantly, we turned around and headed back to Annapolis. The bad weather was coming and was expected to hang around so we picked up a mooring ball rather than anchor in the exposed anchorage. But a bit of reality check shows ten foot waves off of the Jersey Shore…reminding us to take it one step at a time when we can.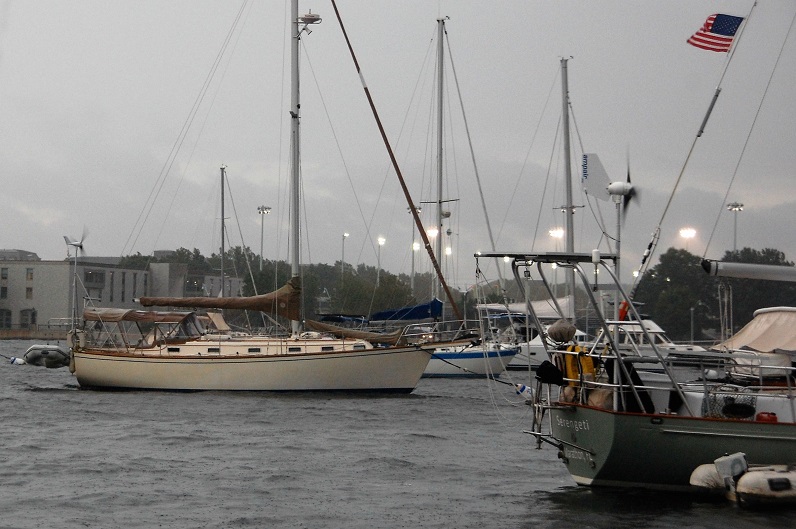 Three days of 30+ knots of wind and a small craft advisory followed. Several other cruising boats were snug in the harbor on mooring balls with us - no pain, no pain. We are all looking at weather...reluctantly signing on for one more night and another…on the mooring balls because weather forecasts simply refuse to budge.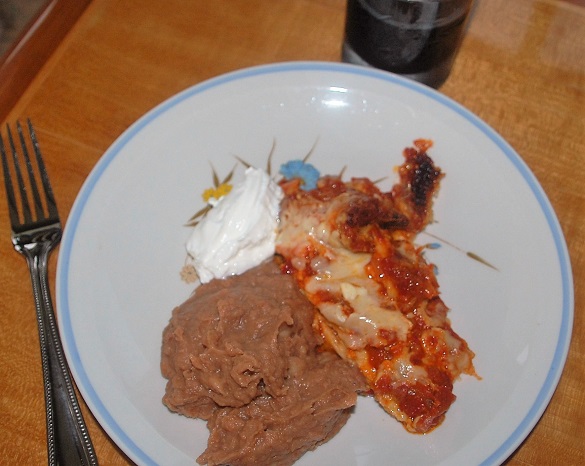 We have done small boat projects, read books, watched movies and looked forward to meal time. We have ventured ashore and we have had hot meals aboard. Homemade cheese enchiladas with refried beans were a particular favorite when rain and wind was too nasty to venture ashore (recipe below). It seems that the worst part about the weather has been the nightly waves churned up by the wind which produce so much boat movement that we feel like we are on passage and sleep is pretty elusive (although ear plugs help).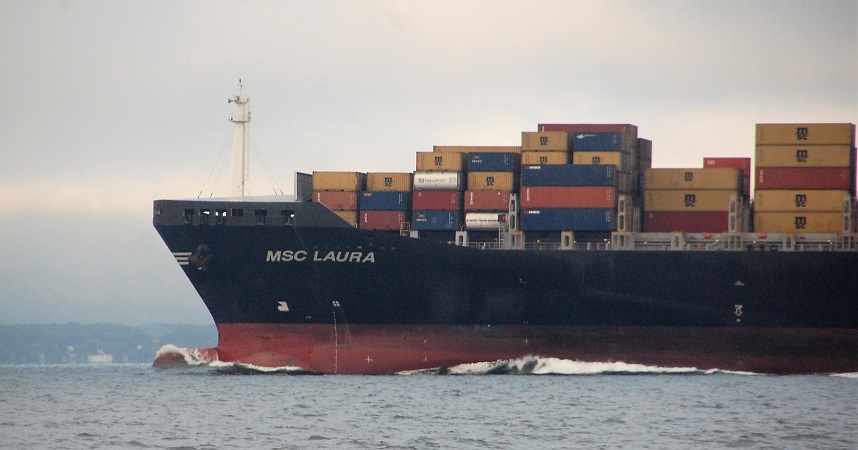 Eventually, the weather conditions broke in the upper Chesapeake. Off we went for Annapolis departure take-two (Oct 2). It was a gentle ride down the Chesapeake with glimpses of sunshine to familiar Jutland Creek at the mouth of the Potomac. The name Chesapeake Bay sounds like a bucolic waterway with wildlife and fisherman. It is that but it is also a superhighway for mega ocean tankers on their way to and from Baltimore and Philadelphia. We give the channel a wide berth so these guys can steam through the deep, center of the channel. This is a busy waterway.
Throughout the day we heard lots of chatter on the VHF radio about destination itineraries and eyes following hurricane Matthew. Forecasts are 1.5 weeks out but the hurricane track looks to be heading to mainland USA…completely hugging the shore of the east coast. Gulp. We need to think hard about this.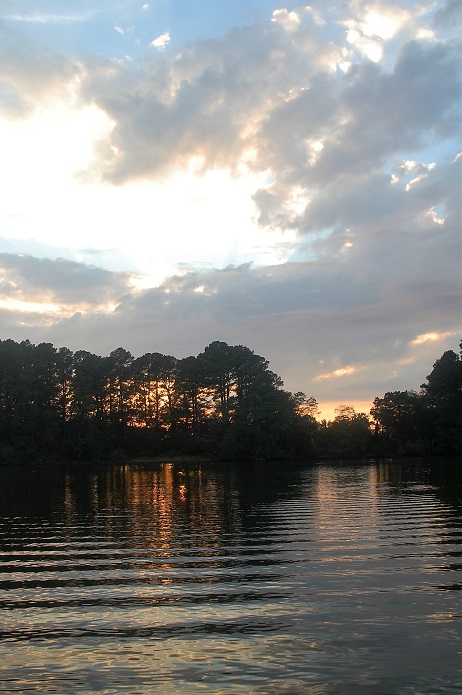 But first we headed to Courtney's Restaurant (https://www.yelp.com/biz/courtneys-restaurant-and-seafood-ridge). This creek anchorage is absolutely one of our favorite anchorages on the planet. The water is still, farmed oyster beds line the shore, the air is a fragrant combination of pines/floral/fresh and eagles swoop overhead – definitely a place wrapped in magical serenity.
Creeks and rivers and ocean offer a seafood bounty around every corner and on every table. Maryland's Holy Trinity of Seafood is oysters, rock fish (striped bass) and blue crab. Menus herald crab pretzels, crab balls, chees-ey crab dip – you get the idea. But no one does it better or fresher than waterman Tom and cook Julie Courtney. We settled into the no-frills dining room for raw oysters, hushpuppies and rock fish stuffed with crab and drizzled with a light cheese sauce. As we paid the bill we got talking with Tom. He is a lifelong waterman with more experience on the local waters than can be found in all the books on library shelves or across all internet blogs. He told us of the boats he has lost in storms, standing six foot waves into the creek and ropes that had to be cut with a knife because knots had pulled so tremendously tight that they could not be undone.
We had a lot to think about with the impending hurricane looking to be in our neighborhood. Would we keep driving INTO a hurricane and hope for a place to tuck in when the time came?! Or would we move to Atlantic Yacht Basin on the ICW just past Norfolk?! Atlantic Yacht Basin markets itself as a hurricane-proof spot…which sounds good. Let's wait one more day to allow the track to crystalize a bit more.
After much thought we have made a hurricane plan. Chris says it best, "We decided to do what a grumpy old waterman in a Chesapeake bar told us to do... Go 100 miles up a river and get away from the coast. We will go up the Potomac river 100 miles to Washington DC and wait this one out. The "hurricane proof" marina (Atlantic Yacht Basin) just called and said they were not going to honor our reservation and would turn us away. If we keep going south we will be near the outer banks, NC, when the storm gets here ... Which is kind of like spending a night in prison because you are worried the streets might be unsafe. We are probably being overly worried ... But the consequences of no safe place to be and 130 mph winds?! It just doesn't sound like we want to be on the wrong side of that one."
So, for the second time on this trip we turned around and headed back the way we came…and then continued on up the length of the Potomac (Oct 3). The serene landscape was periodically broken by radar installations that rivalled the treeline height. We lost some time back-tracking so we eeked out as much daylight as possible and kept moving until 6.30pm to anchor in Mattawoman Creek just as the sun was going down (between Quantico and Mt Vernon). Our decision made – it was a restful dinner of chicken tamales with rice and beans followed by a quiet slumber.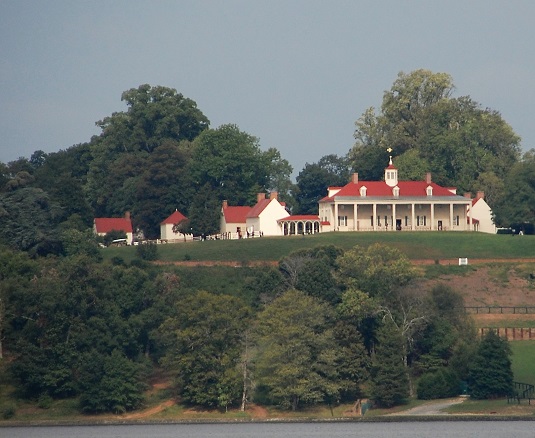 We were DC bound and following our route taken last Spring (Oct 4). Familiarity makes all trips a bit less spooky and this was no exception. We watched for logs and islands of sea grass while soaking in the serene landscape. Just after twelve Noon we were tied up snug in a slip at the Capital Yacht Club with Dock Master Kelvin and Rear Commodore Phil welcoming us back. Aaahhh. Here we are heading south with expectations almost-but-not-completely-unlike-our-original-expectations. Mother Nature holds all the cards and we will wait-and-see what our next move will be.
Cheese Enchiladas with Red Sauce (salsa roja) by Jeff Smith, Frugal Gourmet
Enchiladas:
1 cup peanut oil*
8 corn tortillas
1 med yellow onion, chopped finely
3/4 lb. white cheddar** cheese, grated

Salsa Roja:
2 oz. red chiles, ancho, chopped finely
1-1/2 cups hot water
2 cloves garlic, chopped
1-1/2 tsp. salt
1/4 cup peanut oil*
1 med. yellow onion, chopped finely
1 tsp. ground cumin
2 Tbs. browned, all-purpose flour***
1 med tomato, chopped and cored
1/4 cup chicken stock
1 Tbs. red wine vinegar


METHOD:
Clean the chiles by removing stems and seeds; chop finely. Soak chiles
in 1-1/2 cups hot water, covered, for 1 hour. Mill entire "soup" along with
salt, garlic. [Sauce should not have any huge "chunks."] Set aside.
Heat a medium frying pan and add oil and onion. Sauté until the onion
is clear and then add the cumin and browned flour. Stir for a moment and add
tomato. Sauté until all is tender, about 5-6 minutes. Add the chile mixture
to the chicken stock, red wine vinegar. Simmer, uncovered for 5 minutes,
stirring until sauce thickens.
Place salsa roja in a large shallow bowl. Heat the oil in a frying pan