Does Spring Break Have an Age Limit: March 13 2016
Time to move on from Marco Island since the winds have laid down and we have more to see. The sun is rising a bit earlier every day which allowed us to leave at first light with good tide height at 6.30am (2/29). We wanted to make sure light and tide were aligned because the water can get pretty skinny in the canal exit and we did not want to bump the bottom. We took it slow and did not see less than 7 feet…phew. Next stop is the Matanzas Harbor Mooring Field at Fort Myers Beach. The mooring field has 70 moorings which should be plenty for everyone; however, the crazy weather this year has people staying in one place longer than usual so we have our fingers crossed for availability because reservations are not taken…it is strictly first come, first served (http://www.fortmyersbeachfl.gov/index.aspx?NID=109). All worked out and we were nicely tied to mooring ball #53 at Noon.
And guess who is on the water?! Friends from our Cove Haven days of 2005…Sue and Steve. This is a small world. They were at nearby Doc Ford's Rum Grill for lunch and with a bit of FaceBook exchange we traded locations and voila – they came aboard. It is always marvelous to catch up with cruising friends. Holy cow – has it actually been more than ten years?! Could have fooled us - fantastic to see you guys.
Cousin Treva from Chicago is escaping the northern winter for a couple of weeks in sunny, warm Naples. We spent a day together exploring this new territory for both of us (3/1). We explored Sanibel and Captiva and downtown Fort Myers checking out watering holes, hamming it up and even visiting the Manatee Park. The Manatee Park was a bit of a bust because the giant critters rarely pop more than a couple of nostrils above the water's surface. I guess I could have deduced this earlier since all the photos I have ever seen, including the ones in the gift shop, are taken under water. Duh! Oh well, it was fun and we did spot a couple of the sluggy critters. Thanks for an introduction to the area – Treva.
Sunrise gives sunset a run for its money here at Fort Myers Beach – we are lucky. This seems to be a beautiful and peaceful spot to spend some time…and it feels a bit more cruiser-y with a dinghy dock for easy access into town, trash dumpster and laundry/shower facilities. But enough playing around – we need to familiarize ourselves with the immediate area before Boston friends Charlene and Ashlyn arrive; provisioning – check, diesel – check, water – check.
The large Topps Supermarket is a short dinghy ride away complete with a dinghy dock. Our fridge and pantry are now full and recipes can turn into meals. Diesel…we do not actually need diesel but at a price of $1.79 per gallon we decided to fill up anyway (and took on just over 400 gallons). Ballard Oil is located beside the mooring field and Jim Ballard could not be nicer (239-463-7677). Jim services the dozens of shrimpers which keeps the fuel well turned over and clean…each shrimp boat takes on about 5,000 gallons at a time. It's the largest fleet of shrimp boats on the Gulf Coast; in Fort Myers Beach December thru July and in Texas July thru December. Give Jim a call before you arrive to be sure that the shrimp boats are not filling up and already at the dock. Make no mistake - shrimp is serious business and there is even an annual Shrimp Festival - in its 58th year and run by the Lions Club (http://www.fortmyersbeachshrimpfestival.com/).
Jim also let us fill our water tanks but, sadly, we misjudged the fill and still needed 20-30 gallons. Drat! The watermaker is working fine but the water is not. Lake Okeechobee has been releasing water in order to curb flooding due to unprecedented rains last month…and it is full of silt and debris. The water looks a bit like camp dish water after Burning Man…or a farmer's settling pond. Well, we used the watermaker to top off the tanks and were able to run for about 1.5 hours before the filters clogged and we had to call it a day. We will hope to ration well enough to last through our visitor's visit. Another water strategy is to head out to clearer waters but that is not much of an option under current conditions because the silty plume extends from Port Charlotte to the north to Russell Pass to the south and about 12 miles offshore.
We are going to Spring Break! Yes, we are uggghhhm older than the typical "breaker" but we are hosting friend Charlene and her college daughter Ashlyn…so we are calling it Spring Break on Barefeet. The ladies arrived and immediately got into the swing of things with dinghy transport, dinner on the waterfront and a beach walk at sunset (3/4). Times Square is the focal point of beach activity at sunset…complete with street performers, ice cream cones, newly tanned bodies and droves of people watching the great yellow ball slip into the sea. And the sand is super soft – more like baby powder than crushed shells. Wow!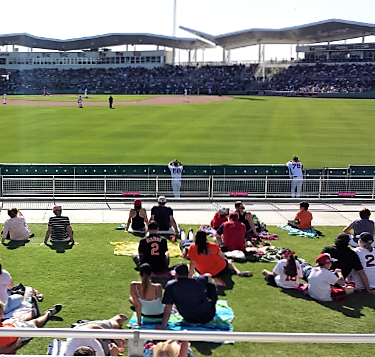 It seems lots gets going in Florida in the spring…including Spring Training for the MLB. The Red Sox are part of the gaggle of teams in Florida and are aptly called the Grapefruit League…the Arizona gaggle is called the Cactus League. Off we went for a game against the Orioles (3/6). The stadium is called Fenway South and a perfect, although smaller, replica of the one up north…including the Green Monster. It was a picture perfect day and we felt transported to summer. The grass was green, the sky was blue and the old and young alike were eating hot dogs, peanuts and pretzels. We were there more for the day...not the seats. As you can see we did not pay up...us, the lawn seating, the bull pen...the ant people players. The Sox won which continued the magical afternoon.
It feels like we have rounded a corner with EVERY day in flip flops and shorts…and the fleeces back into the cupboard. We still have the baseball game rental car so we took a bit of a road trip back to Everglades City (3/7). It was so much fun with Rich and Jodi that we repeated the day with Charlene and Ashlyn. We hugged alligators, sped through mangrove tunnels on air boats and even stopped to pay homage to the baked bean serving spoon in the museum (snicker, snicker). On the way back to Fort Myers Beach we spotted gators beside the road and stopped for a walk along the beach in Naples. The gator was nestled almost completely below the floating greenery...ha...good thing the driver was not also the spotter. Also along our route back north is the town of Naples. Naples gets rave and ritzy reviews. We certainly loved the abundance of trees; however, the sand was not as soft as at Fort Myers Beach…just sayin'.
Back aboard in Fort Myers Beach and we have settled into some routines like sunbathing on the beach and, well, eating. We LOVE the Plaka Restaurant on Estero! It is a Greek restaurant on the main beach thoroughfare. We did not have lofty expectations for this touristy location but it is amazing…and always packed. Our favorite was a meze platter of grape leaves, moussaka, pastichio, spinach pie, gyro meat, green beans, tzatziki, roasted potato…and on and on. We came back a few times and even for breakfast. Chris used some Greek and we learned that the family is from the island of Kalymnos and has been running the place for 30 years. As we continue to ration our water we have focused on washing ourselves…not…dishes. This strategy has led us to find some great laid back eateries with better than expected pub fare like the awesome pizza at Bayside Grille for a Duke game and burgers with onion rings at Bonita Bill's…and don't forget the $2 jello shots – it's Spring Break, after all (http://www.baysidegrillefortmyersbeach.com/) (http://www.bonitabills.com/).
The days continue to click along and the Spring Break visit has come to an end (3/10). Charlene and Ashlyn returned to a not-so-frosty Boston and we will continue our slow ramble north. But first, we will have a few more walks on the beach and cocktails at waterfront dives...or on Barefeet's top deck watching the boats cruise by like the cars driving on that summer night in 1962 in Modesto a la American Graffitti. So long, ladies – come back again soon.
Our progress north has been stalled in Fort Myers Beach with several days of strong winds. However, Monday (3/14) should see some weakening and we plan to head around the corner to the Caloosahatchee River to stage for our crossing of Lake Okeechobee. Crossing the Lake and canal system will have us pop out at Stuart on the east coast of Florida followed by a continued ramble north along the ICW and the Atlantic ocean.