Coastal Carolina x2

: April 24 2016
As we move north along the coast via the ICW we have fallen into step with other cruisers and enjoy the renewed sense of community. It has been nice to see familiar boats and faces as we bop along the waterway such as m/v Ocean Commotion from Connecticut, m/v India Jayne from Northern California and m/v Alamae from Maine. The current migration herd seems to mainly be folks targeting May 2 - 5 in Norfolk, Virginia, for a Looper Rendez-Vous and Reunion (http://www.greatloop.org/content.aspx?page_id=22&club_id=574480&module_id=194248). "Loopers" are folks doing The Great Loop – the circumnavigation of Eastern North America through waterways connecting the Great Lakes and the Atlantic Intracoastal Waterway. We have this adventure on our list of fun trips to do but have not yet settled on a specific time-frame (the loop generally takes 12 months from start to finish).
Now back to our current travels. We raised the anchor from Beaufort, SC, and headed for Toogoodoo Creek (4/6). It was a lovely six-hour day through low marshlands bordered by a thick, dense line of trees. We continue to see bald eagles and dolphin at nearly every turn. The bald eagles proudly patrol the waterway like sentries at a post…and they never fail to leave us in awe of their majesty. The dolphin frolic in our bow in groups of three or four (and even give the periodic squeak) then swim off for their next bit of fun. Our entry into the Toogoodoo creek was not a nail biter – plenty of depth below us and plenty of swing room beside us. The strong winds kept us swinging with the tide but we liked the quiet spot and stayed for two nights.
Next up was our staging for our arrival into Charleston Harbor. There are two reasons for the staging and both are tide/current related. First, right before Charleston (coming from the south) is the Elliott Cut which can have current running at up to five knots – best not to have that in our face if we can help it. Second, the tide on the Cooper River along the coast of Charleston (and our marina) can be VERY strong and fast…and slack tide is a mere 30-minute window. The result of our calculations was that we chose to anchor in Stono River because it had us within eyesight of Elliott Cut so that we could closely time both current issues (4/8). Interestingly, it is a mere one hour run from Stono River to the Charleston City Marina which gives us plenty of flexibility to time the tides/currents.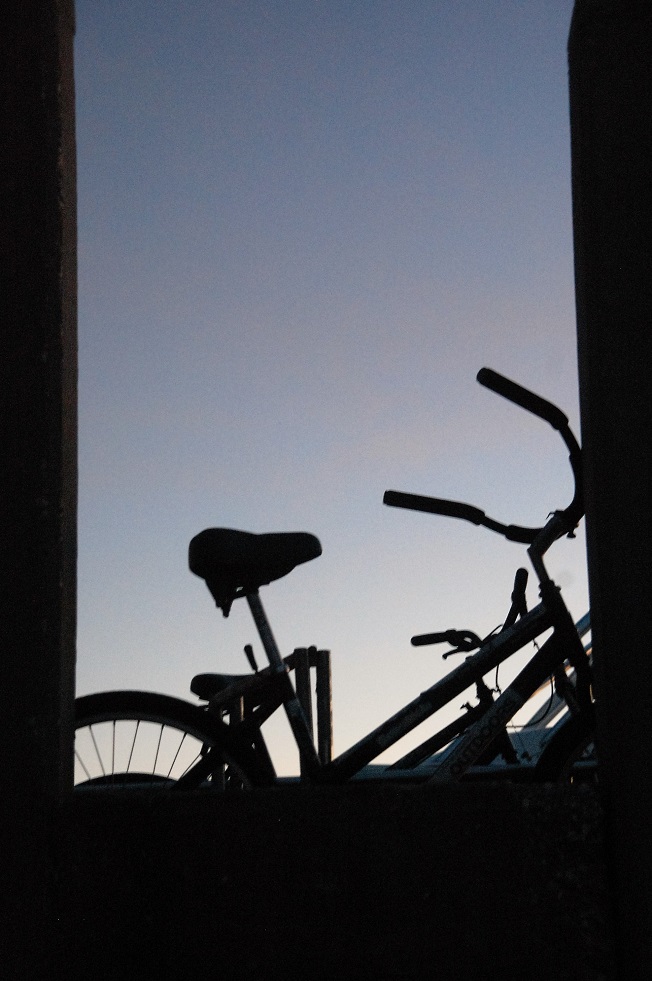 We checked and double-checked the tide tables and targeted a 10.30am arrival into the marina (4/9). Phew, all went well through the cut, across the river and making our way between boats down the narrow dock alley where we tied up alongside at our Charleston address for the next few days. We gathered tourist maps and info, Chris made a quick rinse of the boat and I made a supermarket run to fill the larders. Done! Dinner was at the completely laid back Salty Mike's just steps from the boat. How could we go wrong with tatter tot nachos…totchos. Yum! Charleston's Sailing Race Week is in a few days which has a few sailing racers in the neighborhood. We had a jovial chat over cocktails with Mr. P who works on racers, delivers boats and does about anything as long as it is marine/boat related. We were all lamenting the cold weather when Mr. P mentioned that he is really bummed because he owns no pants – honest, not one pair (just shorts). Geesh, the frost warning tonight means he will need extra anti-freeze to combat the lack of clothing. Good luck Mr. P.
Chris has checked off a couple of maintenance items that have "come due" via his Microsoft Access program: start up the get-home engine; clean the sea strainer of the get home engine (okay, that was a job for me since my hands are smaller than Chris'); check main engine zincs, flush the watermaker and change the dinghy engine oil. It sure feels great to be in maintenance mode. Stuff still pops up but at a less frantic pace.
Charleston is a familiar and special town for us that we are excited to share with friends. Lino and Phyllis arrived from Boston (yes, it just snowed there) and we were off (4/10). First stop was lunch at Hyman's Seafood (http://hymanseafood.com/). Yes, it is touristy but the food is delicious and the staff is super friendly…from the "hook" on the sidewalk enticing us with hushpuppy samples to our waitress (born in South Carolina but a New England Patriots fan – we were tipped off by the faded Pats stickers on her waitress pad) to the manager who honestly seemed sincere when he asked us how we liked our meal. Obviously, there is a reason that they have been in the same spot for 116 years. Bring on the fried okra and hushpuppies!
We continued the afternoon walking around town. It was the second Sunday of the month so several blocks of King Street were closed to automobile traffic for the Second Sunday Stroll. How lucky are we?! Restaurants moved tables outside and retail stores flowed into the pedestrian only street. Ladies with big, beautiful hats were a favorite photo op and anyone with a dog was walking them; more wagging less barking filled the sunny day. Later, we ventured further afield to beautiful White Point Gardens, the City Market (established in 1807) and a blustery promenade along The Battery.
Charleston is a compact city but there is a lot to see. The horse-drawn covered carriages are a romantic (and practical) means of seeing as much as possible while adding a gentle clip-clop-clip-clop melody through the cobblestone streets. Church bells ring on-the-hour and by closing our eyes it almost feels like we have been transported back in time. Thankfully, many delicious traditions have withstood the test of time…like grits, biscuits, pork (in an unimaginable amount of options) and fried chicken. We sampled bursting farm-to-table flavors at McClery's, biscuits each morning at the Marina Variety Store and southern soul food at Bertha's (okra soup recipe sleuthed via the web is below – make it NOW). They were all amazing and well worth a repeat - on a return visit. Finally, a tradition to raise a toast to Winston at the bar of The Mills House. Cheers to a lovely lady!
Temperatures have remained chilly but the current forecast has added a bit of rain. Therefore, rather than continue ogling Charleston elegance with soggy feet we decided on a road trip to Savannah for the day (4/12). The forecast was better, our friends had never seen the town and Enterprise Rental Car made self-transport a snap. We returned to the 21 squares of old downtown as well as the bustling riverfront and remain charmed. A particular favorite was the Savannah College of Art and Design (SCAD) which is seen everywhere around Savannah (67 total buildings). The school was founded in 1978, provides fine art degrees and has worked closely with the city to preserve its architectural history. SCAD manages several galleries around town including shopSCAD which is a one-stop resource for works created and designed by students, alumni and faculty (https://www.shopscad.com/).
As we saw on our previous visit, Savannah has many small jewelry-box-sized squares scattered in the historic downtown; however, Forsyth Park is larger and grander than any of the squares at 30 acres. The park was originally created in 1840 with 10 acres but has since grown (largely due to a 20-acre donation by former Georgia governor John Forsyth). In 1858 an elegant fountain was added which kept Savannah on par as a fashionable city of her time similar to Paris with her cosmopolitan parks and urban planning where residential neighborhoods radiated from a single green space. Okay, that is a lot of scientific nomenclature but it equates to a beautiful public park. A bit of fun is added to the park every St Patrick's Day when the water in the fountain is ceremoniously dyed green (along with the river, incidentally) in celebration of Savannah's Irish heritage. Note to self: return to Savannah for the shamrock party.
We continued to wander around Savannah where we met friendly people always ready with ideas of things for us to see or do or eat in the area. Case in point was a shop keeper at Terra Cotta (a ladies boutique) on Barnard Street (https://terracottasavannah.com/). She suggested we make a stop on our way back to Charleston at Yemasse, SC, to see the Old Sheldon Church ruins. At just 1.5 miles off the highway – we decided to take a look. Wow! Honestly, this place feels like a beautiful secret that we were unbelievably lucky to learn about. The church was built between 1745 and 1753; burned by the British in the Revolutionary War in 1779; rebuilt in 1826; gutted for materials during the Civil War by Sherman's army and stands today, in ruins, almost as an apparition like Brigadoon. It definitely feels as if the church will disappear if we turn our backs…allowing the oaks to enclose the ruins into a more protected place. Well, the day is marching on and it's time to return to Charleston.
Our Charleston departure had us revisiting tide tables before sliding in reverse down the boat alley and into the Cooper River (4/13). We were headed back to favorite spots that we have waxed poetic about to our friends until we were blue in the face…we hope they like them, too. Our first stop was Georgetown, SC. The day started pretty stormy with threatening skies; however, the scenery was tranquil…including a touch of industry in the form of a multi-story, metal look-out tower dropped amongst nothing but nature. The long day of cruising had us dropping the hook at 5.15pm beside the now closed (and quiet) steel mill. Our anchor spot had a view of town in front of us and the silent, hulking mill twinkling in the darkness as a scenic backdrop for our grilled steak dinner with mashed potatoes and Greek salad.
The next morning we headed ashore for a few more southern breakfast delights (4/14). Chris and I last visited Georgetown ten years ago so we wanted to check out the town and see what had changed. We have noticed a new boardwalk along the harbor front as well as a low-rise condo building but the rest of the town seems untouched and just as sleepy and charming as before. It was Thursday morning and what did we stumble upon but a neighborhood yard sale?! We chatted with the ladies warming themselves over steaming cups of coffee and learned a bit more about the economic ebb and flow of the town with the steel mill closing, opening and closing again…but the shrimping continues strong and robust throughout. No wonder we keep seeing shrimp and grits on every menu in the Lowcountry of South Carolina.
The rest of the day passed slowly and uneventfully and as it began to fade our stomachs started to growl so off we went to the Big Tuna Restaurant on the waterfront. Chris and I kept to our usual pattern of ordering…cheeseburger for Chris and soft-shelled crab for me whenever possible (this time deep fried and placed on a mound of creamy, flavorful grits). The sunset was a fiery display of red and orange and a perfect farewell to Georgetown. So long until next time.
Our continued amble north had us into the Waccamaw River and anchored four hours later at Cow House Creek (4/15). This is a place that feels very much off the grid without a single mark of civilization in sight except for the random fisherman setting a trot-line along the shore. We sat on the top deck soaking up the view until dinner was ready. Piazzolo Chris created his famed caramelized onion and feta pizza (accompanied by a salad). Perfect!
The next anchorage was a mere two hours away so we took advantage of the short travel day to first explore Cow House Creek by dinghy (4/16). Oops – the dinghy crane won't spool out the hook. Hhhmm…thank goodness Harold was at the other end of the telephone line to walk Chris through a manual over-ride process. Back in business and we were off exploring. We ducked through gaps in the marsh grass to snake through shallow waters dotted with purple iris and wrinkled, wide-based trees dangling Spanish moss like Christmas tree tinsel. Back out in the creek we saw dozens of turtles sunning on logs and were roundly scolded by territorial osprey guarding their nests. Everything is green and vibrant – beautiful.
Enterprise Creek was our next anchorage and lent itself to a bit of afternoon fishing (4/17). We are fair weather fisherman and simply used what we had on hand…leftover steak for bait. Nibbles were felt and bait was taken but the only thing brought aboard was a clam by Lino. Well done! But not enough for dinner for four. No worries - Phyllis and I whipped up a cheese platter and got Dr. Martin's mix simmering on the stove. Holy cow – was that a lion roar we just heard? And peacocks screeching? And monkeys howling? Where are we?! The plains of Africa or the remote waterways of South Carolina?! No, we were not making things up - phew. It seems there is a small zoo nearby and we heard the menagerie settling down for the night. The calm of our spot was shattered at 2am when yae-hoos zipped around the boat shining spotlights in windows and drunkenly commenting on the boat while taking selfies. I guess that's what we get for being here on a Saturday night…no harm no foul…and we went back to sleep.
The calendar is moving forward and it's time to return to civilization so our friends can arrange a car back to Charleston and fly home. Barefoot Landing is familiar to us and smack dab in the middle of bustling Myrtle Beach which has countless 21st century amenities. Our vacation along the entire coast of South Carolina ended with oyster shooters and hushpuppies at casual Flying Fish restaurant…and a more sedate dinner at Greg Norman's Australian Grill. Both are well worth a try if you are in the area. Goodbye for now but we'll see you soon – cheers guys.
Southport was our next port and a six-hour cruise away (4/19). We have fond memories of this town from 2006 when we visited with my parents aboard the catamaran Barefeet. We tied up at Southport Marina - gulp - literally needing a shoehorn to get into the slip. Thank goodness for those joystick controls – well done Chris. Dinner was a quiet meal aboard of spaghetti with sausage and feta. In the morning we walked to Locals Family Diner for a perfectly remembered breakfast. The rest of the day we stretched our legs around town shopping at cute boutiques, admiring the work of local artists in galleries and enjoying the picturesque homes lining shaded streets. The main drag is Howe Street where most everything is located which makes the place easy to navigate. This well-loved southern town has also been discovered by Hollywood – most recently seen in the movie "Safe Haven" with Julianne Hough.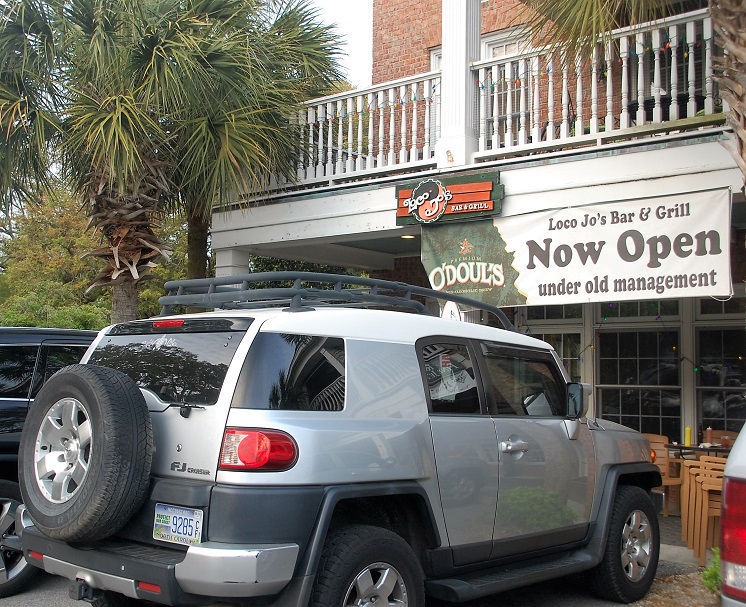 While being taxi-ed around by Jerry of Oak Island Cab Co for a supermarket run we learned about Loco Joe's (no uber here). He said that he often ferries some of the employee gals around and they are from the North – but nice (tee, hee, hee) – with good food. Sold. While at dinner we learned the complete story of the place. It is owned by a couple who met in Southport (she is a local girl and he was in town working in the building materials trade). Then the market downturn of 2009 struck. Jobs evaporated so they took time to travel the world and returned a few years later to open Loco Joe's in Southport. The menu is made up of a wide variety of options from around the globe…but special note needs to be made of the Asian items which are all homemade based on her Momma's recipes (from Vietnam). The place also has a great sense of humor carried throughout everything…beginning with the sign out front, "now open - under old management."
Our steps continue to be on a familiar path such as the Cape Fear River, Wrightsville Beach and Pamlico Sound but stops are a mixture of new and old to us. A repeat anchorage at Mile Hammock Bay on the Marine base (no going ashore) was followed by a new stop at Morehead City Yacht Basin. One of our goals for this cruising season was to find more options up and down the coast to anchor and tie-up so we have a better idea about building winter itineraries. We think we have succeeded and feel well informed to make the winter migration to warmer climates when winter descends in the north.
Cruising the waterways has been a parade of boats leap-frogging from here to there and it is amazing how much you can learn about someone simply by the few words they use on the VHF radio. Most are friendly and jovial but a few are real a#$%$holes. One early morning departure had us in the company of several boats; some sail, some motor and all at varying levels of speed. A particular 80-foot motor boat began one down after arriving at the marina in the dark and proceeded to run their generator and lights all night. The "captain" proceeded to sip coffee and give the stink eye as half-a-dozen of us left in twilight while carefully maneuvering around his hefty girth only to be honked at out on the water when he wanted to pass us. Honked at! Etiquette says to hail the vessel to be passed on the VHF radio, make contact and agree upon a plan. It is not a lengthy interchange and generally takes less than two minutes. Karma came back quick and strong for this big boy. He went hard aground as he tried to pass a boat. No kidding! Full stop and massively listing to one side. No sailor wishes this on their worst enemy…but an exception was made. When does that level of vindication come so swiftly?! It was priceless. Needless to say, big boy got off and continued…again passing boats without so much as a "hello" or "slow pass" on the VHF. Karma is hovering.
Morehead City was a fun, new discovery for us (4/22). The Morehead City Yacht Basin came highly recommended, is well protected and is run by knowledgeable and friendly folks (thanks for the expert tie-up Doug and Bill). Chris did an engine oil change, disposed of the used oil on-site and purchased oil for replacement inventory nearby. Erin did three loads of laundry. TGIF and dinner was a time for us to try the much raved about Ruddy Duck Tavern. Simply awesome! It is a casual, pub type eatery on the waterway with food that is anything but pub grub; from Chris' Carolina burger to Erin's Jerk marinated ahi tuna sandwich to the unbelievable banana cream pie. Banana cream pie goodness was a crunchy granola/pecan crust, silky custard, sliced bananas, a touch of caramel and topped with barely sweetened fresh whipped cream. Chris knew it was good pie when he found himself in a race with me to finish the shared piece…usually I take a lack-luster half-forkful and leave the rest for him. Not this time and it is no wonder that locals order the pie when they first sit down to avoid missing out because all pieces are sold out. We will be back!
A couple more day hops and we will be through North Carolina and into Virginia. North Carolina is a favorite state of ours and this is our favorite waterway section in North Carolina. Therefore, we are stretching our time and anchoring two nights in her isolated creeks and rivers. Heck, we don't even get a cell signal out here. Adams Creek again knocked us over with some of the freshest air we have ever breathed – glad to see some things stay the same. We stopped for the night in Campbell Creek hoping for northern protection from stormy weather forecast later in the afternoon (4/23). The skies did indeed turn black, the wind howled and the rain poured (hail, too?!). The anchor held but it is always unsettling until the chaos has passed. The weather forecast on the VHF national weather broadcast called for storm warnings until 7pm…in the meantime…seek shelter immediately. Aaaaggghhh. I kept focused on the task at hand – chopping veggies and chicken for a dinner of Panang Curry. It is true that as soon as the chaos begins to abate – tensions are reduced. And a full, horseshoe shaped rainbow didn't hurt either…even if I couldn't capture its entirety on film (double rainbow? what are the lepruchans doing). Slowly, winds and rain died to almost nothing and we enjoyed a quiet sunset viewed from the top deck. Ah, what a difference a couple of hours can make.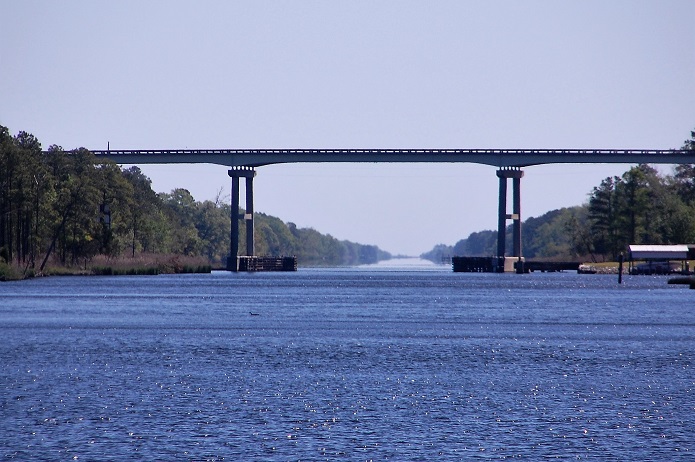 Up anchor with breakfast and coffee underway (4/24). We crossed the Pamlico River with just enough northern winds that we were glad to have it behind us with land on either side to knock down the winds and resulting bounce on the water. Later the real protection came as we entered the roughly 20-mile long Alligator-Pungo Canal. This canal is a ditch carved (nearly) straight as an arrow to connect two existing travel waterways; you guessed it - the Alligator River and the Pungo River. Our afternoon anchorage was a return to Tuckahoe Point just beyond the exit of the canal. We called it a night and settled into a bit of reading before a dinner of pizza.
Our next major stop will be up the Potomac River in order to anchor off of Washington DC. How cool is that?! We are super excited to see our nation's capital just off of our bow. But first we will make a few stops in the southern Chesapeake in an attempt to slow down. The northern winds have again dropped the temperatures to low 60s during the day and mid-40s at night.
Okra Soup (Bertha's Restaurant, Charleston) serves 6-8
Okra is often boiled or fried and served as a simple side in soul food restaurants, but in Charleston it often comes as a luscious vegetable soup with tomatoes, onion, and celery.
Ingredients
2 tbsp. canola oil
3 strips bacon, finely chopped
1⁄2 tsp. dried thyme
6 cloves garlic, finely chopped
1 small yellow onion, finely chopped
1 rib celery, finely chopped
1 bay leaf
Kosher salt and freshly ground black pepper, to taste
2 tbsp. tomato paste
1 lb. okra, trimmed and cut into 1″ slices
6 cups chicken stock
1 (28-oz.) can whole, peeled tomatoes, crushed by hand
Instructions
Heat oil and bacon in a 6-qt. saucepan over medium-high heat; cook, stirring, until fat renders, about 5 minutes. Add thyme, garlic, onion, celery, and bay leaf, season with salt and pepper, and cook, stirring, until soft, about 5 minutes. Stir in tomato paste; cook, stirring, until caramelized, about 2 minutes. Add okra, chicken stock, and tomatoes; bring to a boil, reduce heat to medium-low, and cook, until okra is very tender and soup thickens slightly, about 45 minutes.