American History on the Potomac: May 12 2016
We continue along the North Carolina waterways – one of our favorites. Tuckahoe Point on the Alligator River is a beautiful anchorage that feels miles from civilization…especially because there is no cell signal. Reaching the anchorage from the ICW is a quick zig-zag entrance but once settled we were all alone except for the bald eagle still calling the shore his home (they mate for life and usually return to the same nest year after year)…we last passed through in November 2014 (4/24). A few boats continued a bit further north…still within eyesight and VHF radio range. It seems that we all felt the better part of valor for the day was to stop moving early in the afternoon in order to let the strong, on-the-nose winds die down. Next up is the Albemarle Sound which can turn nasty in anything but mellow conditions. Our patience was rewarded the next day when the sun rose to reveal crazy calm conditions (4/25). The water and the horizon were mirror smooth which created a rare sunrise that had Chris grabbing the camera and snapping photos. Wow – these days do not happen very often.
Coinjock was again the familiar cheek to jowl boat parade tied along the face dock for the night. The evening vibe is convivial as acquaintances are renewed and tall tales are told but all were scattered the next morning by 8am. Pete stopped by for a pre-dinner chit chat and provided an abundant fruit delivery (no scurvy on Barefeet – thanks, Pete).
The next day was a state change from North Carolina into Virginia and filled with multiple bridges (variously timed for hour and/or half-hour openings), a lock and an under-repair-railroad bridge with restricted opening times. Calculating our arrivals to each kept us focused on our speed (faster or slower) in order to reduce hover time. Departing the Great Lock deposited us in the massive industrial and military complex that is Norfolk, Virginia. It is staggering to drive for miles through military warships/air craft carriers and commercial mega-ships at various stages of creation, repair and unloading. Luckily, Chris sleuthed a quiet anchorage up the Lafayette River past a 25' bridge (4/26). Hard to believe such a bucolic setting was just around the corner from the industrial mecca – we were anchored alone with only the periodic swoosh of crew teams gliding by accompanied by a bellowing coach.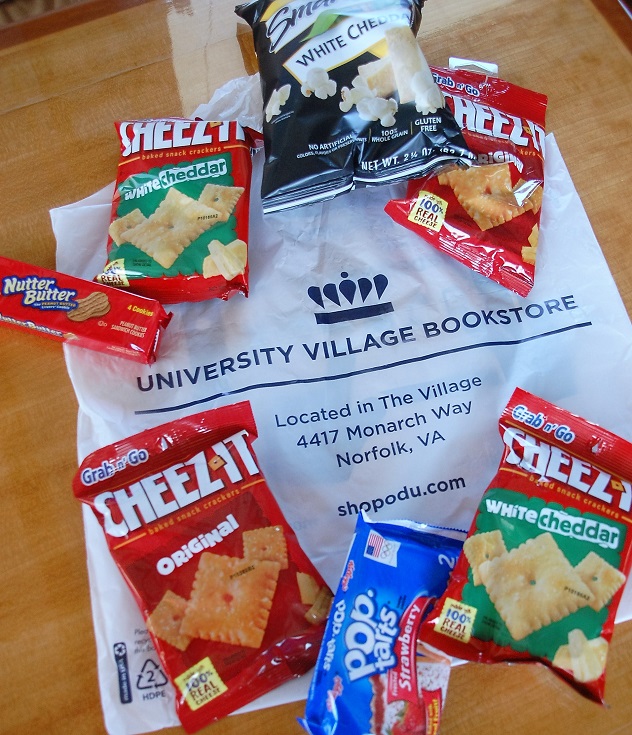 Amazingly, we had a sunny day to wander Norfolk and see that Spring is in the air after passing two discarded Robin's egg shells on sidewalks. We tried to go to the Zoo but it was Field Trip Day so the place was absolute kid and stroller bedlam - holy cow, the line to enter is 1.5hrs long. We'll pass. Instead, we settled into a coffee shop on the Old Dominion University campus to plot our route from here to Washington DC. Yikes, the students look sooo young?! There was a bit of tension in the air because it is finals time…but…also a bit of excitement because there were shelves and shelves of graduation caps and gowns and collars and tassels behind the counter at the student store. Ying and yang. Our travel schedule has been continuous days of 50-60 miles covered. This is okay but having snacks aboard gives us a mid-day treat to look forward to that beaks up the long hauls. What better place to find an enormous variety of snacks than at college during finals?!
Meandering through the southern regions of the USA cannot help but remind us of the Civil War. Battlefields are sign-posted and the brother-against-brother emotions are not far beneath the surface. Pam of m/v India Jayne passed along a book called "Liar Temptress Soldier Spy: Four Women Undercover in the Civil War" by Karen Abbott. It was an amazing story of four women who jumped into the Civil War in order to contribute to the side they supported to the bottom of their souls (women could not join the military or even vote at that time). Their feelings were pure determination and zeal looking for an outlet. The women were courageous, brave and resourceful individuals that helped add flesh and blood depth to a topic largely academic to me. I am very happy to be alive in the 21st century.
Weather update for the Chesapeake. The next couple of weeks showed varying levels of wind strength, rain and shifting wind direction accompanied by chilly temps and rain. Our roughly mapped out route from Norfolk, into the Chesapeake and up the Potomac will ultimately (as always) be decided by Mother Nature. Deltaville, VA, became our first port of call (4/28). We tucked into well protected Jackson Creek with its snake-like entrance (red on the right, green on the left – do NOT mix them up) just off of the Deltaville Marina. We called the marina to see about landing our dinghy and they could not have been friendlier; deposit trash, borrow bikes…whatever…you are welcome. We'll check it out tomorrow. For now - dinner was loaded BLTs beside Velveta shells. Cheers!
Drizzly, cool 53 degrees F weather had us again in long pants, shoes/socks and our winter coats for an exploration trip into the town of Deltaville (4/29). There is only one road so navigating was a snap. Pretty much everything is along General Puller Highway but it is less of a "highway" and more of a rural thoroughfare which makes it a comfortable walking road (full-time town population is roughly 700 people). There is an ACE Hardware, West Marine, Café on the Bay, Seafood market…and an all you can eat Oyster Roast advertised at the Volunteer Fire Department tomorrow night. Maybe we should stay?! On the way back to the marina we stopped into the Deltaville Maritime Museum (http://www.deltavillemuseum.com/). We are glad we did! Local resident, Bill, shared the history of the museum as well as the tragic fire in 2012 that destroyed nearly all exhibits. Since then the museum has been lovingly rebuilt to continue preserving and communicating the boatbuilding history of Deltaville as well as preserving the skills of boatbuilding. They have Shrimp & BBQ Dinner Dances, Discovery Cruises, Groovin' in the Park outdoor concerts, Oyster Roasts and many more activities throughout the year. However, to us, the most interesting implementation of the museum's mission is the annual Family Boatbuilding Week held in July (http://www.deltavillemuseum.com/events/family-boatbuilding-week/). Over 13 years more than 117 teams have built their own wooden crabbing skiff. Very cool! We left with t-shirts, post cards and lots of new boating history.

Our next hop had us exiting the Chesapeake Bay and entering the Potomac River (4/30). It was a bumpy, hobby-horse start that smoothed out after a couple of hours – the total distance to Washington DC from the mouth of the Potomac is 100 miles. The scenery has continued to evolve with less human density and more sprawling lawns with scattered barns - relaxing. We called it a day anchored in Jutland Creek and are again alone. But nearby Point Lookout Marina with Sunset Cove restaurant was a fun dinghy destination (http://www.pointlookoutmarina.com/). Back aboard after dinner we stood on the bow and drank it all in. The marina describes this spot as, "Paradise on the Potomac." We think they are correct; surrounded by beautiful stands of dense trees, the air amazingly fresh and the silence only broken by singing birds. This is quite a tranquil place…with only sporadic cell service. Hey, that's a bald eagle and osprey fighting for a fish?! Wow! From what we hear bald eagles and osprey do not play well together and generally build their nests on opposite ends of habitat areas. According to the Blackwater Natural Refuge, "…bald eagles are also known to occasionally steal fish from the local ospreys, taking advantage of the osprey's smaller size and excellent fishing skills." Cheeky.
Making the most of this relaxing locale we stayed another day (5/1). We wandered ashore and see that the bartender was not kidding when he said their stiffest competition comes from the American Legion Post. There is not a lot going on here and that is okay with us. However, things seem especially quiet because the busy summer season has not kicked off yet (it's hard to imagine that the season is right around the corner on this wet, chilly day). Case in point – Sunset Cove restaurant closed early because business was so slow. Hhhmm…where's dinner?! No problem – we dinghied around the corner to Courtney's Restaurant which has been open year-round since 1955 and is known as a secret gem southern oyster shack with views of the Potomac (http://www.yelp.com/biz/courtneys-restaurant-and-seafood-ridge). We were one of only three tables in the large space anchored in the corner by a salad bar. It felt like we were eating in the living room of an elderly Aunt. Tables were covered in red tablecloths with white, doily paper placemats. Main meals were served on metal plates nestled in wooden platters…everything else came in red plastic baskets lined with parchment paper. Worried?! Not us - the seafood was out of this world! Dad is the waterman who catches everything that is served, Mom cooks it up and daughter, Cathy, does everything else. Cathy patiently explained the daily catch options to us and gave us a minute to decide. Raw oysters on the half-shell plump as could be, tender rockfish (stripped bass) stuffed with crab and drizzled with a thin veil of cheese sauce, broiled oysters with bacon and cheese…wow! Fresh, fresh, fresh. And don't forget Mom's homemade rolls and, of course, dessert – blackberry cobbler with ice cream served in a sundae glass – delicious. We need to stop here on our way back down the Potomac.
The drizzly, cold weather has dampened our spirits but the grey mist is all along the eastern seaboard so there is nowhere to hide. We have checked distances and anchorages along the Potomac River via ActiveCaptain.com, Skipper Bob's Anchorages Along the ICW and the Maptech Cruising Guide. We have various options but hope to spend two more nights at anchor before arriving in DC. The fog lifted by 11am and we were off (5/2). The shore landscape is verdant, dense nature but seemingly quite ordered…gentleman farmer-like. Overall weather conditions are improving and we made a stop at Cobb Island…again the only boat at anchor (we are ahead of the season – happy to avoid the masses…we'll see if it holds on our way back down the Potomac).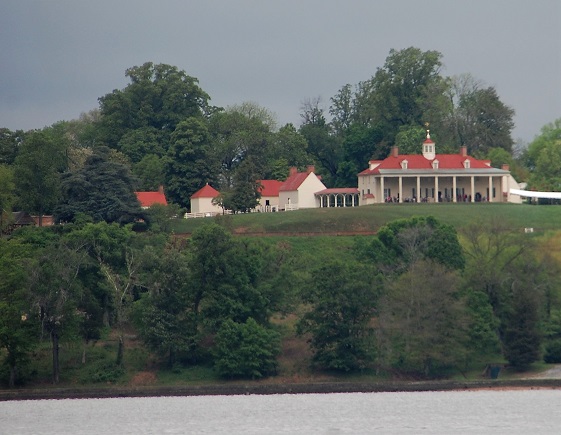 Conditions were mild with less than ten knots of wind on the forecast so we decided to anchor below Mount Vernon (exposed but not a problem in the forecasted winds) rather than nestled in Mattawoman Creek (5/3). Okay, it is pretty cool to toast Martha and George Washington from the top deck….and Chris' pizza was pretty good, too. We took the dinghy across the river in the morning for a tie-up at the dock and a tour around the grounds, mansion and museum (5/4). This is a stunning bend in the river and feels like we have gone back in time to the 1700s.
The estate has been privately owned and operated since 1858 by the Mount Vernon Ladies' Association. These are no shrinking violets and have never accepted government funding – preferring instead to raise all needed funds themselves…including the initial purchase transaction. The ladies did not limit themselves to the structures and tomb but, rather, the entirety of the estate; including George's farming techniques and livestock…and even the view from the porch over the Potomac (nothing less than stunning). No kidding – there are cows, pigs, turkeys and on and on. We wandered and learned and admired. Something that caught our attention was just inside the front door of the mansion…a large key (as big as your hand) housed in a glass box George had made. What is it?! Yikes, it's the key to the Bastille in Paris given to George by Lafayette. Amazing!
Back aboard we pulled up the anchor and made the short 13-mile motor to Washington DC. We anchored in the Washington Channel off the Capital Yacht Club where we signed-in for dinghy landing privileges ($16 per day). We had access to bathrooms, showers, laundry machines as well as the club lounge and bar (https://www.capitalyachtclub.com/). These folks could not be friendlier and gave us a great base of operations for a few boat projects – plus – a launching pad to see our Nation's Capital. Day 1 was cold and drizzly so we focused on boat projects (5/5). Chris replaced the generator exhaust elbow (delivered to the Yacht Club) after taking the metro to an auto parts store for adhesive sealant. I postponed a load of laundry until the just waxed floor had time to dry (time estimate – one hour)…making a run to the nearby Safeway supermarket. Chris completed the elbow switch – voila – no more white smoke from the exhaust (at least not much). I returned with a load of washed and dried laundry (no way it would have air-dried in the boat) and the makings for a stream-lined New England clam chowder recipe for dinner (recipe below – I made a half recipe which would feed four). Success all around! There is still no sun or warmth but we feel sunnier and more chipper. After simmering the chowder in the afternoon it needed to be put immediately into the fridge until dinner…no room in there so into the guest room it went. Needing to get off the boat after a day aboard we went to the Yacht Club facilities for a shower followed by a drink in the bar. We met some nice folks and returned to Barefeet for a chowder dinner. Wow – the Washington Monument gleamed at us as we dinghied home. This is a cool anchorage.
Yep, it was another rainy day in DC – low 50s with 24hrs of 100% chance of rain (5/6). Thank goodness DC has so many great indoor activities and the (dry) metro to connect the dots. We ohed and awed at the massive open space of Union Station, checked out the US Postal Museum and warmed up in a coffee shop in Dupont Circle. Then it was off to the Society of Cincinnati and their mansion on Massachusetts Avenue NW (http://www.societyofthecincinnati.org/). Like so many other things in DC it is free. Wow! The Society of Cincinnati is the nation's oldest patriotic organization (founded in 1783). Their mission is to promote knowledge and appreciation of the achievement of American independence. To this end they focus on scholarship and education in the form of lesson plans for teachers, library fellowships, museum internships…and even research for authors and playwrights (such as for the musical Hamilton which is currently blowing the doors off on Broadway). We toured the stunning mansion (formally known as the Anderson House, originally owned by Isabel and Larz Anderson). It was just four of us on the tour led by docent Tom – we learned a lot about the individual players involved in the revolution and were gobsmacked by the beauty of the mansion. History certainly comes alive in DC. Dinner at Lauriol Plaza was a Mexican feast that warmed the soul…and dried out our clothes (http://www.lauriolplaza.com/). When we returned to the dinghy we were ankle deep in water from all the rain…so much for recently dried feet and pants.
Our third day in DC was the charm (5/7). The sun appeared and temperatures crept into the 60s. Yahoo!! We grabbed the good weather with both hands and walked the monuments on the Mall. On our way we stumbled across the Maine Avenue Fish Market located below the highway overpass and behind the Jefferson Memorial. It has been in continuous operation since 1805 – the oldest in the country. We ran smack into a waft of Old Bay Seasoning way before we saw even a single fish monger. Since it was the weekend the place was a beehive of activity. People, cars and of course loads of fresh fish, shrimp and crab. Crabs galore! And one purveyor, Jessie Taylor Seafood, has a spot to steam your entire bushel of blue crabs while you wait: select your blue crab, pay and receive a claim number…your crabs are wheeled across the parking lot to the steaming house, loaded with Old Bay Seasoning and into the steamer they go…wait a few minutes and voila…your seasoned and steamed crabs are boxed up and off you go for a meal of crab pickin' (hammers not included). The ceremony made us wish we liked seafood more. Oh well - regardless, it was fun to see. But onto the monuments.
The National Mall is a place that fills you with emotion around every bend despite the fact that you know what's coming. After all, you're prepared for it because you know you are walking into an area purely built to stir emotions and engender contemplation for grand thought. But there is no way to avoid the catch in my throat or the tear in my eye or the stutter in my step: when I saw two people huddled intently over the name locator book at the Vietnam War Memorial; when I saw old photos and a red carnation beside an American flag triangle folded for funeral honors inside a ziplock baggie left below a wall of names; or when I took a photo of two elderly men visiting the WW II Memorial below their home state pillar. We were moved.
Now onto a bit of a treasure hunt. The Lincoln Memorial has a quirky myth wrapped up in the curls at the back of Lincoln's hair…is Robert E Lee's face carved there?! Hhhmm…we looked and squinted and craned our necks but we think we can see him (even if conventional wisdom says that this is bunk). Can you find General Lee in the photo?!
The emergence of the sun has put fun into the air. Exhibit A later in the afternoon - The Running of the Chihuahuas! It was an amusing bit of mayhem and chaos. Who knew there were this many Chihuahuas in the city?! We were bleacher creatures for the event and loved the hoopla. There were food trucks and giant, inflatable Corona bottles and miniature sombreros (dog sized) and loads of smiles. The race went like this…one owner released the dog at the starting line while the other was at the finish line frantically calling to them. Some dogs got it while others could not be bothered (or were so terrified by the crowds that they would not leave the release owner). Totally hysterical! Nine heats narrowed to semi-finals and down further to finals. Sorry Taco and Peanut – better luck next year. Great way to banish the stretch of rainy day blahs.
A second day in a row of sunshine had us positively giddy and kept us outside (5/8). We headed over to Arlington National Cemetery to enjoy the outdoors. The trees and grass are lovely and the view from the Arlington House back to the capital is panoramic majesty. Did you know that Robert E. Lee married Martha Washington's great-granddaughter (from her first husband) two years after graduating from West Point…at the family home that is Arlington House?! There is so much more for Chris and I to learn. Despite the natural beauty at Arlington Cemetery the mood remains solemn due to so many years and so many battles. The changing of the guard at the Tomb of the Unknown Soldier was packed with viewers but so quiet that you could have heard a pin drop.
The weather is back to grey and drizzly so we readied to depart DC by filling up our water tanks, making a supermarket run and checking-out from the Capital Yacht Club. All completed so off we went to anchor at Quantico, VA (5/9). Dinner aboard was grilled steaks, baked potatoes and peas tucked into a cove beside the docks (military owned boat only at the docks – but dinghys are okay). The next day we left at daylight in order to make the remaining distance down the Potomac (5/10). The current started against us but soon turned with us for most of the trip. We kept our engine revs at 1300rpms but our arrival time steadily declined from 6.50pm to 3.45pm…gotta love a favorable current! Anchored back in Jutland Creek and we've decided to have dinner aboard for a possible bald eagle and osprey show; however, guaranteed is a tranquil sunset in a pretty place. Our trip up the Potomac exceeded our expectations. We feel as if we walked into the 1700s and have a renewed sense of America's fight for independence and those that made the fight.
Thunder storms throughout the night kept us tossing from thunder claps and lightning flashes but the boat did not move in calm Jutland Creek. Another early start had us pulling the anchor by 6.30am (5/11). We exited the Potomac and re-entered the Chesapeake Bay…dodging crab pots if we slipped into water depths below 40 feet. We picked a wide spot in the road for the night in order to dinghy into Lowes Wharf Marina Inn (http://loweswharf.com/). We had been here by land and wanted to return to a great sunset with sand between our toes. Bad weather be damned – we are heading to summer! The burger and chicken cheese steak were delicious but the vibe is a bit more like a cabin in Vermont…huddled inside against the weather. And to add insult to injury a couple of ducks had taken up residence on our swim platform when we returned to Barefeet…our feet are becoming webbed and the ducks know it. Our next stop will be Annapolis and up through the C&D Canal, the Jersey coast, New York/Long Island Sound and onto Boston.
Our Famous Clam Chowder (contributed by Ann Plantenberg, El Pescador)
The Joy of Baja Cookbook – recipes and stories from our neighbor's tables
This clam chowder recipe is delicious! It won a clam chowder contest on the pier in San Clemente, which gave my friend a trip to NY…so when I moved down here, she gave me her secret recipe (she never gave it to anyone else). They ran a restaurant there.
1/3 cup butter or margarine
½ onion, chopped
5 celery ribs with leaves, chopped
1 large (#5) can chopped clams (#5 can = 71/3 cups)
1 large (#5) can Campbell's Cream of Potato Soup
½ gallon half and half
1 Tablespoon chopped fresh cilantro
1 Tablespoon dill, fresh or dried
¼ cup parsley, chopped
1 ½ teaspoons black pepper
1 teaspoon seasoning salt
4 cloves garlic, chopped
In a large pot, saute garlic, onion and celery in butter until tender. Add remaining ingredients. Simmer for at least one hour, being careful not to scorch the cream. Stir every 5-10 minutes. After cooking eat immediately or put in refrigerator right away. Cool as soon as possible.