Ratio of Boat Work to Fun – It's a Sliding Scale: May 14 2015
We had a great winter cruising season and are now tied up at the largest working marina in the USA - boat work is clearly the top priority for everyone whithin eye sight. After two days of bright sun we were met with lots of rain, thunder and lightening. The upside of the storm is that temperatures became more civilized after it passed...low 80s rather than high 90s. Chris found a great Greek restaurant for us nearby...Greek Islands Taverna at 3300 N Ocean Blvd; saganaki, tzatziki, pita, lamb chops, lemon potatoes, retsina and Metaxa...and a complimentary baklava. Southern Florida is looking better. The dinner followed a current, in the cinema movie - Furious 7. We are back incorporating land life and this time it is mostly fun…with boat work on the side…fingers crossed this ratio continues.
I am desperately trying to find a Cuban cooking class...harder than you would think. Chris has made tons of checklists and parts lists and on and on.

Plus, we are re-connecting with all the folks lined up for work this summer as we finalize details.

Work is a combo between getting the boat ready to sit idle for several months and prep for the work that will be done this summer.

The end of season work includes things like changing all engine oils, cleaning sea strainers and pickling the watermaker.

Some add-on maintenance jobs include re-building the generator's water pump, installing new intake hoses and an air conditioner check-up.

We are working at a solid but civilized pace.
As luck would have it Joan Armatrading is singing at a local, small venue. Chris and I like live music but it can often be a real scene with gobs of people, late night starts and ticket prices closer to the price of a used auto rather than an evening of fun. Ms Armatrading will be at a small theatre with ticket prices also on smaller in scale and starting at 7pm…much more our speed. Back from the concert and it was great! Her voice is different after 40 years of recoding and performing but still solidly and uniquely her own and still so full of emotion.
We have rented a car to gather boat parts...and...to get beyond the confines of the industrial boat yard complex. It is a bit tough to find walking trails in Fort Lauderdale but it was done...Robbins Vista View Trail (May 3). The "vista" comes into play due to the "hill" created after a super fund site was closed and topped with grass. Only part of the area is open to the public (the other section is still venting). This sounds a bit like a Carl Hiaasen book but I guess his novels are not set in Florida for nothing.
We did an hour of walking and found a bit of frivolity on the way (sparkly shoes) as well as some owls that think it is a good idea to make their nest on the ground...hhhmmm. I hate to criticize the animal kingdom but that seems...just...stupid.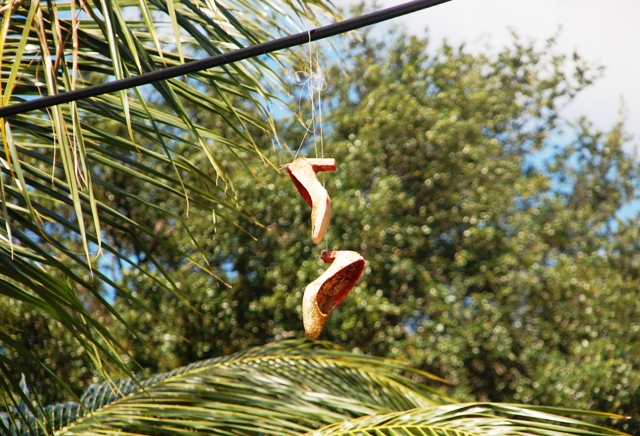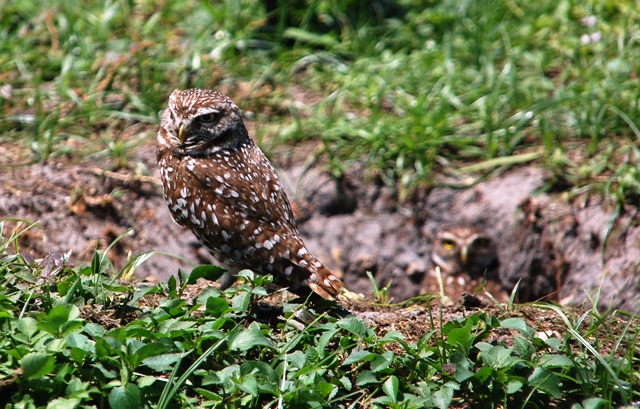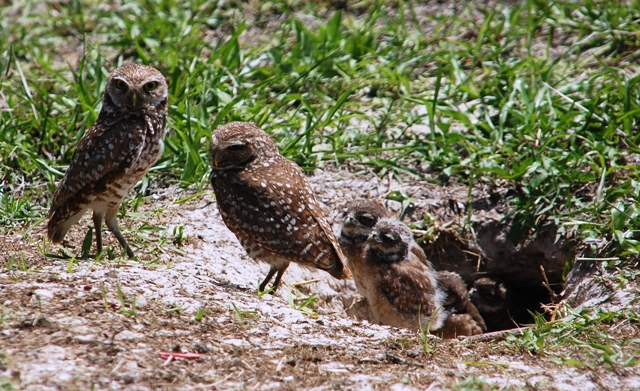 In an effort to close down the boat for the season I am getting creative with new recipes in order to eat through our remaining perishable items.

I have had a couple of real successes like Lamb Sloppy Joes and Beet and Yogurt salad as well as continued favorites like Chicken Enchilada Meatloaf and loaded quesadillas.

The beet salad was uncharted territory for me because I have never cooked with beets before…ever.

No real reason - just hadn't.

I will tell you that the color of the salad was something out of Willy Wonka; however, it was quite tasty once we got paste the technicolor hue…much like a beet tzatziki. Meals are a break in the work but so are visits from friends. Tom and Suzie popped by as they did some Florida travel. These guys are part of our globe girdling cruiser pack. It is so easy to pick up where we left off no matter how many months or years have passed.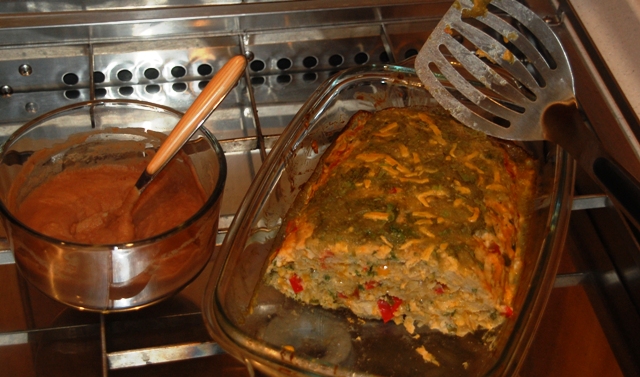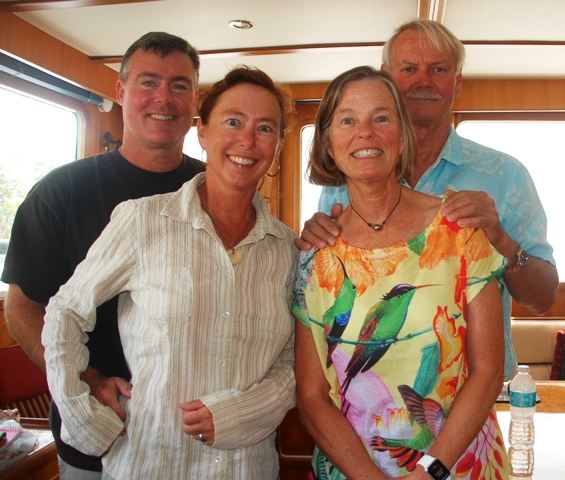 Speaking of food…I struck out in the Miami area for a Cuban cooking course. No joke. I "googled it" and I called restaurants and I even emailed 3GuysFromMiami.com and Hilda (cubanfood.blogspot.com). Zilch. We have been tasting wonderful Cuban dishes so I decided I wanted to try making them myself. Sadly, I was mostly met with a bit of "are you crazy" and "hang-ups to my gringo voice" and "why would you want to learn that." Okay, the bloggers were friendly. Oh well, f&$#@-em. I'm going to make their food anyway.
So, I went techno 21st century and found a Cuban cooking blogger. Her recipes and style are so welcoming that I jumped right in. She is Marta from MyBigFatCubanFamily.com. I made a Cuban dinner with her recipes…chicken "sandwich" (Pastel de Pollo) with Cuban black beans and white rice. Delicious! Sofrito is the big flavor base with sautéed onion, green pepper and garlic. Additionally, wine factored into both recipes – white for the chicken and red for the beans. Plus, a salty sweet combo of olives with pimento and raisins. Wow - they were flavorful and a lot of fun! Another night I tried an empanada with beef picadillo filling - giant in size and made quick and easy with Pillsbury pie dough for the wrapper. More recipe keepers for my recipe box.
One of the bigger jobs this summer will be an exterior re-paint. The job is less about vanity and more about assuring ourselves what lies below the surface. We've been removing exterior hardware, removing interior access panels to wiring and other prep for this exterior boat work. And like all boat projects - as one task is nearly completed it divides like the plague and requires serious wrestling and loads more time to finally complete. We make trips all over town...to the enending inventory of McDonald's hardware store, Southeast Power Systems (for watermakers), Boat Owners Warehouse, RPM Diesel (engine and generator parts)…and when we are really desperate – West Marine. This boating mecca that is Fort Lauderdale is truly amazing with professional tradesman covering every conceivable repair with the parts super stores nearby to supply them. Who knew there was a store solely dedicated to propellers?! It's a big operation which includes a machine shop, rooms with floor to ceiling racks of every imaginable size and offices with many desk jockeys (www.fjprop.com). This place really makes the head spin...we are in the right place.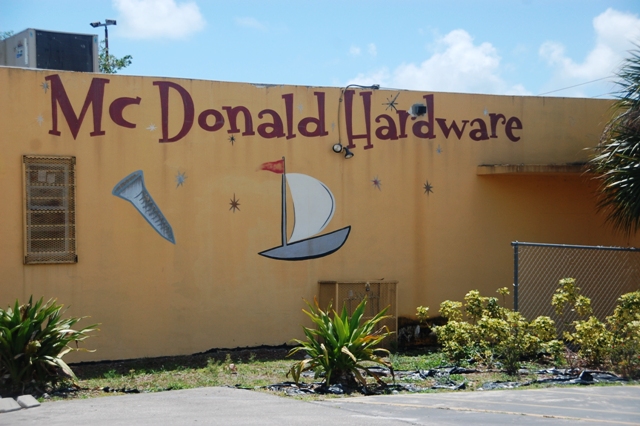 We can see the end in sight for our list of projects; however, it is tough to nail down a haul-out date. No plane tickets home just yet but that will sort itself out. Despite the fact that our days are filled mostly with boat projects we have worked the fun ratio, too, by seeing some sights. Recently, we drove into Miami. We grabbed a Cuban breakfast at Las Olas Cafe (Chris transacted solely in Spanish); we walked along the ocean in South Beach; we strolled through the Delano Hotel and we had an afternoon snack at Alabama Jack's. The only thing we missed were the square dancing older folks at Alabama Jack's...complete with Hee Haw-esque festooned and starched skirts. Next time we will have to stay longer. It is fun to play tourist!
It is funny to us that we find ourselves driving and exploring on Sundays because we generally try to avoid weekends out and about since that is when everyone else is out and about - who needs crowds?! However, our boat work means we need Monday - Friday stores for parts and technicians only work Monday - Friday. The technicians generally squeeze in our small jobs as best they can so they are rarely sure of exact timing...hurry up and wait. That said - they generally arrive within two days and deftly sort out the issue. This week day scedule leaves us finishing a full day of boat work on Saturdays and Sundays are left as a blank slate. So off we go along with the crowds.
Last Sunday we drove 2.5 hrs to the Mucky Duck for lunch on Captiva Island (May 17). We are on the east coast of the Florida "peninsula" and the Mucky Duck is on the west coast so we routed through the Everglades and Big Cypress wilderness areas...Highway 41 (Tamiami Trail) out and Highway 75 (Alligator Alley) back. We stopped along the way at a ranger station with an elevated boradwalk. Holy cow - there were dozens of generally territorial gators hanging out and squashed together in the river puddles (it's currently the dry season in Florida). Now onto our lunch spot.

Chris has been raving about the Mucky Duck ever since I met him many, many moons ago. It was fun to put the place to the stories. And it certainly is a laid-back beach bar - perfect to idle away the afternoon. We replaced his Mucky Duck t-shirt with a new one and feasted on fries and burgers and fish sandwiches.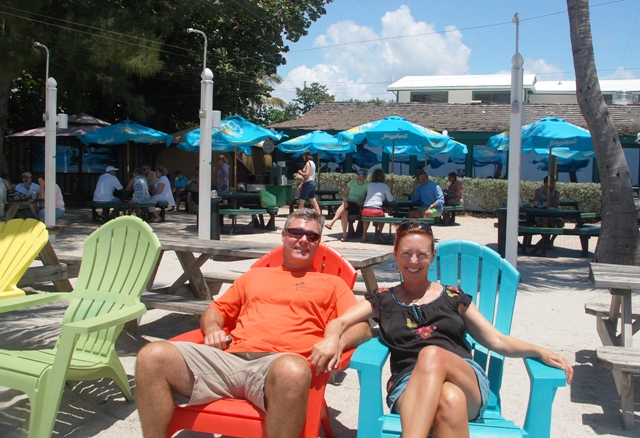 Back at the docks and we have a confirmed haul-out date. The final push is on: empty and defrost the fridge and freezer; laundry tid bits; rebuild the generator's water pump (when the parts are delivered); add diesel stabilizer; buy plane tickets home...phew. These last tasks cannot be done until the last nimute - and - here we are.
Honey Rosemary Lamb Sandwiches
(Sunset magazine) serves 6
1 1/2 pounds ground lean lamb
1 onion (8 oz.), chopped
2 cloves garlic, minced or pressed
1 can (15 oz.) tomato purée
1/4 cup honey
2 teaspoons finely chopped fresh rosemary leaves or 1 teaspoon dried rosemary
Salt and pepper
6 flat sandwich rolls (about 3 oz. each), such as ciabatta or sourdough, split
3 to 5 ounces fresh chèvre (goat cheese)
About 2 cups baby spinach leaves (2 oz.), rinsed and crisped

1. In a 10- to 12-inch frying pan over high heat, crumble lamb with a wooden spoon, stirring often until lightly browned, about 8 minutes. Remove meat with a slotted spoon and discard all but 1 tablespoon fat from pan.
2. Return meat to pan; add onion and garlic. Stir occasionally until onion begins to brown, about 4 minutes. Add tomato purée, honey, and rosemary; stir occasionally until hot, about 2 minutes. Add salt and pepper to taste.
3. Set roll bottoms on plates and spread with goat cheese; cover with baby spinach leaves. Spoon lamb mixture over spinach and set tops in place.
Beets with Yogurt and Pistachios
(by Tessa Kiros)
1 pound (7 ounces) beets (about 4 beets) leaves trimmed, or 1(1 pound-2 ounce) can of beets
3 tablespoons olive oil
Juice of 1 lemon
2 garlic cloves, finely chopped
3 tablespoons coarsely chopped Italian flat-leaf parsley
Salt and fresh ground black pepper
1 1/3 cups Greek yogurt
Preheat oven to 350 degrees. Wash the (fresh) beets well, being careful not to pierce their skins. Wrap each fresh beet individually in aluminum foil and bake for about 1 hour, until tender when tested with a sharp knife. Whip the oil lightly in a bowl with the lemon juice and garlic. Wearing kitchen gloves, peel the beets. Trim away the root and cut them into nice chunks. If you are using canned beets, rinse if necessary, trim away any tough end bits and cut into chunks. Put in a bowl. Add the lemon oil, parsley and season with salt and pepper. Add the yogurt and mix gently. Scatter the pistachio nuts on top and serve. Serves 4 to 6.