End of Our Winter Cruising Season: April 27 2015

Our move north after seeing our friends off was not a lot of miles but it was a new anchorage for us (Apr 19). We ducked into Hawksbill Cay in the skinniest water we had dared to anchor in yet…6.5 feet (our draft is 5.5 feet). We slowly snuck into the anchorage as Chris moved the boat forward and I kept a running commentary of the depths – keeps the blood flowing. This spot is also part of the Exuma National Park and completely undeveloped ashore. We were not feeling ambitious so we stayed on the boat and moved to the top deck for sundowners (with binoculars). We had a bit of a show ashore as a mega-yacht crew set up for a dinner in the sand for twelve. How did we know it was for 12 you might ask?! Well, because of the dining table surrounded by 12 high back chairs! It was quite an operation and we are certain that the participants had a lot of fun.

There was forecast to be a bit of wind and we were tired of rolly anchorages so we ducked into Highborne Cay Marina (Apr 20). The marina and island is tranquil and beautiful (http://highbournecaybahamas.com/). We soaked up the place with a bike ride to the ocean side of the island and walks in the surf looking for treasures. This time the treasures were only the photographs we took. We read and relaxed and planned our return route to the states. The first night we grilled steaks and met neighbors. Everyone had their grills out which made it feel like a friendly, floating camp site. The second night we gussied up and went to the marina restaurant- Xuma's Restaurant and Bar. We felt quite posh but needn't have showered because most patrons were laid back after coming from a full day of fun in the sun…of course, they might have been simply having an afternoon snack while we were having dinner. Our reservation was for 6pm but we are notoriously early to restaurants. Never mind, it was a lovely evening at a charming place.

Our route planning was complete. We decided to take a new route back to Florida – along the southern side of New Providence Island rather than along the northern side past Nassau. The clouds were dark but there was no wind so we happily ambled along after tossing our lines from the marina (Apr 22). An added bonus was the fresh water rinse from a two hour rain storm – water is precious in the Bahamas and boat washing is too much of a luxury despite the salty film.

There is a power plant on the southern side of New Providence island in relatively shallow water. It looks like an amazing place to snorkel with huge masses of coral and vibrant purple sea fans – note to self for another time. But today we kept moving to West Bay. West Bay is a popular stopover on the Bahamas/USA path because it is a good sized anchorage with few hazards. The homes ashore look like we are anchored off of Boca or West Palm with manicured lawns and large homes. We anchored nicely with just a few other boats for a peaceful night before raising the anchor at 7.30am. Breakfast was soft and flavorful coconut bread purchased in Black Point. Holy cow - this stuff is amazing! We purchased it literally from the baker's home kitchen. As the photo shows - the coconut is a concentrated ribbon of sweet coconut goodness.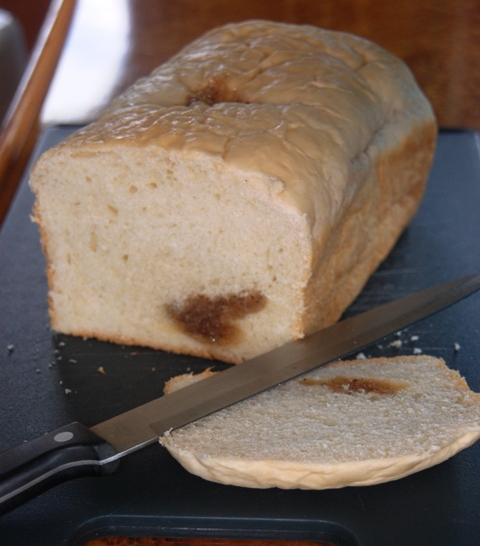 The plan was to make the short hop to Andros Island and anchor on the northern tip at Morgan's Bluff (Apr 23). From there we would explore the island – especially the Andros Batik factory and outlet (http://www.bahamas.com/node/50143#zoom=14&lat=24.7221&lon=-77.7855&layers=00B0T). So many cruiser's plans are written in sand at low tide…and this was no exception. As we motored along the conditions were simply too benign to ignore so we kept going over night with Fort Lauderdale as our target at sunrise. Crossing the Gulf Stream was like being in a calm lake – no drama is no drama. We were not the only ones to realize the conditions were right because we saw a fishing boat towing six small boats behind it. It looked much like a Momma duck with her line of ducklings. The operation seems to have countless ways to go wrong unless/despite the weather being totally calm.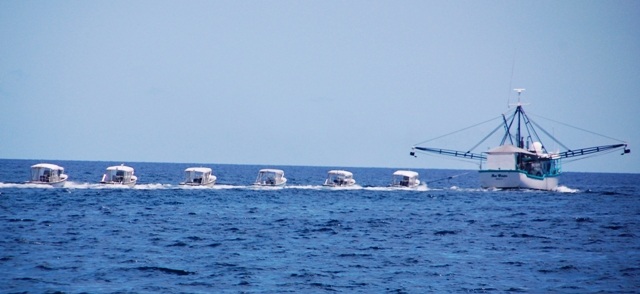 Our approach to the Florida coast saw more and more traffic the closer we came to shore (Apr 24). Timing was right and we arrived into the port at sunrise – plenty of light. We anchored in Lake Sylvia and checked into the USA with the officials. It is nice to be in a familiar place with a known path of approach. We called Customs and Immigration on the phone notifying them of our arrival, tied up the dinghy at Southport Raw Bar, took Uber to and from the Homeland Security Office and were back at Southport Raw Bar for a welcome back to the USA celebratory lunch (http://www.southportrawbar.com/). We did it! All our work in St Augustine and Ft Lauderdale allowed us a great couple of months in the Bahamas. Now we are ready to detail the work to be done over the summer when we return to Boston.
The next couple of days we relaxed in Lake Sylvia. It was the weekend so there was a lot frolicking in the sun – especially because Mother Nature made some record setting-ly hot days. At 97 degrees F it was one of the hottest weekends on record, ever, in April. Monday morning we checked the tides and headed up the New River to Lauderdale Marine Center (Apr 27). This will be our final stop this season as we prepare the boat for work and head back to Boston.