Work Continues: January 24 2015
We are making good progress but a few days of projects has turned into two or three times that amount of time – as projects do. We dig into a project that seemed to have four steps only to discover it actually has fifteen steps. In order to keep moving at a good pace we have rented a car for the gathering of supplies and squeezing in a few fun activities between the projects.
The kitchen remains the only source of fresh water...doing double duty as the bathroom sink and the food prep/clean-up area. This is par for the course but it does become tiresome as the days clip along. Spaces for work are often only big enough for one so only Chris can fit...with his equipment; knee pads, gloves and head lamp. Every now and then I am called in for tinier spaces and tinier limbs...like bleach washing the inside of the holding tank (aka poop tank). But when I cannot do laundry, plan our route south, gather items on our lists from various places around town...I get a bit stir crazy. My solution has been to wander with my camera and snap a bit of nature. I have had some luck with a snacking osprey, a stately pelican and a crab hitch-hiking a ride on a jellyfish. Then the fresh water is turned back on and I can get going on fun meal items…like homemade pesto, banana bread, rum daiquiris…
We have friends in the trenches with neighbors from southern California on m/v Anastasia. They are working hard and fast like us to get out and enjoy the winter cruising season. We have shared sundowners and swapped names of favored tradesmen as we commiserate the ever expanding list of To Do's. Cheers!
For us, there has been an area under the floorboards between the guest stateroom and bathroom that was saturated with water due to being the location for the sink and shower sump pump. So we decided to completely dry out the area and re-glass it before finishing the toilet redo. Drying out the area took longer than we thought…seven days…with a constantly running space heater from Target. Once dry - grinding and glassing were followed by painting with 2-part epoxy paint. Epoxy paint is potent stuff! Boy are our heads spinning. And once cleared with a step outside it takes just a small whiff to be sent right back to nausea-land. Windows and doors are open but we evacuated the boat for dinner at Kingfish Grill after feeling pretty loopy due to the thick fumes.
The projects keep us busy but we have discovered a gentle way to start the day with a 2 mile walk to breakfast then 2 miles back home. At about the half-way mark we walk along Magnolia Avenue. It is only a few blocks long but it is like walking through a cathedral created by Mother Nature. The oak trees reach up to form a nave of pillars and pointed arches as grand and vertical as any European cathedral with Spanish moss draped to fill in the architecture like beautifully carved lace stonework. This route gets us to a French bakery, Les Petits Pleasures, that would make Parisians green with buttery envy (35 San Marco Ave).
But did I mention the projects?! Our departure date is sharply in focus so we are speeding up our process. Chris' projects tend to be multi-day odysseys that he simply has to slog through one step at a time. My list of pink jobs is at a standstill since the boat currently resembles more of a toolshed/hardware store than a living space. So - I have been called into a bit of the blue jobs list with things like taking the removed toilet to the Sailor's Exchange for credit toward a new back-up anchor, cleaning and zapping with penetrating oil the top deck helm chairs, replacing the water tank sight tube and painting a Chris epoxied patch on the bow. The real upside is that we are both barefoot – yippee – as we check stuff off the list!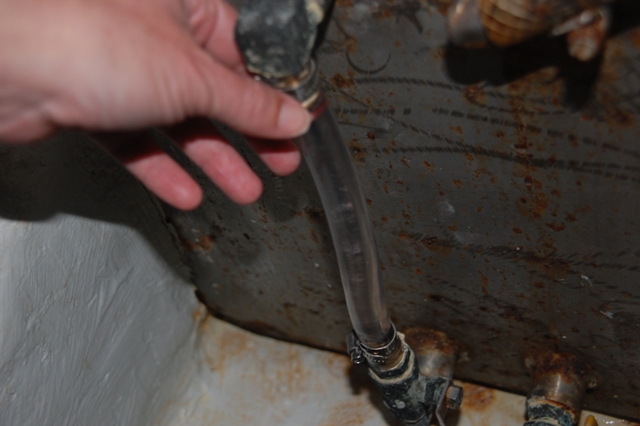 Gathering resources and parts has me as a zippy gopher with well worn routes to Home Depot, ACE Hardware, West Marine, The Marine Supply & Oil Company, clock repair, propane filling station. All have bits and pieces for our projects but none are a one-stop-shop. Chris is learning every inch of the boat as he works through hose replacements, sump pump replacement and wiring…and did I mention the removal of the ceiling of my closet with a roto-zip?! All in the name of progress.
Sport fishing is a popular pastime in northern Florida; however, damp, cold and windy conditions have kept many from heading offshore. Whenever there is a nice day the cleaning stations are well used by the successful fisherman with the scavengers hovering nearby hoping for a snack. In the Bahamas nurse sharks are the common scavengers but here it is the gangly pelican...and the odd tourist from Ohio. Both stations were humming as big fish were diligently cleaned and filleted. The pelicans scrapped and postured and finally strutted with satisfaction at a well caught juicy morsel.
Basil and Parsley Pesto with Anchovies
(makes approx. 1 cup)
by Canal House Cooks Everyday
2 loosely packed cups basil leaves
2 loosely packed cups fresh parsley leaves
1 clove garlic, sliced
1/4–1/2 cup pitted green olives
3 anchovy filets
1/4 cup really good extra-virgin olive oil
1/2 cup grated Parmigiano-Reggiano
1)
Purée the basil, parsley, garlic, green olives, and anchovies with the olive oil in a food processor.
2)
Add the Parmigiano and pulse a couple of times.
3)
Transfer to a small bowl and place a piece of plastic wrap directly on the surface of the pesto to keep it from turning dark until using.