Winter Starts With Work: December 12 2015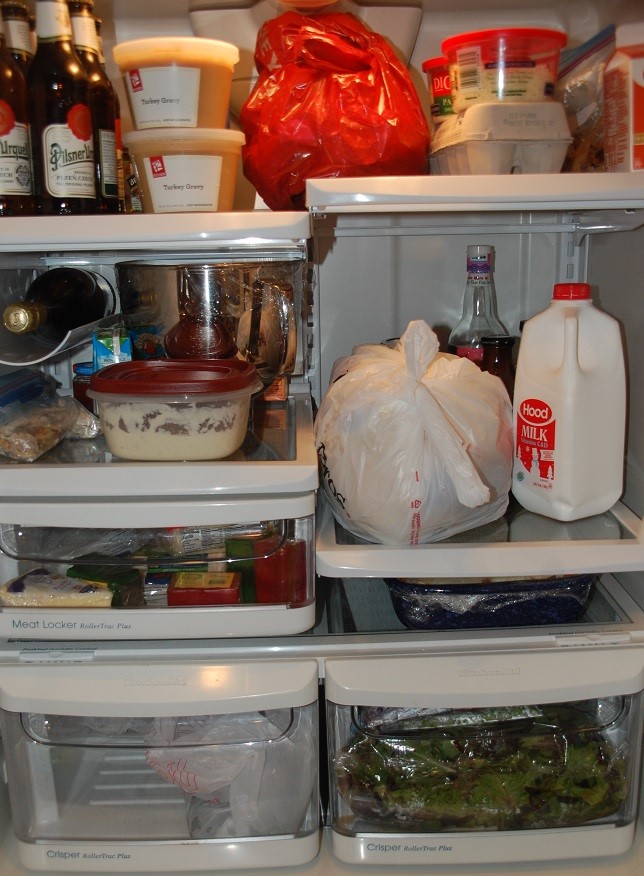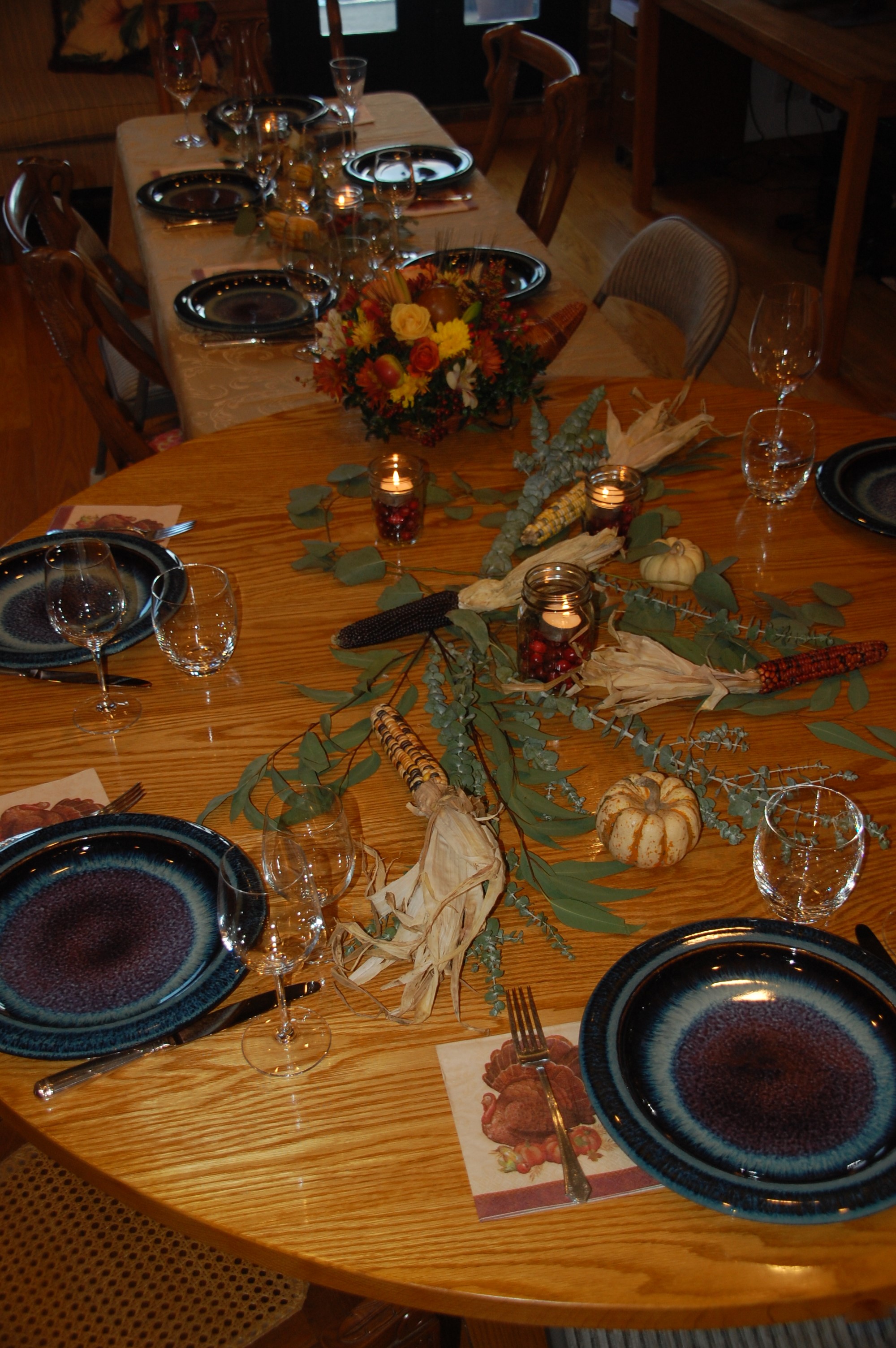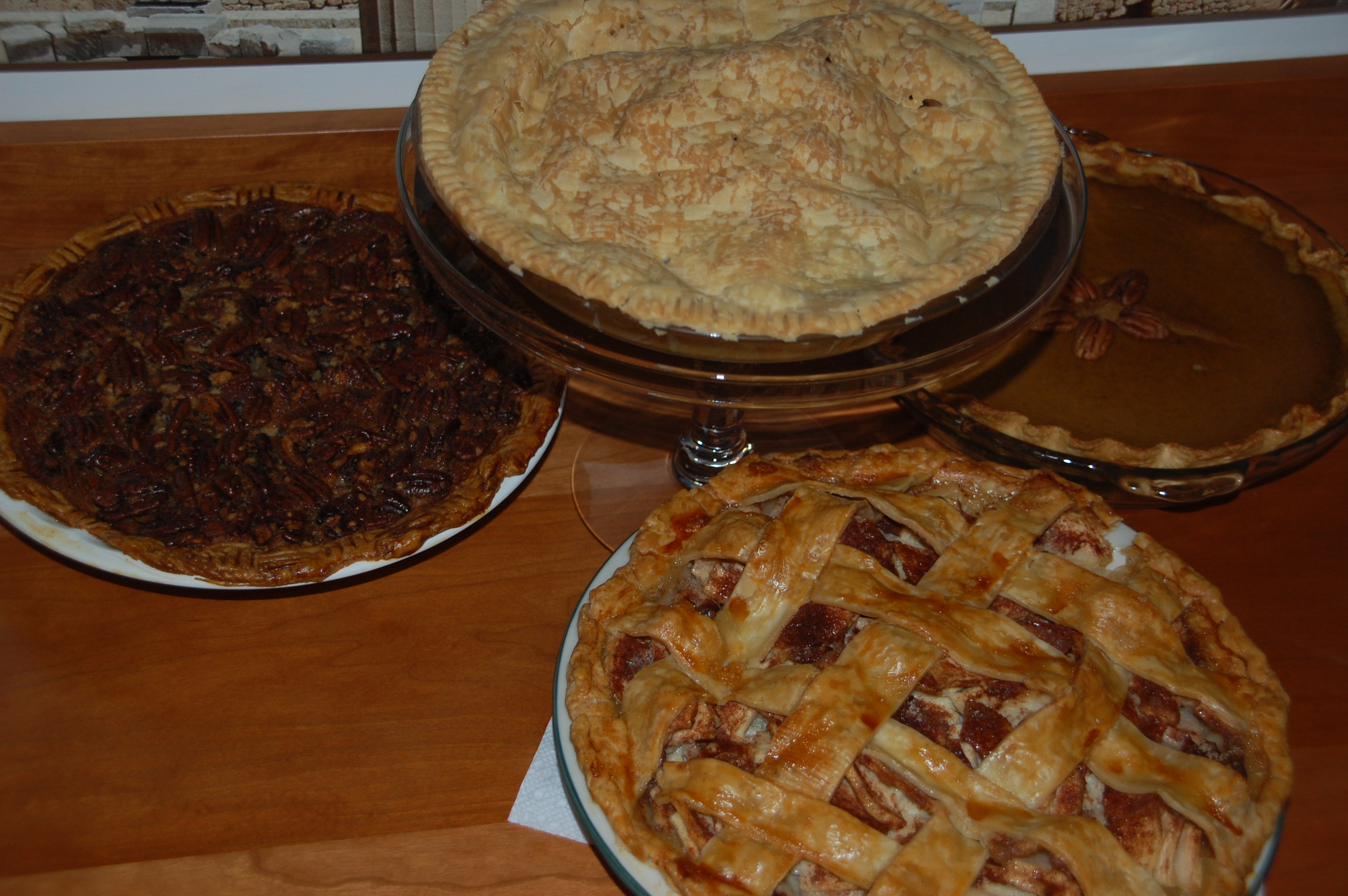 Thanksgiving was a marvelous feast with groaning tables and clinking glasses and loads of laughter. Turkey Day is our favorite holiday and we try to spend it with as much traditional fun as possible; even if details have to be modified from time to time to accommodate the locale where we find ourselves. This year we were lucky and found ourselves in Boston in our own kitchen – so the sky was the limit and we did not miss a trick. Furniture was moved from the main room for enough table elbow room and we cooked for three days. Success was evident as we were all bursting at the seams with every possible casserole, side and pie imaginable. Even the full majesty of the bird cooked up juicy and flavorful. As we watched football and nodded off from time to time we were sated from enjoying every minute of the day.

Turkey Day was our last hurrah in Boston before returning to Fort Lauderdale and moving aboard the boat for the winter. We cleaned out the house fridge and freezer, washed every possible sheet, linen and towel and generally closed down our place for the next six months. Everything was sorted and ordered so off we went December 1st. Holy cow – this "snowbird" migration is a real thing…not some myth popularized by AARP or scripted by Hollywood. Our plane was populated with a dozen plus wheelchair riders, octogenarians with their purse-sized pooches…and us. Hhhmmm…did we make the right winter plan?!

The three hour hop had us off the plane with winter jackets stowed as we entered the tropical Florida climate. Yikes! We went from a fully organized and cleaned abode to a commercial boat yard where order among the chaos has its own rhythm…often cleverly hidden.

The boat looks great! She is shiny and bright and ours – named Barefeet. Our heads are spinning. We walked aboard and see loads of loose ends to wrap up but the major work is complete and we are ready for the winter. We scratched out the first draft of our punch-list and began to think that three nights in the Hampton Inn might have been a bit too optimistic and short. Gulp. There are ceiling panels removed with wires left to dangle, damp musties have crept from the corners during Florida's steamy summer and we won't know if the engine will spark up until we are dropped into the water by a 75 ton travel-lift crane. Breathe, breathe, breathe – one step at a time. Hot, gritty, dirty days are spent straightening up; getting fenders ready (searching for covers to avoid scratching the new paint job); lining up electricians, propane installers, solar panel technicians and shade installation…not to mention generally staying out of the way of the professionals. We return nightly to the hotel for a bit of calm instilled by wine, Cheez Itz and hot showers. We are pooped.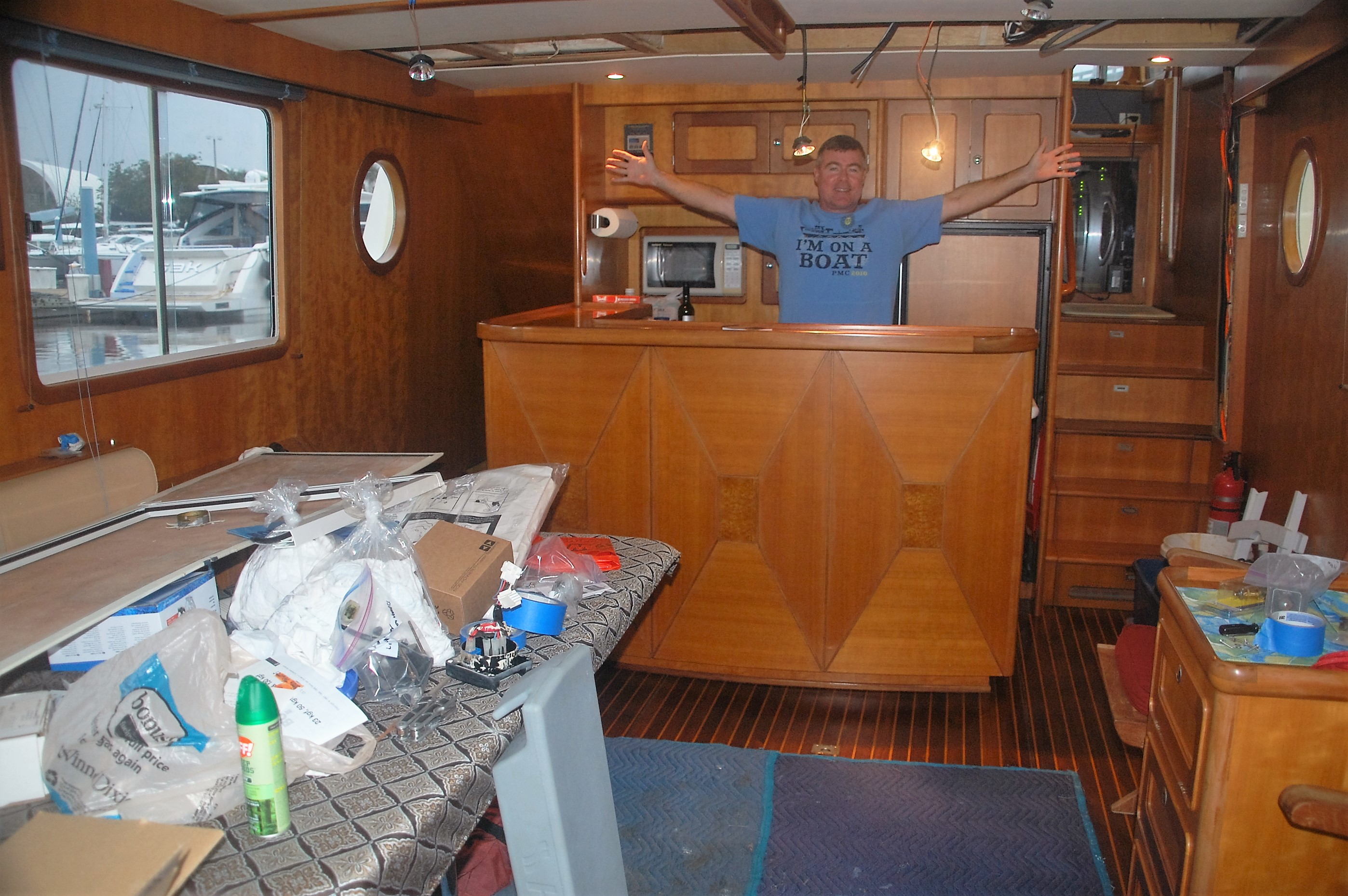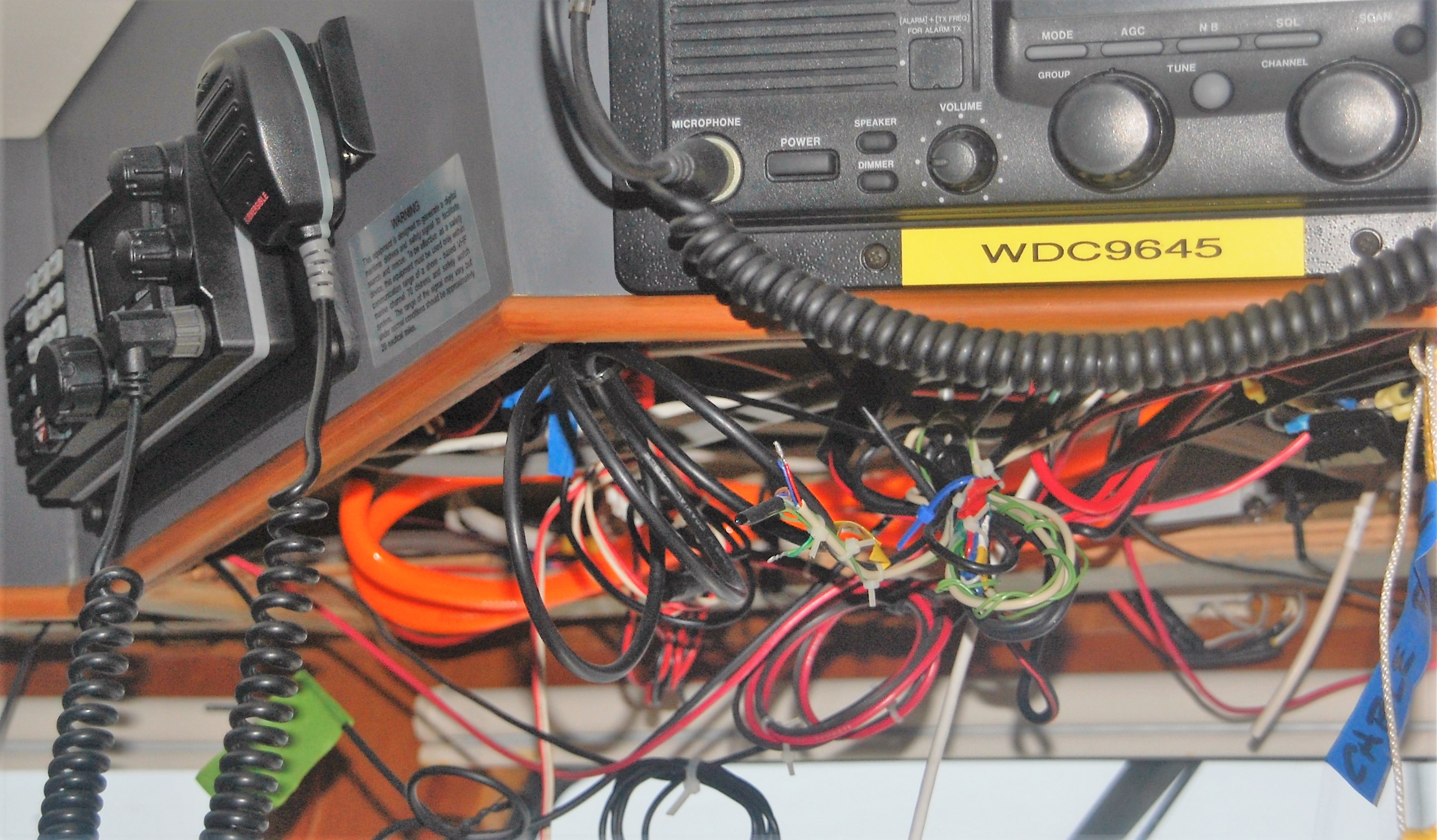 In the water we went right on schedule – and the engine turned over (Dec 4). Yippee! The torrents of rain added to the drama of the splash but not a leak was found. Off we went to our marina parking spot along the perimeter dock. Yikes - we feel like we are drinking from a fire hose. But we have a plan created on a spiral ring mini-notebook consisting of a punch list full of details (small and large) to sort out, shopping lists for boat parts and living needs...along with doing countless loads of laundry with the addition of Borax to eradicate the musties.

Back aboard and we only have the intestinal fortitude to investigate closets and systems at a moderate pace. It took 7 days for me to open the fridge door because I was terrified of finding a swampy mess. Phew, Chris did the honors and informed me that it was fine…I'll look soon. Next up were the pantry and dish cupboards. Again, all was fine.

On a never-a-dull-moment-note: showers aboard came off without a hitch our first night aboard but then the washing machine stealthily filled itself so full with water that it looked empty. I opened the door and whoosh – water waterfall-ed everywhere (no - it was not "on"). Oh well, nothing for it but to open the door let the water flow over the floor and into the bilge and out through the bilge pump. We got the gallons of fresh water cleaned up before heading to dinner at Southport Raw Bar...aahh (http://www.southportrawbar.com/). We had two seats at the bar and enjoyed an impromptu oyster shucking contest by the staff. This laid back place was the perfect way to unwind and forget about boat lists for a bit.

The rain has steadily continued which has kept us working on interior projects. Even the locals are getting frustrated by the unseasonal storms. Heck, the space shuttle launch was even delayed due to the bad weather. It is tough to dry out a boat when everything outside it is wet and soggy.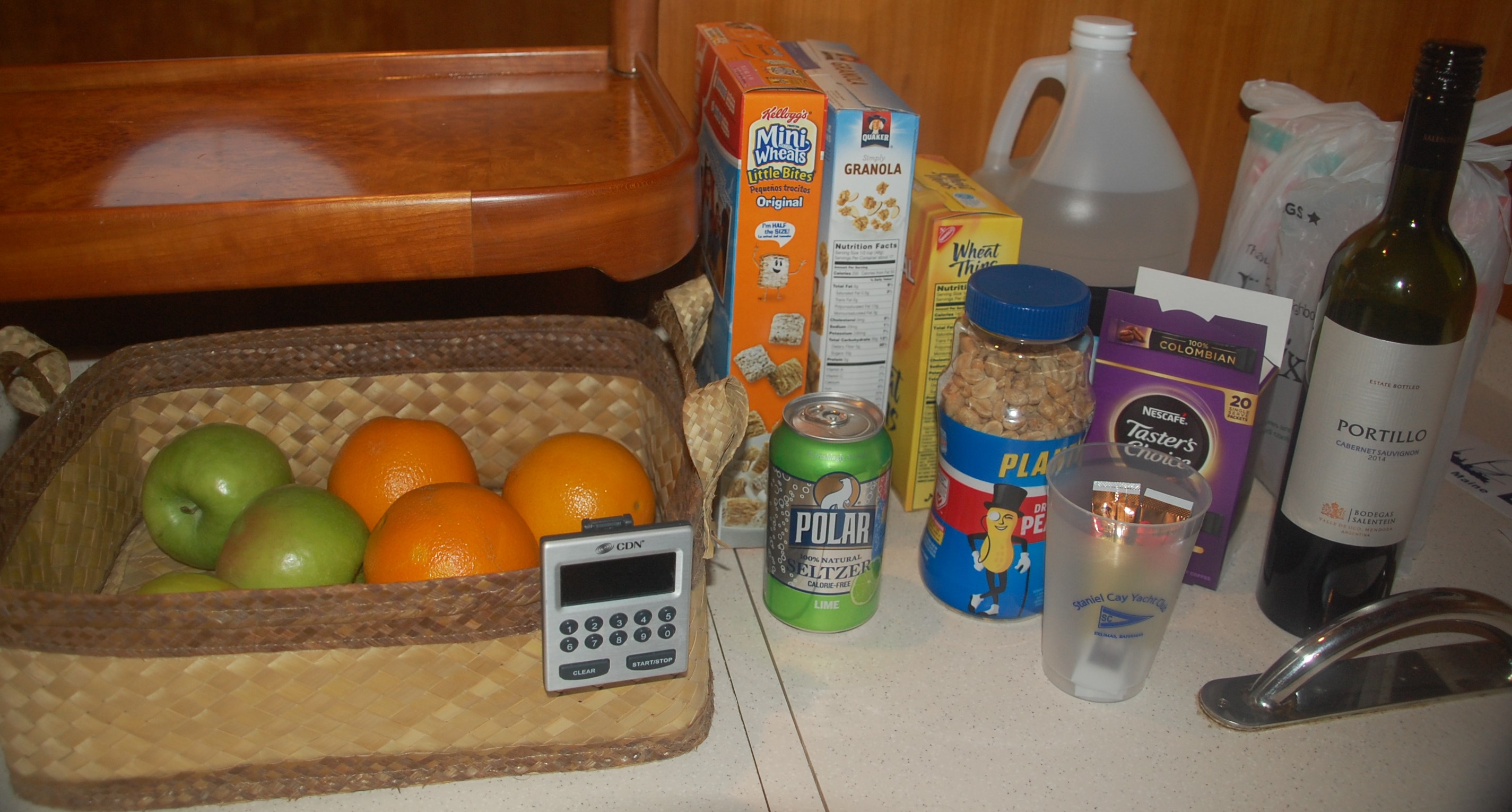 Day by day we are carving out a bit of normalcy with the fridge turned "on." This allows us to have breakfast and a few snacks around; however, that is the extent of the kitchen until the copper line for the propane stove and oven is strung…it's on the list and will happen later. Boiling water for instant coffee is now our first step of the day as we catch up on news and emails.

We have made it to the weekend and have happily discovered that cruiser friends Bill and Louise are still in Florida. Their departure to the Bahamas was delayed one month by a recalcitrant anchor windlass. Delays are no fun but we are happy to visit and catch up. Off we went to Fort Myers via Alligator Alley highway (Dec 6). We did not spot any gators; however, we did see vultures, hawks and various egrets. We rendez-voused with Bill and Louise at West Marine…where else would cruisers meet?!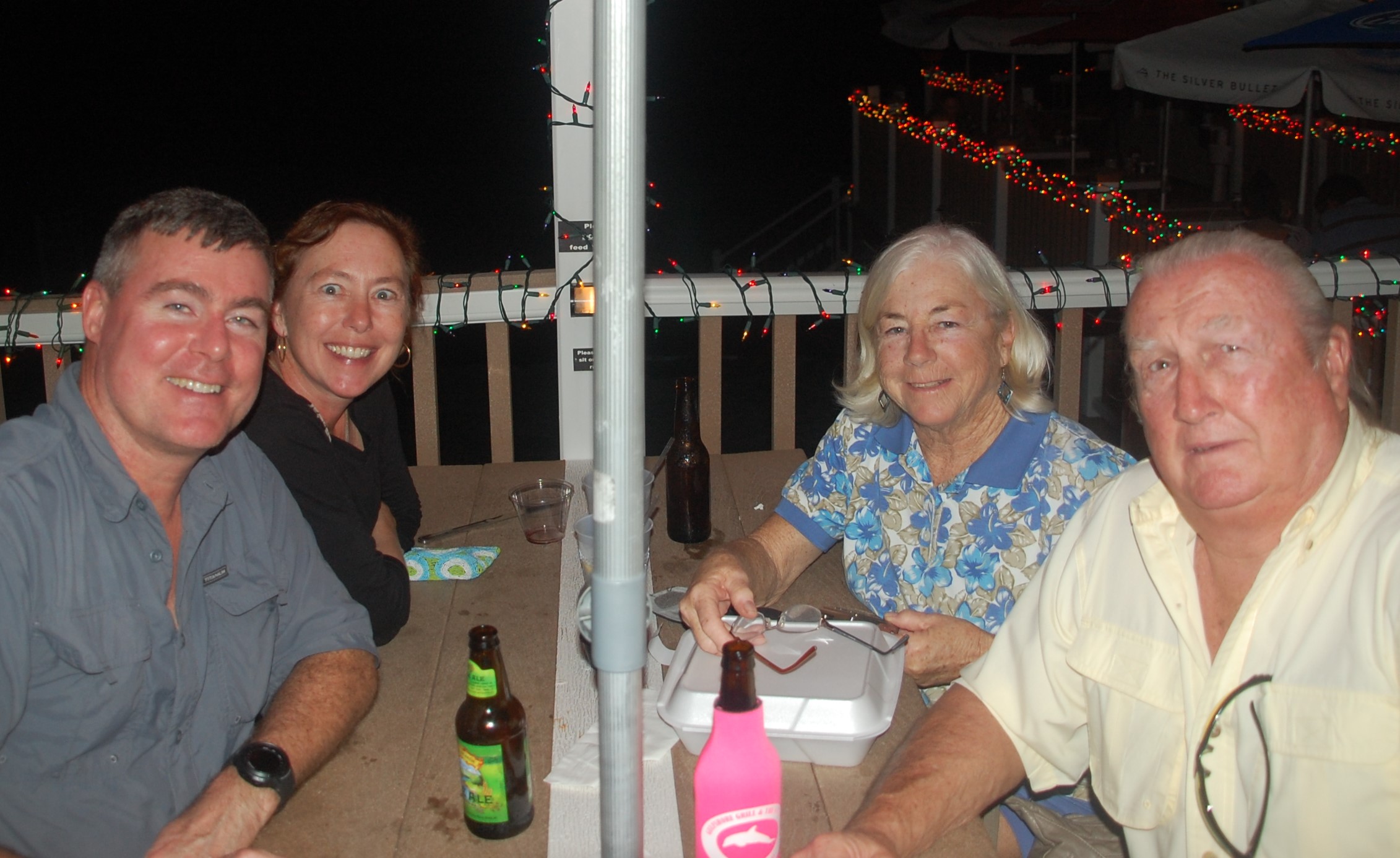 They showed us around Fort Myers pointing out the marina, mooring ball and anchoring options. This is a cute beach town which feels like the old Florida we have heard about…and an understandable destination for Northern cruisers escaping the blustery winters. We grabbed a bite at The Cottage Beach Bar (http://www.gulfshoregrill.com). What a great place! It is a back porch on the white sand beach with burgers, nachos and cold adult beverages. The sun went down and the dense display of Christmas lights made for a wonderful holiday feel. Back at the condo Bill and Louise poured over charts of the Florida Keys with tips and favorite anchor spots to help us strategize our winter. The evening continued well into the wee hours with lies told and stories recounted. We had a quick nap and hit the road early with a refuel at Marti's Family Dining on San Carlos Boulevard for the best biscuits and gravy we have ever had. Okay, we are from the North so we do not have biscuits and gravy all the time – but these were a plate of creamy, sausage and pepper-y goodness atop a light biscuit. Yum!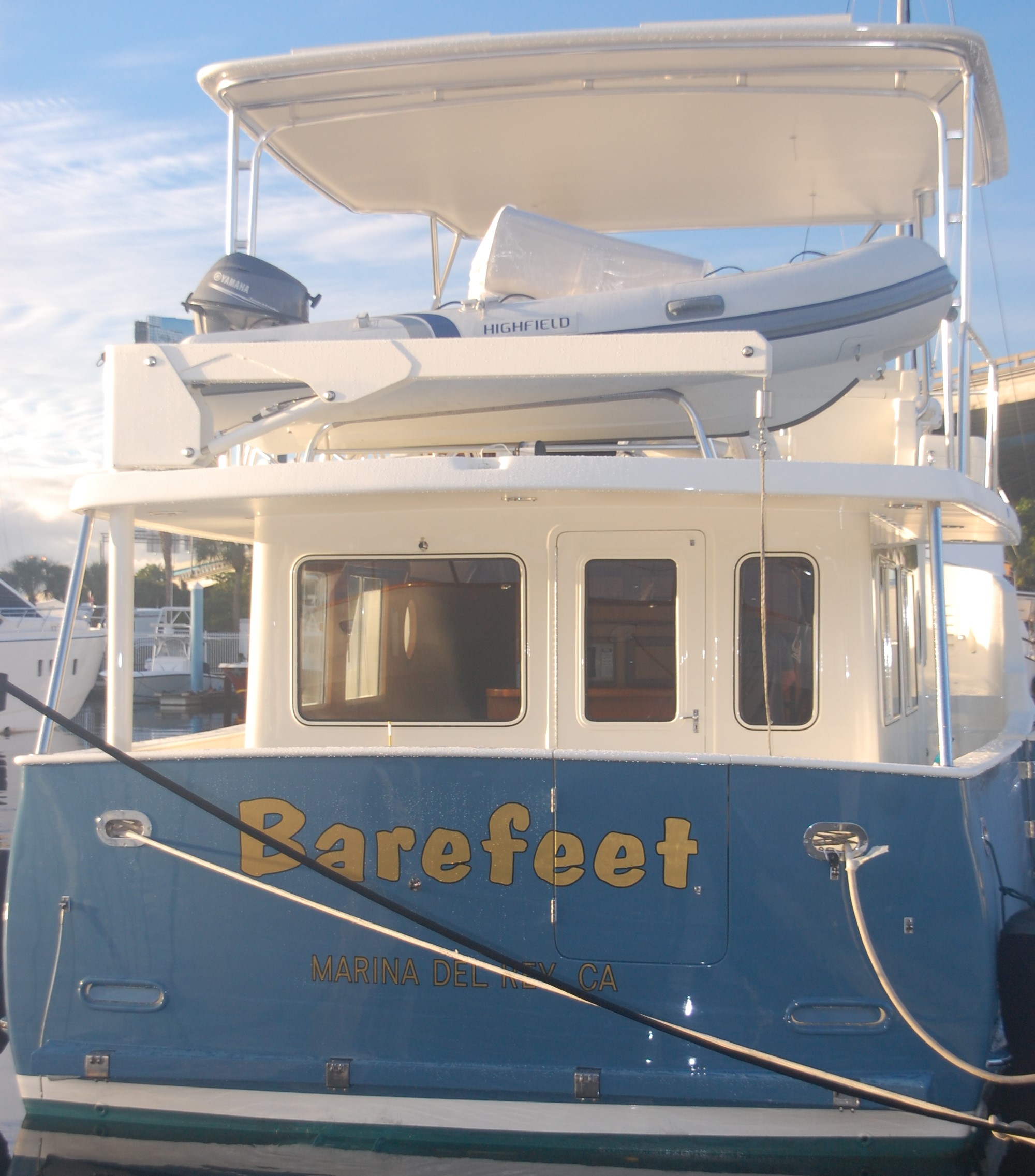 The visit with old friends was the perfect change in latitude for us to jump back into boat projects with a full head of steam. And things have definitely picked up. The rain has died down which has countless professionals crawling around the boat wrapping up the loose ends. Wow – and after eight straight days of rain – the sun has finally appeared and greatly improved our attitude. Topping off a day of much activity we had dinner aboard. It was a dinner of cheese, crackers and hummus on the top deck and it was really awesome! Oh my, the "top room" is all that we had hoped it would be.

Holy guacamole, we are at warp speed with electricians re-wiring boat systems, hard top wiring strung, propane run with copper tubing (to fuel the oven and stove), solar panels dropped into their racks and wired, life line bits spliced and installed………and more and more stuff is up and running. We took a trial run with the new crane and it was positively perfect. It makes barely a whisper and smoothly maneuvers the dinghy as needed.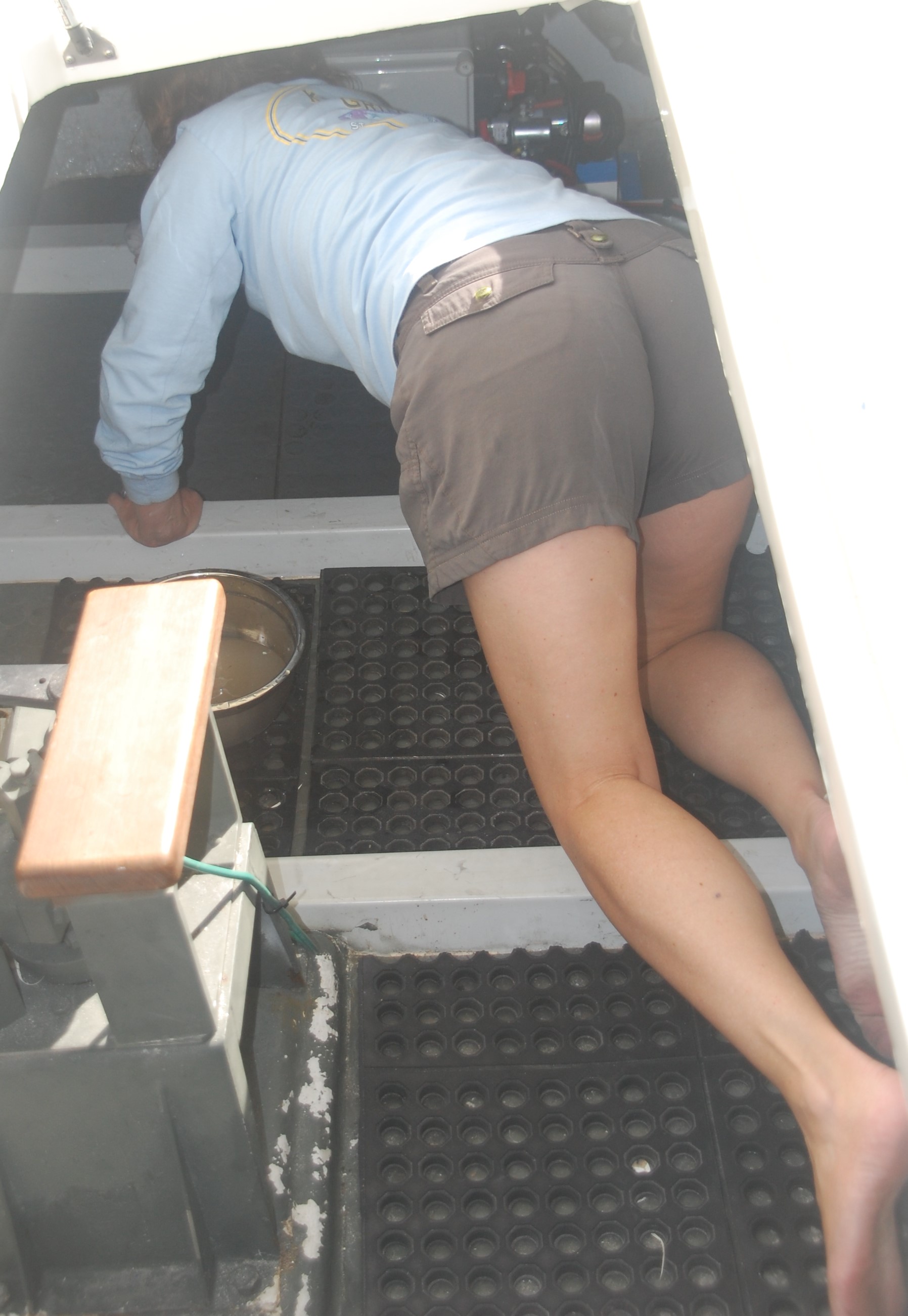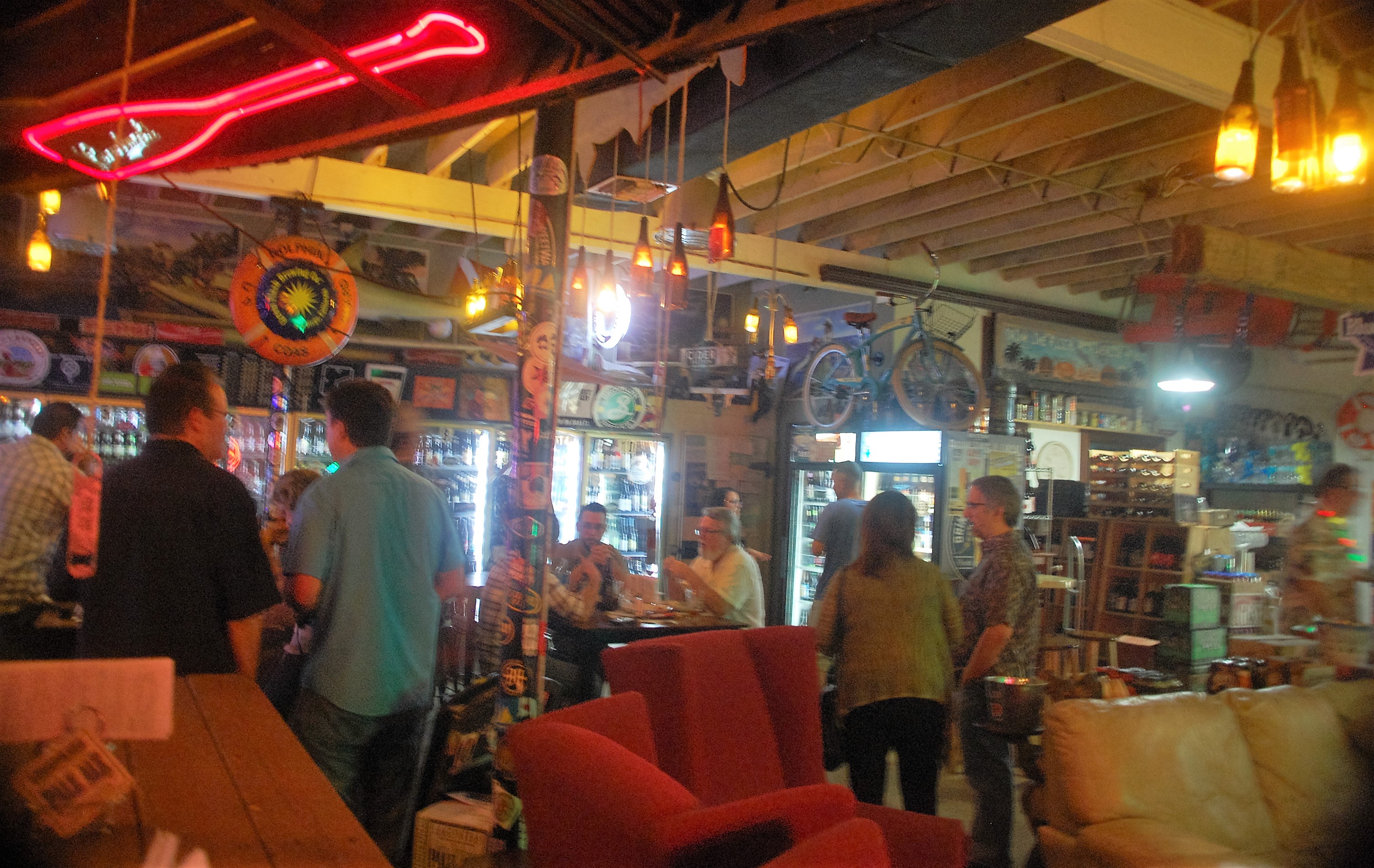 We are feeling good juju but we do hit low spots. Thankfully, Chris and I usually bottom out on different days. Two days ago he hit a wall and was truly wrung out. Yesterday, I hit the same wall and nearly broke into sobs when I returned from a quick errand only to find the boat more torn up than when I left…a situation I truly did not think was possible. We generally get past these low spots pretty quickly but a newly discovered local spot provides additional help to re-set and forget about boat stuff for awhile (Dec 10). It's the Riverside Market Café (http://theriversidemarket.com). They have over 550 craft beers to choose from in self-service coolers (wine, too), fantastic pizza, super friendly staff and a cozy living room type vibe. Honest – there are even sofas and wing back chairs.

Despite a pretty long existing punch list we keep adding new items to the ever expanding list of To Do's. We have changed out two hose runs and scoped out battery replacement. The batteries were on their last legs when we bought the boat and simply cannot be nursed along any longer. Plus, when the professionals go away Chris tries to jump in and do what work he can to speed along their progress and reduce the number of hours charged. The process works well but does not leave much free time. Erin becomes the gopher to keep all the projects supplied when items run out from Hardware Stores, marine warehouses, supermarkets, Dollar stores, rigging shops – you name it. Our roller skates are well greased.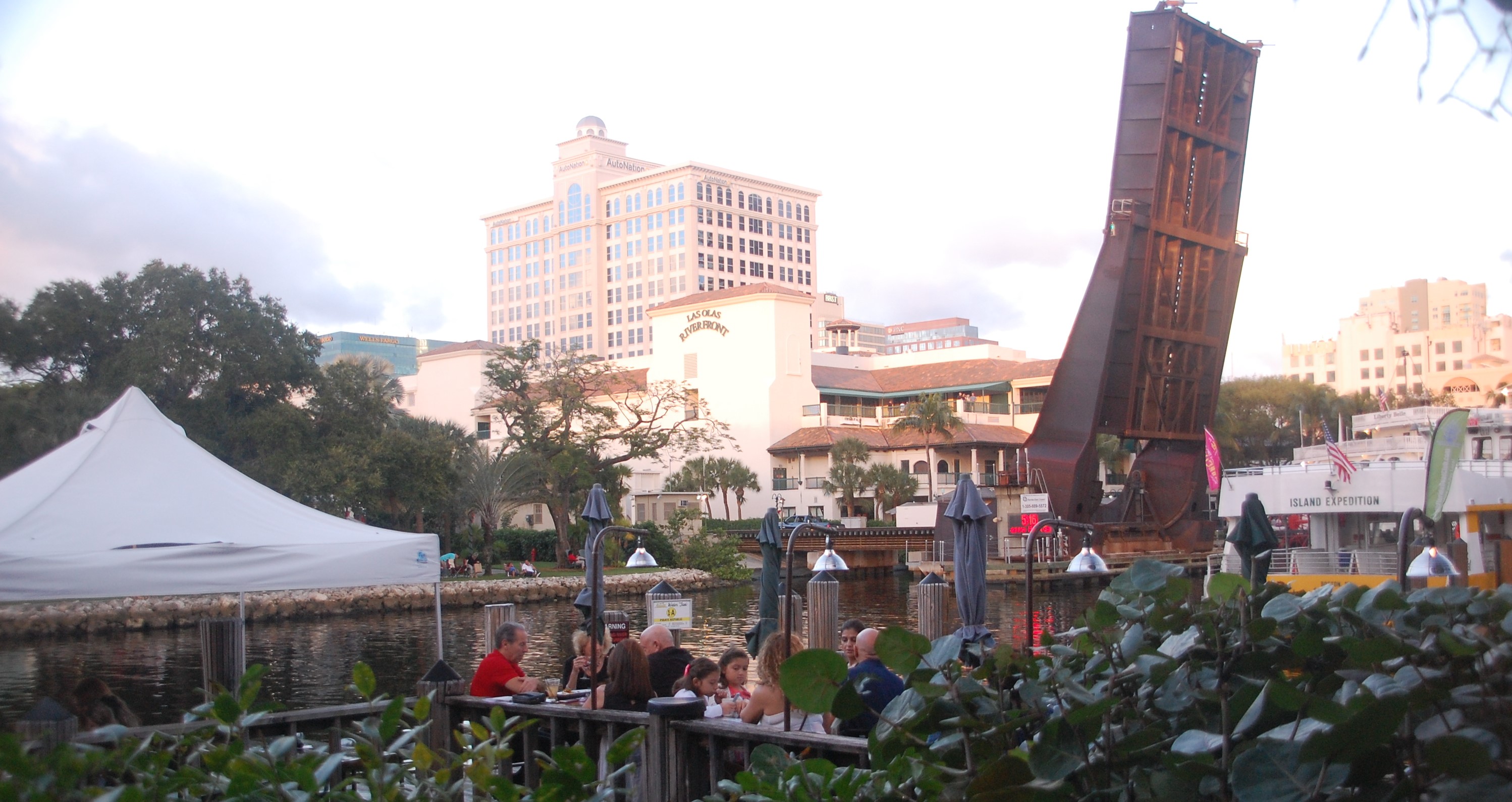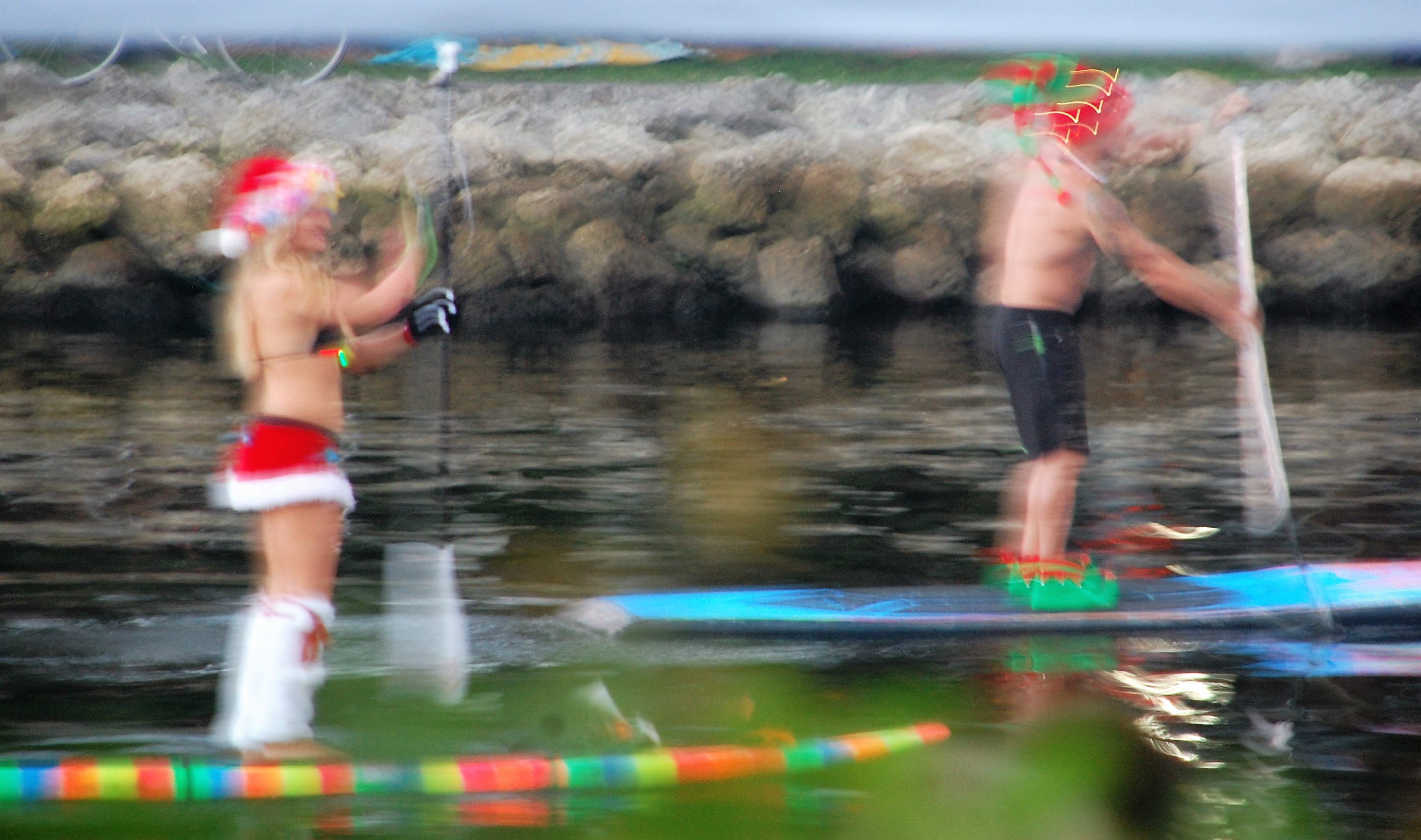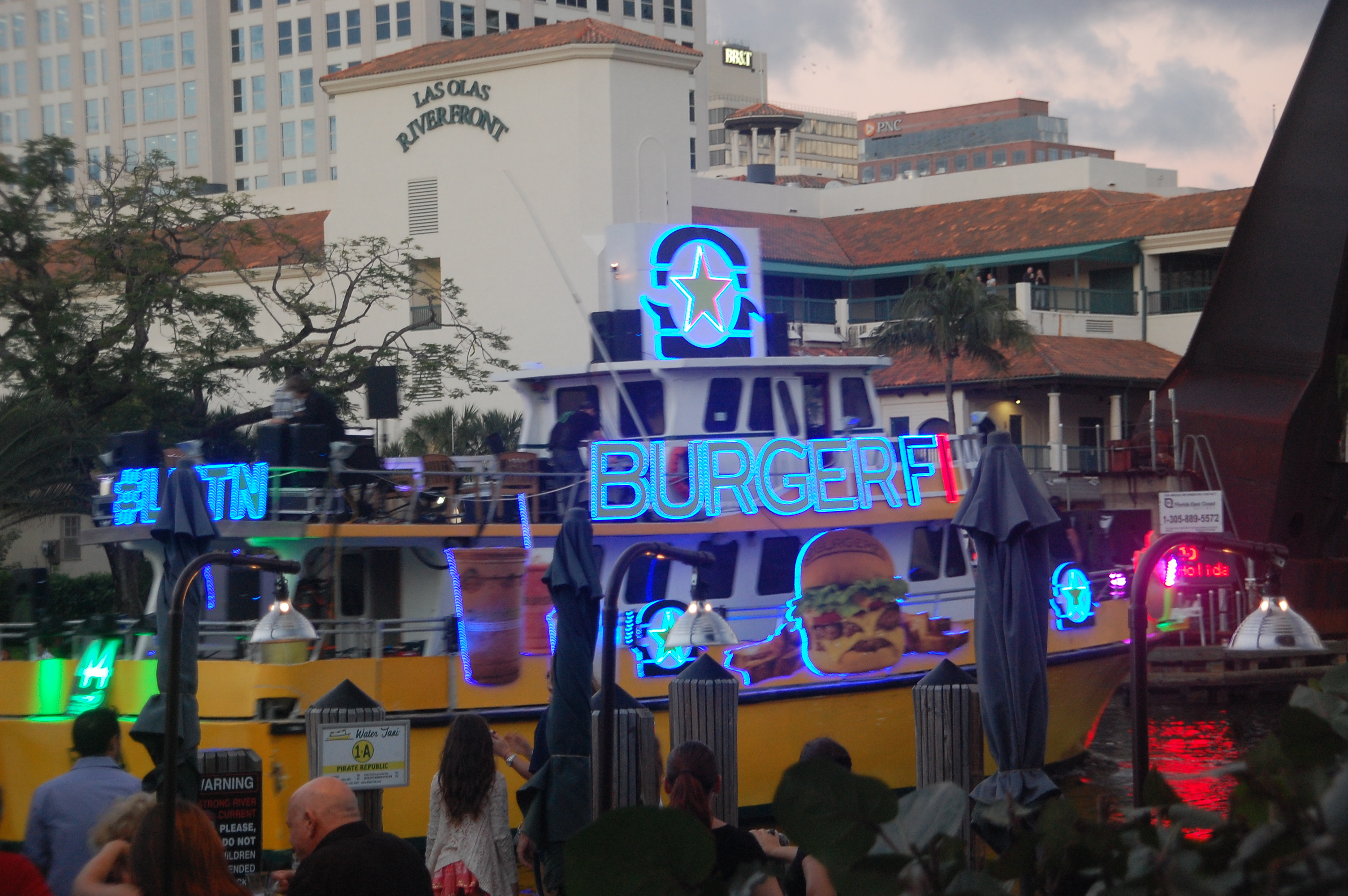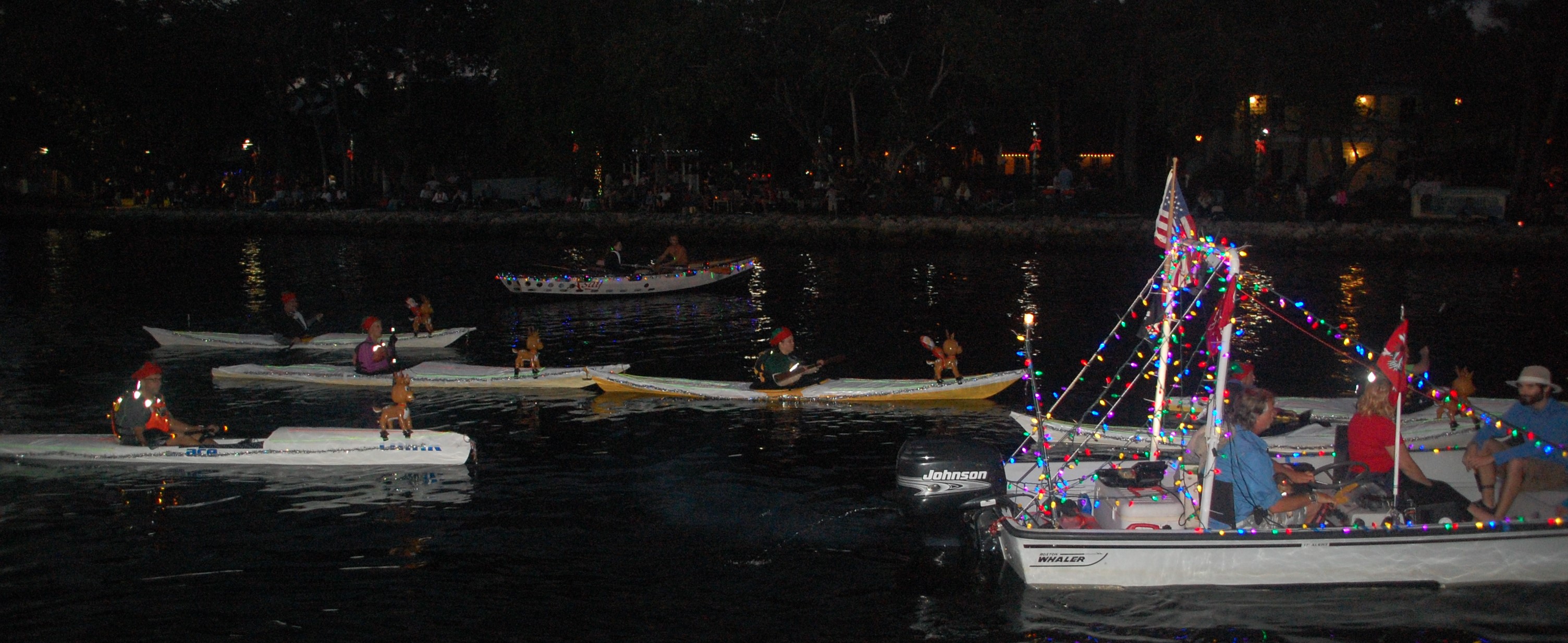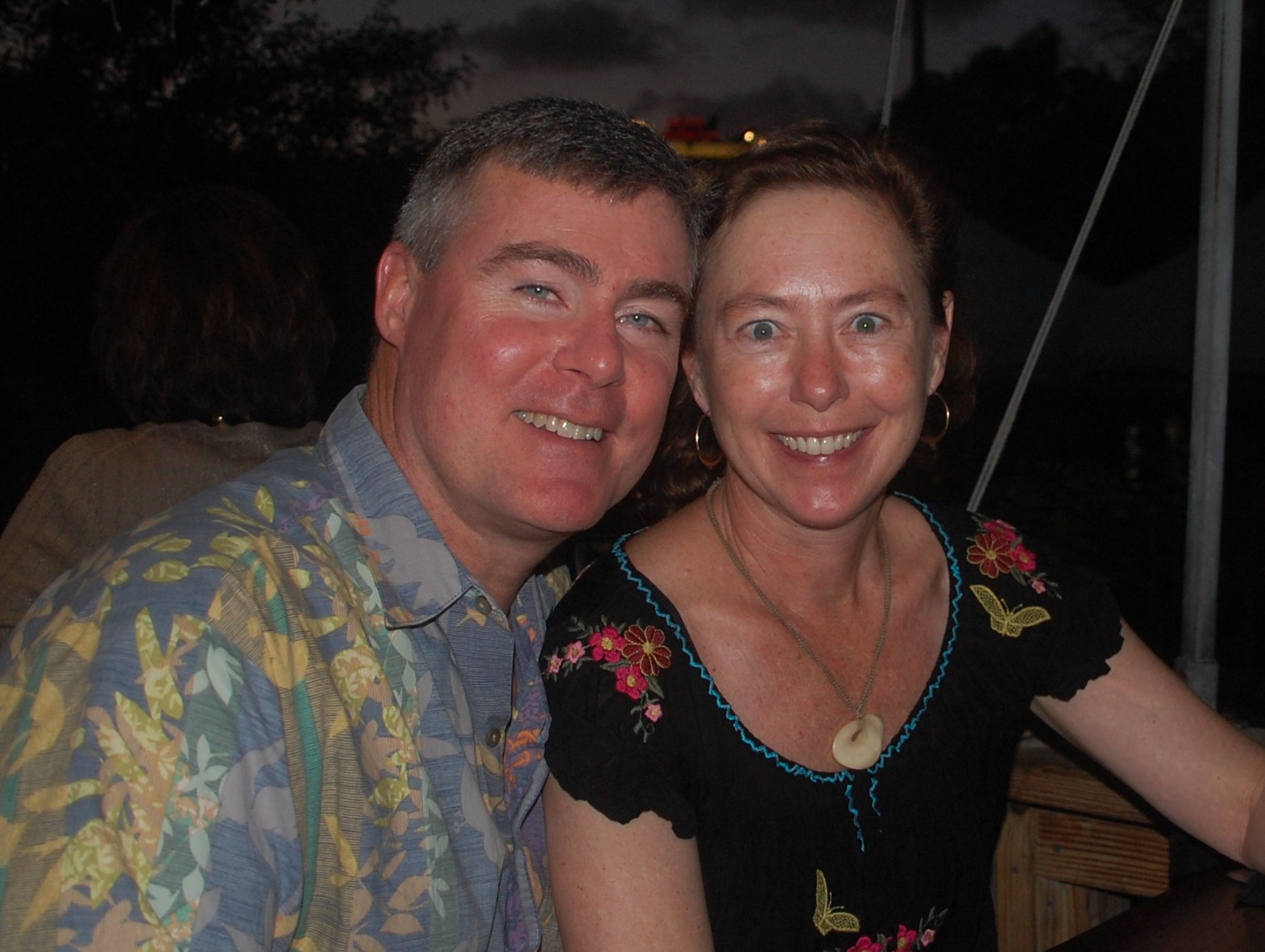 More full days of work on the weekends has us grasping for some Holiday cheer. Enter the Lauderdale Boat Parade (Dec 12). It was a warm and breezy tropical evening (and rain free). We scrounged ring-side seats just before the start at a waterside restaurant. Arriving in our island finery we had a festive evening on the wooden deck side-by-side at a high top table and stools. The parade has been going for 44 years and is even televised in Boston later in the month. One hundred vessels wound their way 12 miles along the New River and into the Intracoastal Waterway. The music blared and many larger boats had big TV screen that shot back images of the crowd along the water's edge. Participants did not take themselves too seriously (as seen in the attached photos) and waved and smiled and honked horns along the way. Back aboard Barefeet on our top deck we saw several boats returning home after the parade – still as lively as in the actual parade.