Return to St Augustine: January 8 2015
Two bags, two winter coats and two plane tickets had us back in Florida after departing a zero degree Boston (Jan 8). The weather was warmer in Florida but not by a lot. It was 45 degrees F in St Augustine. Transfer from the Jacksonville Airport was welcoming and effortless with a ride from Sandy of Island Airport Shuttle (www.IslandAirportShuttle.com).
The boat was floating and we have the slip until the end of the month. Let's get to work!
The boat performed well on our shakedown cruise but she is 15 years old so there are projects we have in mind. However, the projects are more of the nice-to-have variety as opposed to the must-have variety. The previous owners kept her in good nick with plenty of clever living-on-the-boat strategies to boot. Off we went to work through our project lists. Erin took some of the low hanging fruit like spare boat keys (tracked down thanks to VKA Security at www.uglyfishinc.com). Chris dove head first into the top priority...replacing the two existing toilets and all sewer lines with fresh water electric toilets and state-of-the-art sewage tubing. He ordered loads of parts from defender.com and mcmaster.com.
Since returning to St Augustine the weather has been rainy and grey but that has kept us head down, focused on boat projects. Chris has torn up virtually every inch of the boat as either "boat project" or "staging area." You know the deal - tools, boxes, open floorboards, the lot. I have carved out a corner of calm in the kitchen for meals but that is it for the next few days…or more. Meal simplicity is a must. Favorites that rise to the top of the list include dropped eggs on toast, lentil soup with grilled cheese, Mexican shepherd's pie and pulled pork nachos. The sun should come out in a couple of days which should have us well through the major sections of our projects (and the new toilet finally out of the living room – fingers crossed).
Erin has her own priorities on our "To Do" List, too, and today she was able to check something off (Jan 14). We have wanted to put hypervent as a base layer under the mattresses. It looks a lot like a stiff brillo pad that allows mattress ventilation...otherwise...moisture created when you sleep has nowhere to go and gets damp and soggy on the bottom of the mattress. Yesterday, the hypervent arrived and today we cut it to fit and have the main cabin sorted out. It's the little things - yippee. The guest bunks will be next but first they have to transition from being a staging area.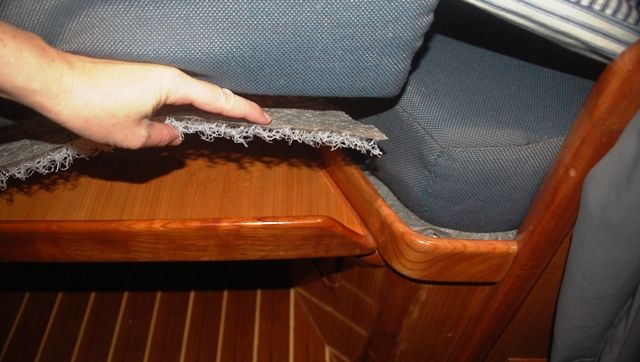 We have noticed that we refer to the new boat only as "the boat." Well, that is not fair because she has a name and it is Auriga - the charioteer constellation in the Northern hemisphere. It is a cool bit of imagery but we are having a hard time getting the name to roll off of our tongues. Maybe it is just a case of old habits die hard but we keep wanting to call her Barefeet. For now, we are trying hard not to make any "big" changes so that we have time to live with things before we upend the pushcart. So the name stays, for now.
There are several beach bars in the area and we have decided to make a point of giving them a try as mini-rewards after our days of work. Kingfish Grill is in the marina and already a favorite (http://www.kingfishgrill.com/). Just beyond the marina and over the bridge is a spot right on the sand - Beaches at Vilano. Their Goombay Smashes are heavenly and the sunsets are beautiful (http://www.beachesatvilano.com/). We are off to a good start!
Greek Lentil Soup
3 Tablespoons olive oil
½ lb green/brown lentils
3 medium white onions, chopped
5 cloves garlic, chopped
5 cups water
2 bay leaves
1 laurel leaf
3 Tablespoons white vinegar
½ cup olive oil
1 can (13 oz) crushed tomatoes
2.5 oz tomato paste
Salt and pepper
Feta (optional)
1)
Soak lentils in warm water for one hour.
2)
Heat 2 T olive oil and saute onions and garlic until translucent.
3)
Add water, strained lentils, bay and laurel leaves, vinegar, olive oil…simmer 30 minutes.
4)
Add tomatoes, tomato paste, salt and pepper…simmer another 30 minutes or until soup is thickened and lentils are soft.
5)
Garnish each serving individually with extra vinegar, salt, pepper and feta.

Serve with crusty bread.