Our Plans Are Where the Winds Blow: April xx 2015

Red Shanks was a great spot to avoid the strong winds...especially after hearing that many boats dragged in anchorages all along Stocking Island from Sand Dollar to Hamburger Beach and Monument. Cover of darkness, blaring air horns and skittering boats is an anxious combination to be sure. However, Red Shanks feels a bit isolating to us so we moved a few miles north after the winds settled out to Sand Dollar Beach (Mar 28). Sand Dollar has us back among the dozens and dozens of cruisers still in the harbor as well as close to a lovely hike ashore from the reef side of the island across to the ocean side of the island. Wow - the vistas never disappoint...and the sandy path is so clean that it can be walked barefoot.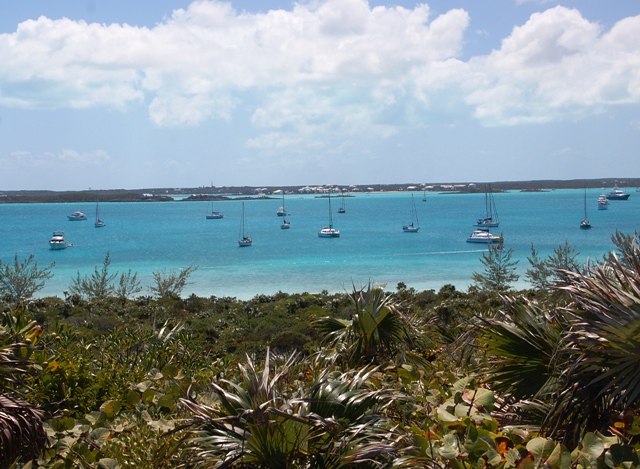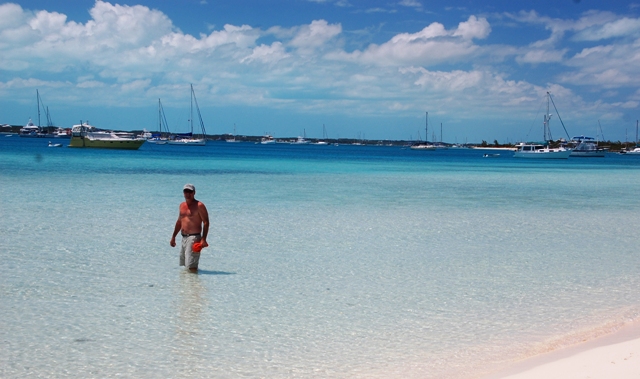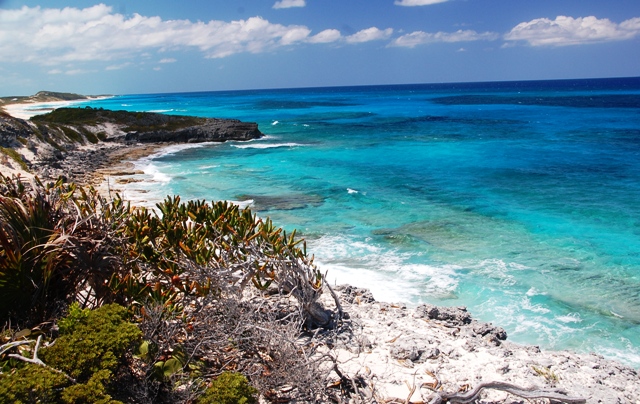 Our run of light winds has halted and been replaced with cooler temps and gusty winds...but it is still beautiful A cold front passed through for a few days which had us wearing fleeces and using a blanket on the bed. Yes, 75 degrees F can feel chilly. Joking aside, the downside to the front is the choppy water conditions created from the wind. We had a wet ride to Splash restaurant at Hideaways Palm Bay Resort located three miles across the harbor to watch Duke play Gonzaga (Mar 29). But it was worth it! Duke won and we returned to the boat in fading daylight. Onto the Final Four.

The cold front persists which keeps us boat bound but we are well distracted (temporarily). Chris and I focused on computer projects; me on updating our website and Chris on automating his maintenance log/spares inventory list. However, after awhile we were feeling a bit of cabin fever and jumped at the suggestion on the morning cruiser's net for a sundowners party ashore at 5pm (Mar 30). We met nice folks, shared drinks and bits and even gathered some practical info such as a favored taxi driver for airport pick-up (Taxi 12 Leslie Dames 242-524-0012) and pros and cons of a crane vs boom dinghy lifting apparatus (a potential summer boat project).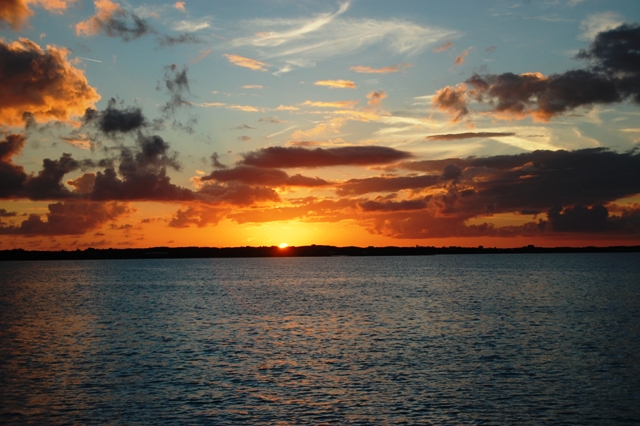 Settling into George Town has given us a chance to observe the rythms of the Bahamas and get caught up on changes since our last visit in 2011. The coconut rum is as delicious as ever, supermarkets have an increased variety of products (non-perishable and fresh), trash disposal is now for a fee of $2 per bag, Texas Hold 'Em still plays weekly at St Francis and J&K Productions are still computer specialists who also sell groceries. However, the big change is a 7.5% value added tax (VAT) implemented on January 1...apparently, the original proposal was 15%. This is really ruffling some feathers - with both locals and visitors. The VAT applies to everything; from groceries to hotel rooms to taxi rides to laundry to ATM withdrawls. Yep, you read correctly - ATM withdrawals. It will be interesting to see how this plays out. Other countries such as Grenada and Malta have implemented a VAT only to discontinue it after two years...then re-instate it a few years after that (stating that original implementation failed due to poor planning...hhhhmmmm...sounds suspicious).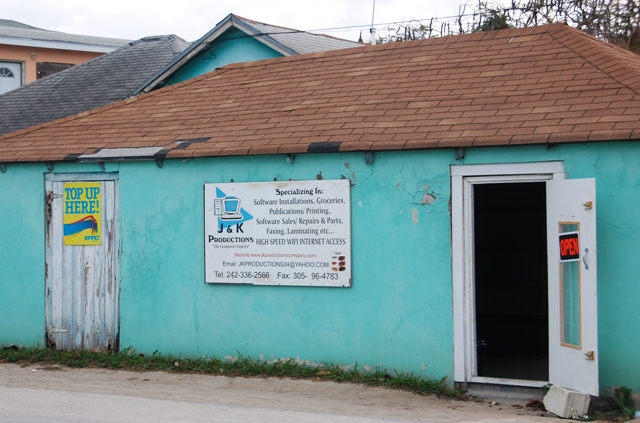 We have started to slow down and enjoy the slower pace. Fewer/smaller boat projects...more beach combing and cooking and reading. It is nice. We have found a helmet shell the size of an apple and a sand dollar the size of a saucer as well as some sea beans - all lovely. They were lucky finds and we might have used up our treasure finding luck for this season...but we will keep at it. It's fun.

Chris and I dinghied around and checked out some coral with snorkels and fins (April 2). It was quite alive and varied. Full of fish and sea fans - swaying in the water. Then we spotted a barracuda and I immediately took out my earrings and removed my rings. Barracuda cannot really hurt you but they love shiny things and are very curious. Their big eyes make them look especially sinister and spooky so we tend to give them a wide berth.

Added free time has allowed us to meet other cruisers in the anchorage for sundowners, burgers on the grill and walks ashore. Current boat count hovers around 215 boats. Nice folks who, like us, are enjoying life on the hook in a beautiful place. Plus, several Selene owners have dropped by who are happy to help us transition to a new boat - thanks. Additionally, we have met an underwater neighbor - specifically a green turtle. The brown and tan speckled fella swims around the boat in the morning and afternoon. He idly munches and looks at us with barely a glimmer of interest as we oh and ah at him. He takes a couple of breathes and paddles on the surface before diving deeper and out of sight. Can't wait to spot him again. In other news we caught the Duke win over Michigan State at nearby St Francis (Apr 4). Onto the finals...at 9pm...eeek.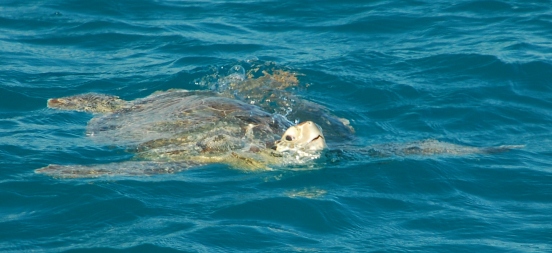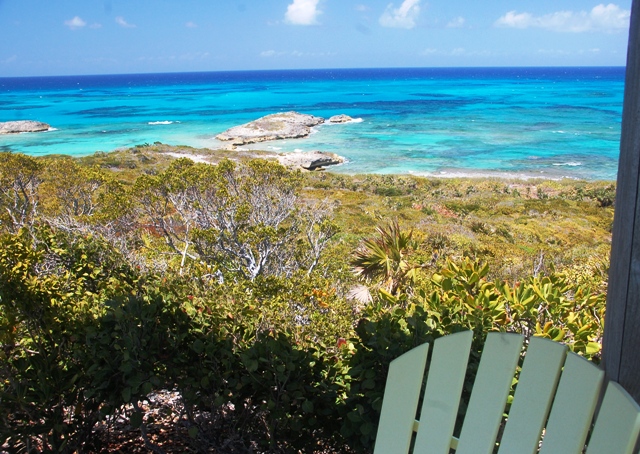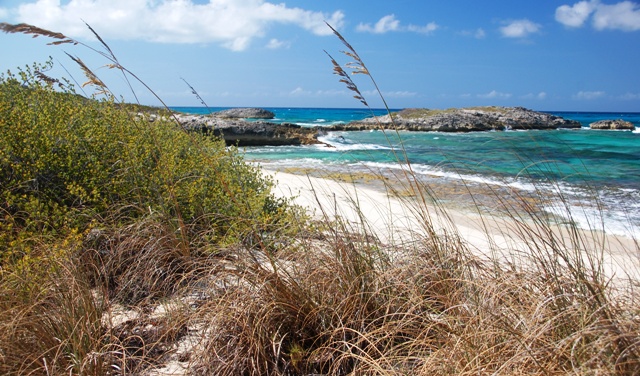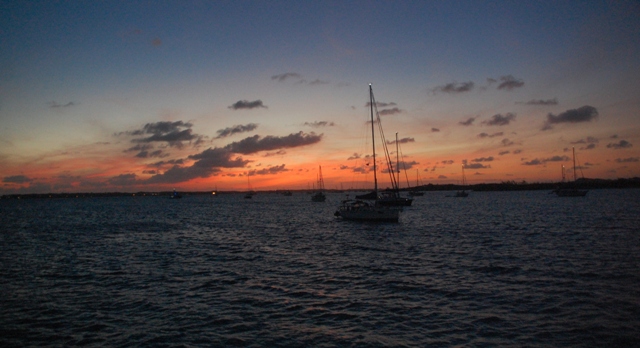 A few boat projects have snuck in including changing the dinghy engine oil and lower unit oil as well as fixing a cross-wired plug in the salon. Erin's oatmeal chocolate chip cookies have been a real hit at sundowners and visits as we meet more folks and learn about a lot of great ideas for our trawler from other motor boaters (Apr 5). We have also met new friends ashore (Apr 6). Over a period of thirteen years they have carved out a stunning corner of the world with all the amenities of home despite being totally off the grid. It is an amazing accomplishment with spectacular vistas in every direction.

The calendar keeps flipping and we are ready for a visit from Lino and Phyllis. They are coming from the arctic north of Boston. It is still beautiful here and we hope a perfect contrast to the white mess they have had to battle for the last few months (Apr 10).