Guests and Goombay Smash: March 18 2015
Ah, we are anchored and ready to stay put until our friends arrive. We cleared out the guest berth and transformed it from storage lockers back to a guest bedroom and bathroom. Additionally, we are getting more familiar with our daily water usage and power needs. This boat has loads more tankage than the sailboat; 290 gallons water vs. 120 gallons water…plus the watermaker cranks out a whopping 24 gallons per hour (rather than our previous 9 gallons per hour). But we are still learning. One morning we were getting the watermaker started and Chris roped me into the engine room to help. This was a real life example of men are from mars, women are from venus…or just Erin is different from Chris. The watermaker has a couple of settings and I was pretty sure how to switch them. Nope – eek – the sight glass exploded and Chris was hollering as water spurted like a fountain from numerous points. We changed the valve labeling and Chris MacGyver Miller improvised a fix for the machine. Back in business and the tanks continued to fill with fresh water desalinated from the sea water.
Hey – it's March Madness and we caught a Duke game at the Staniel Cay Yacht Club. Duke won and all was good…until we tried to pay our bill. It seems bartender Carl accidentally gave the credit card for "Christopher" to "Charlotte." Oops. Carl assured us that they would get our credit card back and sort things out in the morning. After two windy days of waiting…because Charlotte did not want to make the wet dinghy ride from the anchorage to the yacht club…the credit card was returned.
Scouting out the airport led us to believe the best arrival itinerary would be to pick up our friends, Mike and Diana, by dinghy. Yippee – they arrive today (Mar 13). We bounced off the walls and impatiently waited for the hours to pass. When we could not take it any longer we zipped ashore in the dinghy. Their tiny puddle jumper arrived with pilot Kendal at the controls (Performance-Air.com at 242-341-3281). Off we went for a round of Goombay Smash cocktails before continuing to the boat for grilled steak, mashed potatoes and a Greek salad. Our Boston friends were thrilled to leave the polar conditions back home and endured schedule re-jiggering due to strong winds in the Bahamas in order to visit us. Thanks very much guys!.
We soaked in the nature that was never more than an arm's reach away. Clear blue water filled with colorful fish and swimming turtles bordered by sand as soft as powdered sugar. We worked on our tans and swam off the boat.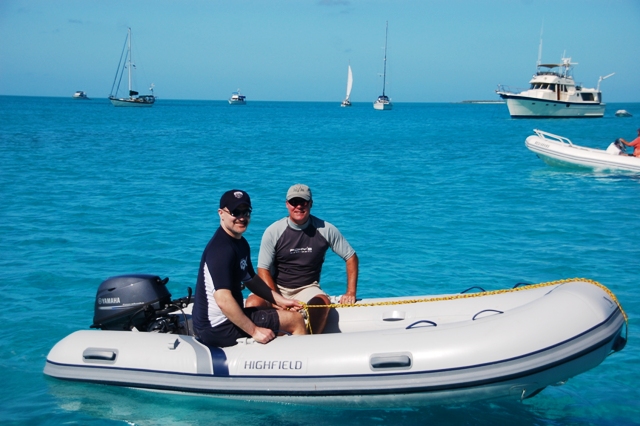 There are still cruisers around despite many feeling the call to start moving north back to the USA or Canada. Ashore we had sundowners on the beach (Mar 14). It's a simple party recipe; invite the entire anchorage, bring your own drinks and an appetizer to share…no shoes required. Chris concocted margaritas in our coffee urn, I created a sausage, cheese and chile casserole dip for tortilla chips and we were off.

Weather conditions remained mild which gave us a chance to make an overnight visit to Warderick Wells, a National Park (Mar 15). This is a stunning place with waters even clearer and vistas even broader than at Staniel Cay – hard to believe. Sharing these experiences with friends helps make them real for us and better remembered when we are back home. We checked things out at sea level by dinghy - buzzing to a few beaches where I found a gorgeous king helmet shell…but I only took a photo with the lucky bugger since it is a no-take area. Next, we gained a little elevation. Panoramic views were staggering atop Boo Boo Hill. The land resembles the surface of the moon with hard iron rock limestone formed into peaks that resemble meringue peaks made of steel. But the swirls of blue that vary based on depth create a water landscape that we have not seen anywhere else. Atop the hill there is a solitary wooden bench with the following anonymous quote, "Do not regret getting old, it is a privilege denied to many." This is a beautiful place!

Back aboard and ready for sundowners we were treated to quite a water show of critters. A large ray floated by as well as a 6 foot nurse shark accompanied by several, large remoras. The remora heads really do look like tennis rackets - functionally useful for attaching to larger critters than themselves. Drinks in hand the sun went down, the green flash flashed and the stars came out for yet another amazing panoramic view. But there was more to see back at Staniel Cay so we sparked up the engine for a gentle motor back to Big Majors Harbor.

The final bit of exploring included photo ops with the swimming pigs and the underwater aquarium wonders at Thunderball Grotto. Going to the Grotto at low tide means entry is no more challenging than donning a mask and snorkel and paddling in. But that was it for this trip. Mike and Diana were back on an afternoon flight to New England; however, they did miss one snow storm while with us in the Bahamas (Mar 17).

It was back to just the two of us. We sure missed the extra hands for dinghy launch/retrieval but we are getting the hang of it. Winds were forecast to remain mild so we made the 60 mile hop south to George Town (Mar 18). Previously, winds had kept us pinned at Staniel because this hop means a dart out into the ocean for 35 miles…unprotected from the reef inside. Conditions were as forecast for a mellow, uneventful ride. This was another familiar anchorage and we settled into a spot at Monument Beach anchorage.

But it is never a dull moment out here. We headed ashore to check out George Town only to see lots of commotion at the Shell gas station. Caution cones were spaced across the entrance, sand was being spread on the entire surface of the gas station from a giant dump truck, traffic was snarling the already narrow road and no one was allowed at the pumps. It seems the gas guy was filling the station's tanks from the delivery truck and mixed up the fuels - yep - diesel into the gas tank and gas into the diesel tanks. Eegads - that is a huge mistake. Everyone was shaking their heads and re-telling the story...how did he make this mistake?! How will they empty the tanks and clean them before re-opening for business?! Two days later the Shell station was back open for business. Hhhmmm...does not sound right to us...do not get fuel just yet.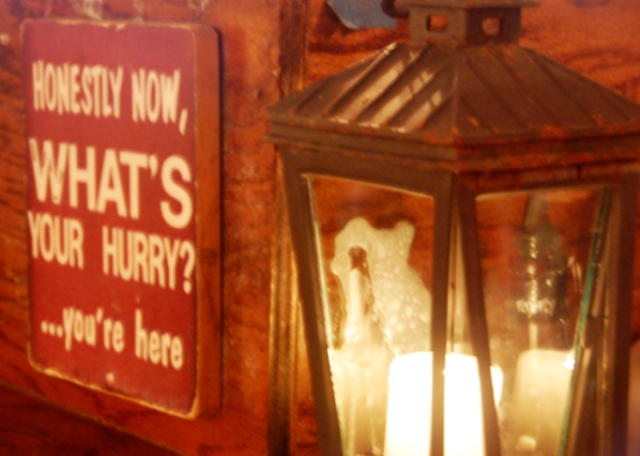 Sausage, Cheese and Chile Casserole Dip
(James Villas, Crazy for Casseroles)
¾ lb bulk pork sausage (or cubed steak or ground beef)
One 8oz cream cheese, room temperature
One 7oz Rotel tomatoes with chiles
¼ lb extra sharp cheddar cheese, shredded
Cilantro, chopped for garnish (optional)
1)
Fry sausage over medium heat, breaking up with a fork until well cooked.

Drain on paper towels.
2)
Preheat oven to 325 degrees F.

Grease 1.5 qt casserole.
3)
Combine sausage, cream cheese, tomatoes and chiles.

Mix until well blended.
4)
Scrape into a casserole.

Sprinkle cheese evenly over the top.

Bake until bubbly (approx. 15 minutes).

Serve hot.

Garnish with chopped cilantro.