Departure Pushed Back: January 31 2015
Our departure is getting pushed back - drat. We had decided to stay in St Augustine until Feb 2 or 3 because of the Pats being in the Superbowl and we wanted to be sure we were near a TV. Well, it looks like we have added a couple more days to that delay. Yesterday, as Chris was trying to remove the final sewer line it became clear that there would be no way to remove the line without cutting a hole in the fiberglass. One of the guys at the yacht yard brought over his neat tool (fining tool) and made the cut. The hose is out and replaced but we need to get a fiberglass piece to affix over the hole…about the size of a sheet of paper (8.5"x11"). The part is being fabricated in the yard and will be beautiful (judging by previous work) but it will take time to mold and make. Hopefully, we will still depart next week...but a bit later. I have filled in with many small projects while Chris is on the hose swap out. We are working full days and knock off as the sun goes down.
Oh gosh - but it is not all bad. After an especially long day which ended as beautifully as it began we bought a pizza and sat on the top deck with wine and watched the colorful sunset (Jan 31). This was our first time relaxing on the top deck - we can feel that we are getting closer to tossing the lines.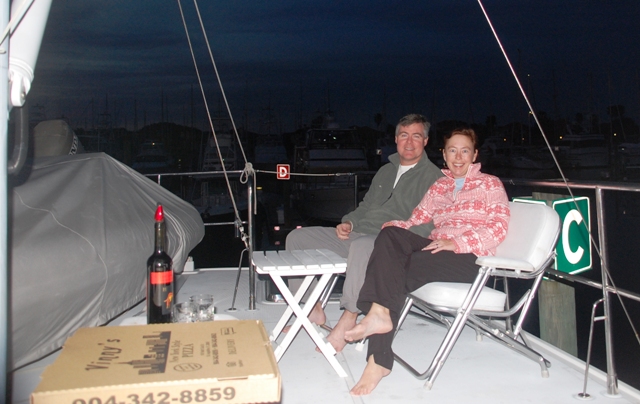 Although the continued upheaval messes with my karma we can see the light at the end of the tunnel (…even if one toilet is still in the living room). Meals are simple such as artichoke heart pasta (thanks Deb from s/v Wings). "Proper care and feeding of the crew" also means focusing on the crew. Chris has been working hard and contorting into all kinds of pretzel shapes as he replaces all the sewer hoses. So, I signed him up for a massage yesterday afternoon at Go Madd 4 Massage (http://www.staugustinegoesmadd4massage.com/). We called it quits for the day at Noon. Chris came out of the massage loose as a goose and smelling like a peppermint stick but we kept playing; shopping - he got some summer shorts and unwinding – headed to the much talked about bar called Cap's on the Water. We were not disappointed. It is a stunning place that is basically a giant deck right on the Inter Coastal Waterway with a super laid back vibe (http://www.capsonthewater.com/). We are liking Northern Florida.
It is Superbowl Sunday and we are within arm's reach of a TV. We watched the Superbowl with new cruiser friends Michael and Steve of m/v Anastasia at the home of cruisers Dick and Meredith of s/v Distant Drum. Lots of food and fun with a largely Patriots audience. But holy cow we aged about five years in the final two minutes. What a game! And what an ending! Congrats Pats!
We went right back to work the next day. Hey, fresh water is now flowing (and appropriately stopping) throughout the boat. The new toilets are working (mostly - one part is needed) and look great, too. It seems that our departure issues are down to two: 1) a parts delivery for one of the toilets (faulty factory motor install) and 2) re-assembly of the windlass. It is great to have the tool shed downsized from the entire boat to solely the guest bedroom. Will we leave before Valentine's Day?! Fingers crossed.
Artichoke Heart Pasta
(serves 4)
From Deb, s/v Wings
2 Tablespoons olive oil
3 cloves garlic, minced
12 oz marinated artichoke hearts, in jar
1 cup sour cream
¼ cup parsley, finely chopped
1 medium onion, finely chopped
8 oz cream cheese
1 teaspoon salt
1 teaspoon basil
1 lb pasta (elbow, rigatoni, whatever), cooked
Parmesan cheese (garnish)
1)
Saute at medium-high heat in a large frying pan the olive oil, onion, garlic and spices until onions are translucent.
2)
Add artichokes and all or some of the marinade, to taste.
3)
Reduce heat to low and add sour cream, cream cheese and cooked pasta.
4)
Periodically stir until all ingredients are combined and smooth.
5)
Serve and individually garnish with Parmesan cheese.