Shakedown Cruise Departs Boston: November 5 2014
Our shakedown cruise to Florida was calm to start at 6am but had patches of lots o' bumps (Nov 5). Despite our spinning brains and the lumpy ocean we made nice progress and were able to fuel up, as planned, in New Bedford at Sea Fuels - getting there just before closing time at 5pm (reputed to have some of the best fuel prices for miles). It was quite an industrial operation.
Sadly, we did not make a good first impression with the diesel attendant…after he told us the pumps would flow at 50 gallons per minute...we mentioned that the boat was new to us. Gulp. That said he was very nice, talked us through the process and all came off without incident. Price was indeed good at $3.35/gal for diesel. We now have full tanks and are ready to go. Moving past Watch Hill, RI, and on south – it was nice to be in familiar waters. And even nicer to have wifi since we were so close to the shore.

We motored through the night and as far as possible through Long Island Sound – finally stopping to let a blow of 20-30 kts pass through as we were snug in Port Washington, NY (Nov 6). It was a good bunch of miles behind us and a well protected spot to stop. The weather gribs look like we will not move again for a day or two due to strong winds and rain. That's okay because we need to gather our thoughts. But first – we had a fun "we departed" celebration with a cocktail (or two) for us and a shot overboard for Poseidon.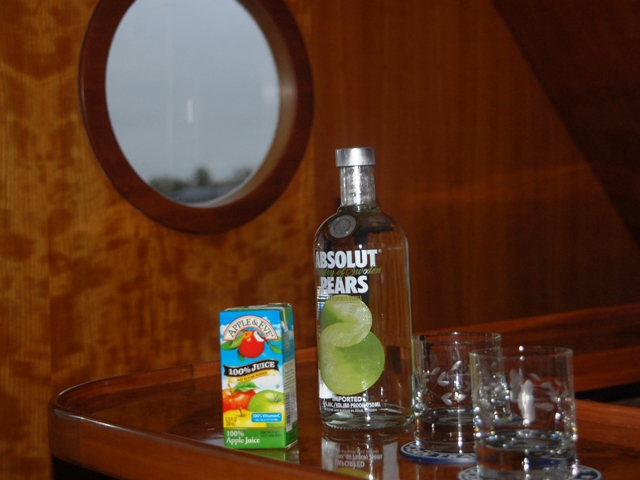 Conditions lightened up as forecast two days later so we departed Port Washington (Nov 8).
We have an added weather input from cruisers Bill and Louise of s/v Andelen from our catamaran cruising days of 2006 – nice to have multiple eyes looking at weather. The next milestone was New York City. "The city so nice they named her twice" (NYT 1975) never disappoints and is always stunning and photo ready. Iconic bridges and gleaming sky scrapers were all laid out for us on a crisp autumn day. People were everywhere along the shore – enjoying a fleetingly mild day before winter more permanently descends.
Once through New York City we had a decision to make - go further or stop for the night? We briefly anchored in Sandy Hook, NJ, just long enough to check the weather forecast. Mild conditions were holding so we pulled up the hook and kept moving south…passing Atlantic City, NJ, and Ocean City, MD. As the sun came up we tucked into the protected Inter Coastal Waterway (ICW) at the Norfolk, VA, inlet accompanied by a submarine and a warship (Nov 10). The military sight was especially impressive because all hands were on deck of the submarine in full uniform.
Phew – the Jersey coast was behind us, we were in the ICW and we could slow down to day hops. Dinner would be a celebration for us at familiar Coinjock Marina (http://coinjockmarina.com/). A wash for the boat and steak and fried chicken dinner for us. Yippee!
Cleaned and refreshed we kept moving south. The geese have a head start on us but we are catching them. Long pants, fleeces, winter jackets and shoes with socks are still the norm but temperatures are trending warmer. It was an early morning departure and we tossed the lines at Coinjock for an amble along the ICW (Nov 11).
The day was not entirely uneventful or boring as visibility progressed from pea soup fog (causing us to miss a marker and briefly bump aground) to clear and lovely for sundowners. Despite feeling that we were the only ones on the water - we quickly got several empathetic chirps back on the VHF from others who had also bumped aground at the same place we had. That night we anchored in the wonderfully remote Alligator River. The only specs of civilization were two sailboats anchored nearby. Mostly, it was nature as far as we could see - including a nesting pair of bald eagles ashore. No wifi signal so we listened to the one radio station...celebrating Veteran's Day. It is good to be on the water again.