Shakedown Cruise Continues in North Carolina: November 12 2014
The sun came up as lovely as it set on the Alligator River. However, our up anchor at 7.30am took longer than usual because of pesky, sticky mud that stubbornly clung to every inch of the anchor chain and anchor. Note to self - need to increase horsepower on the anchor washdown pump – add it to the list.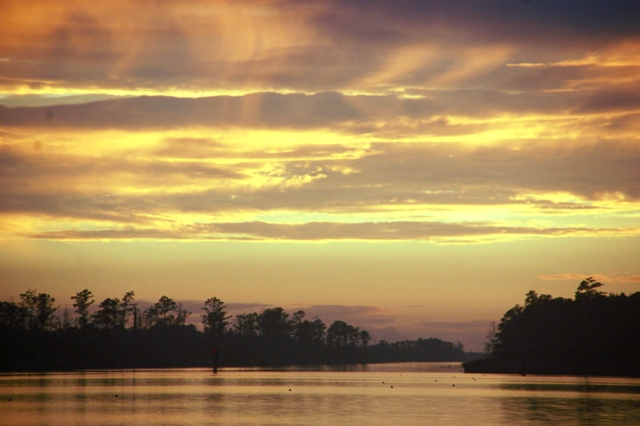 We traveled alone along the Fairfield and Alligator Pungo Canal bordered on both sides by stunning fall colors (Nov 12). It is nice to be this late in the season because there are very few other boaters on the water. All was quiet and serene. The day ended for us anchored alone in Bay River with a dinner of gooey nachos and a fiery sunset. Email has kept us in contact with our pea soup fog friends on s/v Release. We are headed the same direction so it is fun to swap stories of our daily progress.
The Canadian chill is certainly in full swing plaguing the entire east coast of the US...even Beaufort, NC, (32 degrees F). It seems we cannot motor south fast enough (tee, hee, hee). However, we know we are moving south because today a group of dolphin welcomed us to port. They bob and weave in the bow with a plan or game but we do not know what it is. Later we tied up at the Beaufort Docks with the help of three sets of knowledgeable hands on the dock – thanks guys (http://www.waterwayguide.com/marina_close-ups/beaufort-docks).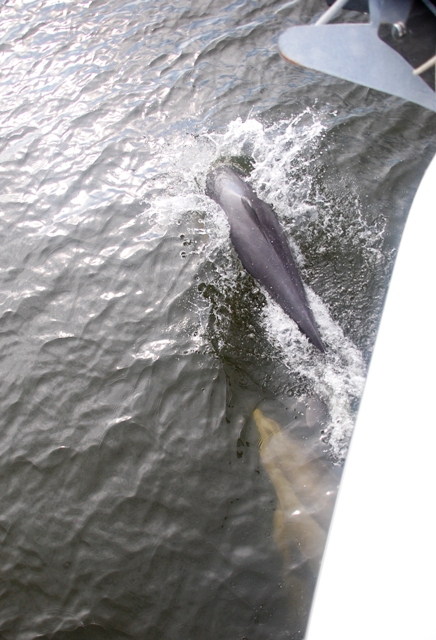 Being tied up has given us a chance to focus on boat work - provisioning, laundry, cleaning and learning systems. Additionally, we dialed for dollars and have a better handle on December dockage in the Fort Lauderdale area; Royale Palme, Cooley's Landing and Pompano are rising to the top (largely because they still have availability).
Then we threw a curve ball into the mix and asked ourselves...do we have to get that far south? It is tempting to have sooo many boat services close at hand as well as to have such a great Bahamas jump off point. But maybe there is something further north that is nice and less of a slog right now? Who knows but Erin is having dreams about an impending term paper due at the end of the semester that she has not even started yet...right, not in school anymore - wake up. As a friend would say, "Champagne problems." We'll spark up the cruiser's coconut telegraph and make northern Florida inquiries.
Our next day hop was to Mile Hammock Bay (Nov 15) - an anchor spot on the Camp Lajeune Marine Corps base. But first we had to untie from the docks - fingers do not work the lines well in 32 degrees F; however, we again knew we were not in New England anymore with dolphins galore, stately herons and gliding pelicans. Anchoring in Mile Hammock Bay can be as busy as Time Square in New York City or as quiet as the grasslands of South Dakota because military maneuvers occur at all hours. It was a lucky night tonight - a South Dakota kinda evening. This is a funky spot.
Every day gives us a different glimmer and hint about warmer Southern weather. Today was our first 70 degree day – break out the flip flops…for a minute. Temperatures quickly returned to arctic chill as we docked and explored Southport, NC, tied up at friendly Southport Marina (http://www.southport-marina.com/) and Myrtle Beach, SC, tied up at Barefoot Landing (http://www.barefootlandingmarina.com/). Food options are also more southern with the fried golden goodness of hush puppies at happy hour – yum. Southport and Myrtle Beach are both in the Carolinas but different places - each with its own sense of fun. Southport leans more toward charming with meandering creeks, covered front porches and fish shacks. Where as Myrtle Beach leans more toward bus tour parking lots, stores devoted entirely to the color purple and the Blues Brothers car as a point of interest.
It looks like we will make another big leap because a broad-sized weather window opened up. We tossed the lines at Barefoot Landing and headed offshore through Winyah Bay, SC, and into the Atlantic ocean (Nov 19). But first it was a gentle meander through the Waccamah River. We definitely feel more in delivery mode than cruiser mode but there is nothing for it this late in the season. The amount of daylight hours in a day is seasonally low and we need to outrun the frost. This outside hop was bumpier than expected the first night (of course) but mellow after that (phew). This weather window is supposed to slam shut pretty hard when it closes so we decided we better make the run when we could. During the overnight run we passed Charleston, SC, followed by Savannah, GA. Yet another indicator of our southern progress is that the water color has become a beautiful and clear teal blue. We are almost to Florida!
As the sun came up we entered the Jacksonville, FL, inlet with a sliver of light at 6.45am and were tied up by Noon at Camachee Cove Yacht Harbor in St Augustine (http://www.camacheeisland.com/). It was a tight squeeze into the slip so the adrenaline was flowing despite our sleepiness. Our shakedown cruise was complete and we will stop here until after the holidays. Wow – we bought the boat Oct 23 and had her tied up in Florida Nov 21. We are thrilled! And the boat performed beautifully.