Getting Settled in Florida: November 21 2014
Now it's time to get clean. The salt washed off the boat, our clothes washed and us scrubbed. There were no showers underway because a hose let go and our fresh water drained away - all 190 gallons. Drat! No big deal for a two day hop and Chris is hot on the trail of replacement parts. Plus, the weather is wonderful - sunny and high 60 degrees. Unbelievably, it should be in the 70s soon. Yippee! Glad to have the New England weather in the rear view mirror. Speaking of weather – we cannot believe the news story about the several feet of snow dumped on Buffalo?! Holy cow - it paralyzed them, to say the least.
We have eased into doing boat projects at the dock - thankfully at a civilized pace. The water leak was fixed and we have moved onto replacing old hoses; bedding/towel/kitchen implements inventory; calling local experts to help eyeball what we think we are noticing on new-to-us systems; doing a tool/spares list and stow, scrubbing rugs and all is well.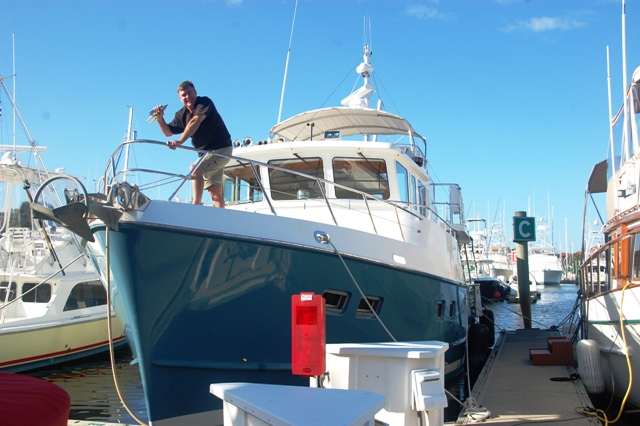 Chris' parents joined us aboard for a few days over Thanksgiving and Erin created a big day spread of bone-in, skin-on turkey breast on a bed of homemade stuffing along with some sides and a non-traditional key lime pie...we are in Florida, after all. But not all meals were had aboard since the Kingfish Grill is a two-minute walk from the boat with excellent burgers and seafood as well as a hot, cheesy spinach dip (http://www.kingfishgrill.com/). Plus, we have learned that great pride is taken by locals who claim people in Northern Florida are the friendliest in the state. We wholeheartedly agree and have met wonderful people everywhere we go.
It was great to have family with us over the holiday and the boat handled guests perfectly. Also, we did a bit of touristy stuff like visiting the Lightener Museum (http://www.lightnermuseum.org/). Lightener was a collector of collections which makes the museum a bit on the quirky side. Fran, my Mother-in-law, and I hooted at a funny hook rug hung discretely in an alcove. The rug had a catchy little ditty describing the stereotypical in-law relationship…thankfully, it is not my in-law relationship. "Inlaws are rodents in human guise. Who eat me out of cakes and pies. Oer hill & vale & river & ruts. They gather for dinner. I hate their guts." The hooked rug was created by Mercedes and James Hutchinson; James created the copy, Mercedes created the illustration and craftsmen were commissioned to make them.
Off went Chris' parents back to Boston while we stayed a bit longer in Florida. With just a few more days before we return to Boston for the Holidays…plus another day with the rental car…we ventured beyond St Augustine for some Florida exploration. Our destination was Bulow Creek State Park, approximately 45 minutes south of the marina (http://www.floridastateparks.org/bulowcreek/). The enormous live oak forest was stunning; ancient oaks grown craggy and full of character over decades of life with Spanish moss draped like Christmas tree tinsel. The majestic master of this forest is the Fairchild Oak – more than four hundred years old – oh, the things this oak must have seen; from wilderness cleared for European settlement (Spanish, English and French) to the establishment of missions by the Catholic Church to marauding pirates to the Semilole Wars to the wilderness taking back the plantation which is now in ruins. The ruins are spooky and silent in an area seemingly unable to prosper. However, prosper it did as a cotton, sugar cane, rice and indigo plantation until it was swept away in the Second Seminole War of 1836.
We rounded out our exploration with a visit to Flagler Beach. Hey - this is what the picture post cards show of Florida – complete with sand and waves, surfers and boardwalks. The drive back to the marina had us spotting many burger shacks for return visits. It is fun to explore northern Florida.

Herb-Roasted Turkey Breast And Stuffing
(Thanksgiving For a Small Crowd) serves 6-8
By J. Kenji Lopez-Alt (SeriousEats.com)
Ingredients
8 tablespoons (1 stick) butter, divided
1 1/2 pounds sage sausage, removed from casing
1 large onion, finely chopped (about 2 cups)
4 large stalks celery, finely chopped (about 2 cups)
4 cloves garlic, minced/sliced, divided
1/4 cup minced fresh sage leaves (or 2 teaspoons dried sage leaves)
32 ounces (4 cups) low-sodium chicken or turkey broth, preferably homemade
3 whole eggs
2 1/2 pounds (about 2 loaves) high quality sandwich bread or soft Italian or French bread, stale or dried in the oven
1/2 cup minced fresh parsley leaves
2 tablespoons minced fresh oregano leaves
Kosher salt and freshly ground black pepper
1 whole bone-in, skin-on turkey breast (about 4 to 5 pounds), patted dry
1)
Adjust oven rack to middle position and preheat oven to 450°F. In large Dutch oven, melt 5 tablespoons butter over medium high heat until foaming subsides (don't allow butter to brown), about 2 minutes. Add sausage and mash with stiff whisk or potato masher to break up into fine pieces (largest pieces should be no greater than 1/4-inch). Cook, stirring frequently until only a few bits of pink remain, about 8 minutes. Add onions, celery, garlic, and sage and cook, stirring frequently, until vegetables are softened, about 10 minutes. Remove from heat and add half of chicken stock.
2)
Whisk remaining chicken stock, eggs, and 3 tablespoons parsley in medium bowl until homogeneous. Stirring constantly with wooden spoon, slowly pour egg mixture into sausage mixture. Add bread cubes and fold gently until evenly mixed.
3)
Using poultry shears, cut off and remove any back portion that may be attached to the turkey (there may not be any). Fill cavity under turkey breast and under flap of fat around neck with stuffing. Transfer remaining stuffing to a buttered 9- by 13-inch casserole dish and place turkey on top.
4)
Using your hands, carefully separate the turkey skin from the meat by inserting at the bottom of the breast, being careful not to tear it. In a small bowl, combine remaining butter with remaining parsley and oregano. Add 1 tablespoon kosher salt and 1/2 teaspoon freshly ground black pepper. Stir with a fork until homogenous. Rub mixture evenly over and under turkey skin.
5)
Transfer to oven and roast until stuffing starts to brown, about 45 minutes. Remove from oven, transfer turkey to a wire rack set in a foil-lined rimmed baking sheet, and return turkey to oven. Continue roasting until turkey is golden brown and crisp, and thickest part near bone registers 145 to 150°F on an instant read thermometer, about 30 minutes longer. Remove from oven, transfer to a plate, and let rest for 20 minutes.
6)
Meanwhile, pour exuded juices back over stuffing. Return stuffing to oven and cook until it's golden brown and registers 160°F on an instant read thermometer, about 15 minutes. Carve turkey, spread over stuffing, and serve.
Pier House Key Lime Pie
Graham Cracker Crust:
10 Graham crackers, crushed to tiny crumbs
¼ cup sugar
½ cup butter, melted
Filling:
4 eggs, separated
½ cup key lime juice (I use Nellie and Joe's from the supermarket aisle)
1 (14oz) can sweetened condensed milk
½ teaspoon cream of tartar
1)
Mix together Graham cracker crust ingredients.

Press into 9" pie pan.

Bake at 350 degrees F for 10 minutes.

Remove from oven.

Change oven temperature to 325 degrees F.
2)
In a mixer beat yolks on high until thick and light in color.
3)
Add condensed milk and mix on low.
4)
Add half lime juice, tartar and remaining lime juice.
5)
Pour into prepared crust and bake at 325 F for 10-15 minutes or until firm to the touch.
6)
Refrigerate overnight or at least 5 hours.
7)
Optionally, top with meringue made from egg whites and/or whipped cream, just before serving.

(I serve without either – great just as it is)